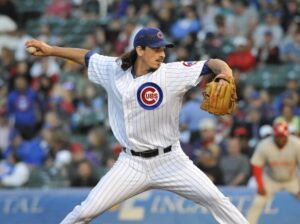 On a unusually brisk night at  Wrigley the Cubs were looking to avoid being shut out for a record fourth straight time at Wrigley. It was also a special night because Cubs great Ernie Bankswas being honored with the Presidential medal of freedom for being a pioneer for black players in baseball. Jeff Samardzija took the bump for the Cubs and Homer Bailey did the same for the Reds.
The Reds got to Shark right away. Shin Soo Choo drew a leadoff walk and then advanced to third with one out on a Joey Votto double. Brandon Phillips then hit a sharp single past a diving Starlin Castro to drive in Choo and give the Reds a 1-0 lead. Then Jay Bruce hit  a little dribbler to to Darwin Barney and that drove in Votto to give the Reds a 2-0 lead.
In the bottom of the second Dioner Navarro singled to start the inning which then brought up Nate Schierholtz. Nate crushed a two run shot into the bleachers in right to tie the game at 2.
In the top of the third the Reds regained the lead via some sloppy play by the Cubs they got there third run a a wild pitch by Samardzija and they got there second run on a botched double play attempt by Castro. 4-2 Reds.
In the bottom of the fourth Dioner Navarro hooked a blast just fair down the right filed line to get the cubs with in one 4-3 Reds.
The game would remain 4-3 Reds until the bottom of the seventh when Donnie Murphy came up tp the plate. Fueled  by a seventh inning stretch performed by Mike and Mike Murphy sent the ball into the right field bleachers for a homer tying the game at 4.
The game would go into extras despite a bevy of chances for the Cubs to take the lead in the 7th , 8th and 9th. The Game would remain tied until the top of the eleventh when the Reds got to Eduardo Sanchez. Sanchez walked the first two batters and then the bases were loaded via an error by Donnie Murphy, and that brought up Choo. Choo singled in two runs to give the Reds a 6-4 lead. The Cubs couldn't muster up any late inning drama and they fell to the Reds 6-4.
The Cubs look to get back on track tomorrow as the send relable as of late Chris Rusin(2-1, 3.08 ERA) to the mound and the Reds will send out veteran Bronson Arroyo (10-9, 3.51 ERA). First pitch is scheduled for 1.20 central time.
For More Great Chicago Sports Content
Follow us on Twitter at @chicitysports23 for more great content. We appreciate you taking time to read our articles. To interact more with our community and keep up to date on the latest in Chicago sports news, JOIN OUR FREE FACEBOOK GROUP by CLICKING HERE