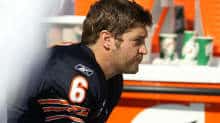 After some time, and some confusion, it looks like the Bears are finally starting to put some workouts together for their offensive players.  Quarterback Jay Cutler is leading the charge in calling his fellow offensive teammates together to start working out.
There have been several other teams, including the New Orleans Saints that have been working out on a somewhat regular basis as players try to stay fresh and ready for what will happen whenever the lockout ends.
The workouts will help the players keep themselves in shape and give them something to do over the next few weeks while they wait for the league to open its doors again. These workouts can also help the group build camaraderie and get used to one another.  And perhaps without having the coaching staff around this group may learn how to work with one another better than they could on the practice field.
Granted, there will be no coaching staff around to show these guys any new wrinkles that they might be installing on offense and they won't be there to show them what they are doing wrong.  But something is much better than sitting around and doing nothing that's for sure.
As previously stated, the workouts are being organized by Cutler, a player that has become the victim of a lot criticism as of late for his play (and sometimes lack thereof) as well as his demeanor on the field.  Taking the lead in organizing these workouts should take some of that criticism off of Cutler and make him look like a team player and the leader of this team.
It's not yet known how often these players are going to get together to do these workouts but some teams have worked a few times already and are swearing to continue these workouts until the lockout is complete.  Let' hope that the Bears continue these workouts and even get their defense involved in these much needed offseason activities.
Holding these workouts only goes to prove that regular team sponsored offseason workout programs do have some have some value.  Not only do they allow coaches to get familiar with their newer players and start to install new wrinkles in their systems but it also allows players to keep in "football shape" as well as keep them out of trouble.
We have also seen what happens when players have too much time on their hands with nothing to do.  Let's hope that these workouts will help keep those Bears players out of trouble and give them something to do until the NFL and the Players Association (or whatever it's called these days) finally come to an agreement and get back to normal football operations.
For More Great Chicago Sports Content
Follow us on Twitter at @chicitysports23 for more great content. We appreciate you taking time to read our articles. To interact more with our community and keep up to date on the latest in Chicago sports news, JOIN OUR FREE FACEBOOK GROUP by CLICKING HERE