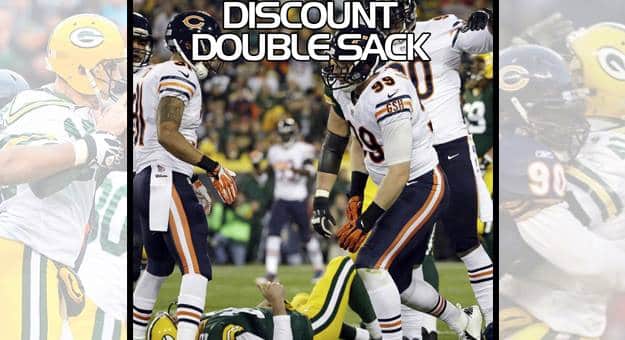 Shea McClellin's sack on Packers quarterback Aaron Rodgers forced No.12 out with a shoulder injury.
GREEN BAY, WI- There were many reasons why the Bears walked out of Lambeau Field with a 27-20 win tonight. Not the least of which was the unfortunate injury to Green Bay quarterback Aaron Rodgers which caused the Packers offense to stall to some degree for the rest of the game. There was also the fact that Matt Forte rushed for 125 yards and a touchdown, Josh McCown threw for 272 yards and two touchdowns, and Packers backup QB Seneca Wallace was only able to complete 11 passes in Rodgers' absence.
The biggest reason however was the revival of the Chicago Bears defense. If there was ever a time for Mel Tucker's unit to put together a memorable performance, tonight was that night. After all, the Bears hadn't beat the "Pack" since 2010, they hadn't won at Lambeau Field since 2007, and Aaron Rodgers has sliced and diced the Bears defensive unit time and time again. But tonight, the Bears finally said "ENOUGH" and the defense delivered the Bears back into first place.
The most surprising performance came from second-year defensive end Shea McClellin. The embattled 2012 first round draft pick finished with a game-high three sacks. The first sack came early in the game and it caused Aaron Rodgers to leave with a shoulder injury. The other sacks were against Seneca Wallace but were still significant (his third sack sealed the victory). No. 99 now has 3 1/2 sacks this season and six total for his career, he also added five tackles. For now, the Boise State alum has silenced his critics.
Corey Wootton also got into the act by contributing a sack and four tackles. Tonight was Wootton's first sack since moving to defensive tackle (he'll probably move back to end once Jay Ratliff is cleared to play) and his first sack of the 2013 season. Hopefully he'll continue to improve as the season progresses, especially once recent signee Jay Ratliff is on board. While Major Wright is still inconsistent in pass coverage he was the Bears' leading tackler tonight with eight.
Even though he only had one sack, two tackles and a tackle-for-loss, there were two other categories that somewhat forgotten defensive end Julius Peppers made his impact in. He had two pass deflections, one of which led to his first interception of the season. Peppers had been quiet until tonight, he'd also been dealing with speculation as to whether or not he was playing hurt all season long. While that riddle has never been solved, it was good to see Peppers finally break out of his shell.
The only major concern was the fact that the Bears surrendered almost 200 yards (199) on the ground. This included a 56-yard run by Packers rookie running back Eddie Lacy. The Bears will need to continue the pressure with the pass rush, improve on defense and find a way to stuff the run game. The Bears may have been without Lance Briggs, but I'm sure he is proud of the effort his teammates gave tonight.
The Bears have a short week as they return home to face the Detroit Lions on Sunday with first place on the line. Right now the Bears, Packers and Lions are all at 5-3 in the NFC North. Hopefully the defense can come through again in six days.
Follow me on Twitter @GabeSalgado82
For More Great Chicago Sports Content
Follow us on Twitter at @chicitysports23 for more great content. We appreciate you taking time to read our articles. To interact more with our community and keep up to date on the latest in Chicago sports news, JOIN OUR FREE FACEBOOK GROUP by CLICKING HERE