*First-off, I would just like to thank every single player on the Minnesota Wild team. The chances of them beating the Dallas Stars was not very good, yet they showed tremendous heart in a game that was completely meaningless and played like they were the team hoping to make the playoffs.  The Wild were without all their star players, and somehow defeated a playoff-hungry team who had won four in a row just to get into this situation. I can't thank them enough.
The Chicago Blackhawks couldn't do it themselves, so the Minnesota Wild had to do it for them. A 5-3 Dallas loss gives the 'Hawks the eighth and final seed of the 2010-11 NHL season.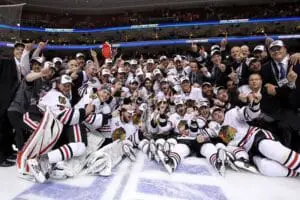 The 'Hawks next focus is the Vancouver Canucks, a team they've already disposed of in the playoffs for two years straight. Something tells me the Canucks want a chance to end that streak, and this year they have the team to do just that.
Dominance is one word you could use to describe the Canucks. A NHL leading 117 points and +77 goal scored and scored against, the Canucks, on paper, go into the playoffs as the favorite to win.
For the 'Hawks, that means trying to find the toughness they've displayed against Vancouver the past two seasons. It's going to be tougher this year to do that.
Chicago has struggled to find depth all season long.
But what will hurt the 'Hawks more than depth is the inability to close out games. The third period has been mostly a nightmare for the 'Hawks.
Many have also doubted the 'Hawks desire and heart, and that's acceptable after the 'Hawks failed to win their last regular season game against the Detroit Red Wings-a win that would've sealed a playoff spot(one higher than the 8th seed).
A 24-17 home record is definitely not worthy of a playoff team that hopes to go deep, but the 'Hawks play a little tougher(or get more points anyway) on the road where they have a 20-12-9 record.
Blackhawk fans are on the fence on what they think about the 'Hawks being in the playoffs, but, whether you think they deserve it or not, being in the playoffs is good for the city as well as the organization.
According to CSNchicago.com, the 'Hawks will play their first game Wednesday at 9pm CT.
For More Great Chicago Sports Content
Follow us on Twitter at @chicitysports23 for more great content. We appreciate you taking time to read our articles. To interact more with our community and keep up to date on the latest in Chicago sports news, JOIN OUR FREE FACEBOOK GROUP by CLICKING HERE