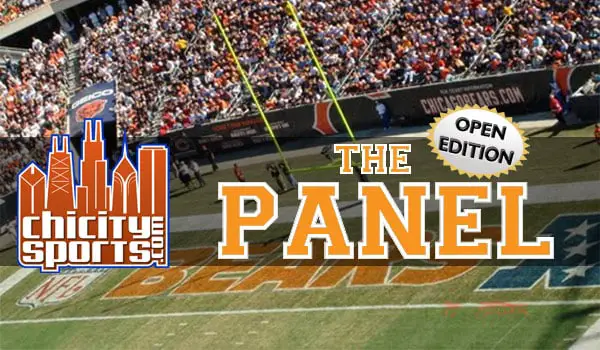 Welcome to the new and improved Chicago Bears CCS Panel! In a new twist this season we have elected to give the members of CCS their own voice, and have received answers to questions from several members of the board. If your answers aren't listed here, you are strongly urged to try again next week!
Without further adieu, let's meet our guest analysts!
Name — CCS Handle
John D — Jamais Vu
Kevin J — Spartan
KJ K — Mr. McGibblets
Will H — Willis1524
Adam D — X-Factor
1: What was your favorite Lovie Smith moment?
JD: It is rather difficult to come up with a favorite moment for a coach who's game day demeanor was that of a fence post and who's press conferences were more closeted than a transgender in the NSA, but I dug deep for a defining Lovie Smith moment. In his ery first game as head coach down by four with 2:11 left to play and the Lions ready to punt the ball back…Lovie uses our final timeout instead of waiting for the two minute warning to stop the clock. With no timeouts…they run the ball for a short gain and eat over thirty seconds off the clock. Grossman had to spike the ball after a sack to stop the clock and would eventually throw the game sealing pick while hurried on a third and long…forcing Smith to answer questions about his clock management and in-game decision making. Fast forward eight seasons and we were still asking those questions.
KJ:
Favorite Lovie Smith memory? Geez, he was the same all the time so I have to go with what would be his greatest moment. That would be in 2006 when the Bears won the NFC Title and Lovie became the first black HC to lead his team to the Super Bowl. The Colts didn't win their game that put them in the SB til a few hours later so, yeah, Lovie was the first.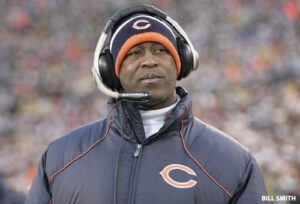 KJK: The Lovie moment that sticks out the most in my mind was the "Rex is our Quaterback" message throughout the 2006 campaign. That year we saw for the first 6 games an amazing production and consistent play from Rex. Of course that all changed during the Arizona game and afterwards when Rex struggled at times. A lot of it could be chalked up as a QB growing pains as this was really Rex's first year where he wasn't injured. I think that the simple fact that Lovie stuck with Rex showed amazing confidence in Rex as well as showing everyone that Lovie was a player's coach.
WH: My favorite Lovie Smith moment was when he ra down the sideline during a Hester return. There was one time he was running and jumping along the sideline and his headset fell off. I always though that if he showed more emotion like that during the games fans may not have turned on him so fast.
AD: During Lovie Smith's introductory press conference, he became an instant fan-favorite when he laid out three goals: Beat the Packers, win the NFC-North, and win the Super Bowl. Of course, only two of the three goals were realized, and the first one was a short-lived success. Other than his first presser, my favorite memory of him was using a challenge on a completed catch by Marty Booker, where defensive pass interference was also called. The Bears ultimately gained about 3 yards on the play, but this instance was a microcosm of who Lovie was; a player's-first coach who never really grasped the art of the challenge flag.
2: Which rookie Bears player did you enjoy watching the most?
JD: I'm old enough to remember Walter Payton's rookie year, but he does not even come close on my scale of most electrifying Bear rookie. That honor must go to Devin Hester's rookie season. A season that started with the game sealing TD to blank the Pack, continued with highlights as the improbable comeback in Arizona or the complete fake out after a missed field goal by the Giants and was capped ever so beautifully by the touchdown return on the opening kickoff of the Super Bowl. I cannot think of another rookie player to capture the city of Chicago and the entire league the way Hester did in 2006 in all the decades I've been watching the NFL.
KJ: The best rookie seasons I remember watching would be Urlacher, Hester and Forte. The most enjoyable to watch would have to have been Hester's rookie season. It was a great year for the team in which the special teams was a big reason the Bears had so much success and Hester was the main reason special teams was so special. The ridiculous one would cap off his rookie season with another return for a TD to start off the Super Bowl game. It was electrifying.
KJK: Devin Hester's rookie year was absolutely sick. I might have been the only Bears fan that knew about the talent this kid had in the return game. I had the absolute delight of watching Hester making a mockery on returns in college while he was at the U. A lot of fans questioned the pick, due to us just selecting Daniel Manning, but that soon went away when he returned his first NFL punt return week 1 against the Packers. Who will forget the Arizona game when Hester returned the game winning punt? Or the Rams game when he had 2 Kickoff returns, even the while on the second they tried to kick it away from him? Also the fact he ran the opening kickoff for a TD in the Super Bowl. Hester changed the way that NFL teams kicked on punts and kickoffs.
WH: Devin Hester. Every time he went back for a return was an exciting moment. What he did in the Superbowl will probably be remembered by all Bear fans forever. He was by far the most exciting.
AD: I flirted with the idea of answering this question with Anthony Thomas, Tommie Harris or even Kyle Orton, but there's really only one answer here. Devin Hester was the talk of the NFL on a national level for most of the season, which began with a week 1 punt return for a TD, and came to full fruition with the touchdown return on a missed field goal against the Giants. There were jokes made off and on that season which suggested the Bears should probably just punt on 1st down, let the strong defense do their job, and watch the other team kick to Hester. He was truly electrifying to watch, every time he touched the ball.
3: Which Bears draft pick was the worst of the last 15 years?
JD: David Terrell is the worst draft pick in recent memory and it is not even close. This was a top ten draft pick and the first receiver off the board and he was going to take this Bear team roaring into the new pass happy NFL. Instead we are treated to 128 receptions for 1600 yards and 9 TDs…in four seasons?!? For a little perspective…Brandon Marshall put up 118 receptions for 1500 yards and 11 TDs last season alone. Terrell would be cut by the Bears after those four seasons and never play another meaningful snap in the NFL.
KJ: Worst pick in 15 years? The 2 who quickly come to mind are Enis and McNown, back to back first round busts. Which one was worse? I don't know but for me the more disappointing one was McNown. I was hoping the Bears had found their QB but in the end, which came quickly, this #12 draft pick was worth no more than a 6th round pick when the Bears traded him to Miami where he'd be their 3rd string QB.
KJK:  I would go with Dan Bazuin from the 2007 draft. That was a pick in which Jerry Angelo tried to get cute and out think himself. He only lasted a year with the Bears and was ultimately waived. You expect that a 2nd round pick would make an impact on our team within the first 3 years of his career, and of course all of us Bear Fans know that it didn't just happen with this pick, but a good amount of picks from the Angelo years.
WH: This had to be Michael Haynes. He was an absolute waste of a pick, and this pick was made worse by some of the defensive stars that came after him. Cade McNown would be a top choice as well, but since the Bears needed a QB and there was none taken after him that performed either, Haynes was my choice.
AD: Unfortunately, there are a lot of strong possibilities here. Dan Bazuin, Michael Haynes, and David Terrell all come to mind. For me though, the worst pick was Cedric Benson with the 4th overall pick of the 2005 NFL Draft. In a draft which featured 12 pro-bowlers in the 1st round (including Aaron Rodgers and Roddy White), and talents like Vincent Jackson (2nd round) and Frank Gore (3rd round) taken after him, Benson never lived up to the hype. A lot of Bears fans questioned the pick when it happened, and even more-so when he held out for 36 days before signing his rookie deal. He had a decent stint in Cincinnati, but Bears fans couldn't have cared less at that point.
Closing Notes:
We've got a great group of posters here at ChiCitySports, and the five posters involved in this panel are regular contributors to the site.  Feel free to view the forum and sign up here if you'd like to leave your comments, or maybe grow into a CCS writer!
For More Great Chicago Sports Content
Follow us on Twitter at @chicitysports23 for more great content. We appreciate you taking time to read our articles. To interact more with our community and keep up to date on the latest in Chicago sports news, JOIN OUR FREE FACEBOOK GROUP by CLICKING HERE