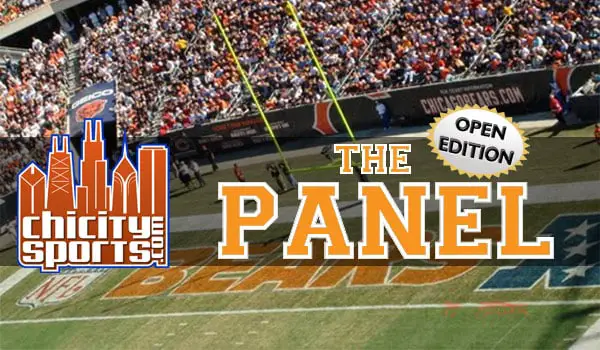 Welcome to the third and final installment of the CCS Chicago Bears Open Panel!  We have solicited responses from the Chicago Bears forum here at ChiCitySports, and we present to you the cream of the crop!
The following CCS members are our guests analysts for this panel, so let's get to it!
Name — CCS Handle
Brian K — Decatur Staley
Chris H — Ole69
Brandon R — Kekua Zombie
Nick F — NWFisch
MB — Mac Bear
1. Who is the starting quarterback of the Chicago Bears in 2014?
BK: Of course that all depends on how Jay Cutler performs this year, but given Trestman's reputation I expect Cutler to have a good year and be resigned by the Bears as the long term starter. The team has added a lot of weapons and done enough patchwork on the line to expect some improvement. However, just out of curiosity, I looked at the potential free-agent QBs next year and found that it's going to be an incredibly weak class. After Cutler the next best option is Chad Henne or maybe Charlie Whitehurst. Rex Grossman may be available for you Sexy Rexy fans. In short, none of the potential options have anywhere near the level of talent that Cutler has. Of course there is a chance we draft a QB. I don't think we'll be in position to land Teddy Bridgewater this year. Unless something dramatic happens he'll be either the first or second player off the board (Jadeveon Clowney being the other top prospect). Outside of Bridgewater this appears to be a decent class of QB's but that always seems to be the case before the season starts. Tajh Boyd could drop, as could Aaron Murray and a few of the other higher end prospects. At this point I can't imagine Emery & co. going into rebuilding mode as the window appears to be closing quickly on an aging defense. Because of these reasons I think Cutler resigns with the Bears… I think he will even give the team a home-town discount. After which national media outlets will roast him for it and twist the narrative into him being a greedy villain.
CH: I believe we'll see Cutler on a 1-year contract. The F.O. will try to bide time by keeping him around while trying to draft a future starter, and Cutler won't get any guaranteed starting offers elsewhere, so he will accept. In 2014, the Chicago Bears will be as hamstrung at the QB position as they have been for decades.
BR: Jay Cutler. We have the Receivers, we have the Running Back, we have the Tight End, and finally we have the Offensive Line. The o-line is far from a finished product but it is vastly improved, which will lead to more time to throw and a better run game. Take all that and throw in a Head Coach who is defined as a QB guru and I think Cutler will have a career year. If he doesn't, there will be no way we can pick someone up in free agency that will be better and if we draft a QB it'll be a crap shoot unless we finish 2-14.
NF: I really see a draft pick next year being the starter at some point in the 2014 season. I think the Bears want to and have provided Cutler a chance to succeed, and they'll happily drive armored trucks to his house if this season results in a Super Bowl, but seeing that isn't likely, I really see the Bears drafting and throwing someone into the fire.
MB: Cutler, 2014… he proves it this year.
2. In your opinion, who is the best NFL Player on the Bears roster?
BK: I thought about how to make this judgement for a little while… How do you define best? Productivity? Effort? Character? I really wanted to list Peanut (who is far and away my favorite player on the current roster), but in the end I have to say Brandon Marshall. He's a beast… What more do you need to say? Arguably the second best receiver in the league (without question in the top 5), he's coming off one of his best years with a whopping 1,500 yards and 11 TDs and a pro-bowl MVP. He can do it all… Go across the middle,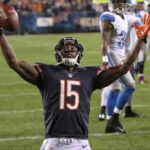 go deep, red-zone threat, runs for YAC, he's a big physical receiver with great body control and speed. Of all our best players (Peppers, Forte, Melton, Peanut, Briggs) he is in the prime of his career and he's teamed up with a QB that understands him and will get him the ball on a consistent basis.
CH: As of July 2013, it's hands-down Brandon Marshall. He has single-handedly, and in one season, blown up decades' worth of receiving records. He shows no signs of letting up, although I'm worried about his lingering hip injury issues.
BR: Brandon Marshall. The only one remotely close IMO is Tillman but he is on the downside of his career while BMarsh is still in his prime. He does it all: catches, routes, YAC, blocking, and draw attention from everyone else. Every pass play Cutler basically pulled a Babe Ruth and called his shot at the line, "I'm throwing to number 15, bitches!" No matter the coverage and no matter the number of defenders Marshall still came down with the ball more often than not.
NF: The best player has been a player that I've seen fans want to dump so many times, Julius Peppers. He is a freak of nature. I'd trust him to play any position on the field and I feel he'd be an asset at every position. He is big, strong and fast. 3 things you can't really teach. Brandon Marshall and Charles Tillman also gained some consideration from me.
MB: Patrick Mannelly – virtue of 16 years and then some — experience argument.
3. With Brian Urlacher and Lovie Smith no longer on the team, who becomes the locker room leader this season?
BK: I think without question this becomes Cutler's team… He's now the face of the franchise and will be closely tied to the Head Coach (Trestman). I think most of the players will view Jay as being the primary leader. Briggs has never really seemed to want that role and neither has Peppers, but I think Jay will be vocal with both sides of the ball. He's shown in the past that he's not afraid to speak up.
CH: Peanut Tillman. He has always been a fan favorite, had nothing bad to say about the team publicly (was diplomatic), and weathered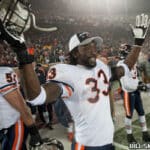 a lot of criticism (including from myself) before his resurgence last year. He also is involved with the local community on much more than a nominal level. If not Tillman, than Briggs. His contract histrionics and Edens incident notwithstanding, he has been a vocal "team face", and he backs it up with his play.
BR: Brandon Marshall. He was a better player last year than I even hoped for, which was for a Probowler. But, I'm even more amazed at the player he has been off the field. He is extremely professional, passionate, articulate, and has had his share, and more, of the downs in a career. He wants others, especially the young guys, to learn from his past mistakes and has no problem sharing them privately or publicly. His passion is contagious.
NF: As much as fans want Jay Cutler to be the leader, I don't see that quality in him, yet. That said, I heard from reporters at mini-camp that Lance Briggs has stepped as a leader on the defensive side of the ball, and that doesn't surprise me at all. I really hope Brandon Marshall can lead and inspire others on the offensive side of the ball this year, along with dominating the field himself.
MB: Trestman and Cutler in conjunction with each other… the build. Each question will lend itself to next answer…
Closing Notes:
We've got a great group of posters here at ChiCitySports, and the five posters involved in this panel are regular contributors to the site.  Feel free to view the forum and sign up here if you'd like to leave your comments, or maybe grow into a CCS writer!
For More Great Chicago Sports Content
Follow us on Twitter at @chicitysports23 for more great content. We appreciate you taking time to read our articles. To interact more with our community and keep up to date on the latest in Chicago sports news, JOIN OUR FREE FACEBOOK GROUP by CLICKING HERE