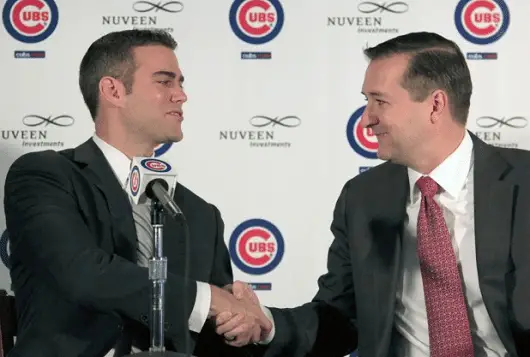 The 2012-2013 Major League Baseball offseason is more than halfway over, and another spring is about to arrive without a big name like Hamilton or Greinke appearing on the back of a Cubs jersey. While the casual fan might be upset by this thought, I'm here to tell you that the Theo Rebuilding Plan is in full swing and the front office brain trust has kept the franchise on the right track. Taking a look at how the organization has developed over the last 12 months, there are some encouraging signs going forward.
Last January, I wrote about how the first 91 days of Theo Epsteins's reign were successful. Now, after a full spring training, season, draft and winter meetings, it looks like those first three months were no fluke. Theo knows how to tear down and rebuild a lean, sustainable, winning team.
In early February it was reported that the Cubs signed 20-year-old Cuban pitcher Gerardo Concepcion for five years and $6 million, and the deal was officially announced in March. Part of the new MLB-MLBPA collective bargaining agreement was a $2.9 million soft spending limit for international amateur free agents effective as of July. Exceeding the limit would result in massive tax penalties. With this cap coming into effect, Cubs management knew that not only would their financial advantage over smaller market teams disappear, but international free agents would be less likely to come to the U.S. for a smaller dollar amount.
The Dodgers were also aware of this, and were able to offer $42 million over seven years to Cuban outfielder Yasiel Puig. Fortunately for Cubs fans, general consensus among scouts had Puig as the second best Cuban outfield prospect to Jorge Soler, whom the Northsiders were able to sign to a nine-year, $30 million contract in June. ESPN's Keith Law said that Soler would have been a top-five pick in the 2012 draft, had international players been eligible. Although Soler can choose to opt out of the contract during his arbitration-eligible years, it still allows the Cubs to control a potential impact talent into the normal free agent years.
Minor moves in the international market could prove to be beneficial for the Cubs as well. After the July 2 deadline, Juan Paniagua, a hard throwing righty from the Dominican Republic, signed with the team for $1.5 million. He was previously signed by both the Diamonbacks and Yankees, but those contracts were voided after the MLB concluded that falsified documents were filed. He has a mid-nineties fastball and a hard slider he uses as an out-pitch. The second post-deadline signing of note was Frandy de la Rosa, a 16-year-old Dominican shortstop who at six-foot one-inch tall and 180 pounds profiles as a power hitter on the left side of the infield. His $700,000 contract and the $1.5 MM owed to Paniagua will count against the Cubs international $2.9 MM signing pool, but appear to be sound, low-risk, high-reward investments.
Speaking of high-reward guys, it's fun to revisit the Andrew Cashner-Anthony Rizzo trade. Just 11 months ago, Rizzo was a brand new Cub, and some critics questioned trading a power arm for a prospect who struggled mightily for the Padres in limited major league action. Theo knew Rizzo well, as he had drafted him in Boston in 2007, and saw an injury-prone pitcher reminiscent of Mark Prior in Cashner. Without anyone truly realizing his plan to draft and acquire pitching via trade, Epstein sacrificed one of the only big arms in the organization for a long-term solution at a position for which the Cubs had no obvious answer. Cashner spent significant time on the disabled list last year and Rizzo exploded onto the scene at Wrigley. With true slugging first basemen at a premium, this deal looks like a winner for the Cubs long-term.
As the season dragged on, I tried my best to repress the memories of brutal losses. What I was looking forward to was obviously not playoff baseball; rather, I was excited to see how Theo would wheel and deal during his first pre-trade deadline hot stove. Multiple contracts, including those of Soto, Dempster, Maholm, Johnson, Garza, and LaHair were very tradable. In the end, of the aforementioned, only Garza and LaHair were not traded. Rumors swirled of Dempster to the Braves, but ultimately he was sent to the Rangers for third base prospect Christian Villanueva and right hand prospect Kyle Hendricks. Soto was also sent to Arlington and another right handed pitcher, Jacob Brigham, was sent to the Cubs in return. Brigham was traded back to Texas for former first-round draft pick Barret Loux during this offseason. Another big move came somewhat surprisingly when Paul Maholm and Reed Johnson were sent to Atlanta for Arodys Vizcaino and Jaye Chapman. Got all that? OK good.
Let's take a closer look. Dempster was in the final year of his deal, and would have left the Cubs empty handed unless they made him a qualifying free agent offer of $13.3 million. Even then, a sandwich-round pick and possible late first-round pick would have been all that the Cubs had to show for his services. Instead, they received a decent third base prospect in Villanueva, and added to their minor league pitching depth with Hendricks. In the Soto deal, they acquired an asset that they were able to flip at a later time for their real target, Barret Loux. Drafted 6th overall in 2010 by the Diamonbacks, Loux failed his physical and was granted free agency. He then signed with the Rangers, and has gone on to win the 2012 Texas League Pitcher of the Year Award after posting a 14-1 record to go along with a 3.47 ERA in 127 innings.
The real haul came when Maholm and Johnson were sent to Atlanta for Arodys Vizcaino and Jaye Chapman. Maholm and Johnson also had expiring contracts, so to receive as much as the Cubs did in return was somewhat shocking. Chapman is a major league ready relief pitcher who struck out over 10 batters per nine innings in 2012. Vizcaino, however, is the prized jewel. Ranked as the 40th best prospect going into the 2012 season by BaseballAmerica.com and 14th by Keith Law, Vizcaino underwent Tommy John surgery on March 20, causing him to miss the entire 2012 season. While he represents somewhat of an injury risk, this is another prime example of a low-risk high-reward situation. Maholm and Johnson were on their way out, and if Vizcaino can successfully rehab, the Cubs will end up with a number two starter and a solid relief guy at best, and two middle-tier set-up guys at worst. I call that a fantastic deal.
Unfortunately, the Cubs were not able to unload Matt Garza or Bryan LaHair. Garza was injured while pitching in St. Louis, and interest in LaHair appeared to be lukewarm at best. Garza is still a valuable asset, and I'd bet that he will be gone before this year's trade deadline, possibly even before the season begins. LaHair, however, was an obvious one-hit wonder that somehow managed to make the All-Star team. He was sent to Nippon Professional Baseball's Fukuoka SoftBank Hawks after the 2012 season and the Cubs received $950,000 in compensation. If he would have been flipped as a designated hitter to an American League team, a mid-level prospect could have been sent back in return.
Theo executed well in his first trade season, but he did arguably a better job in his first draft. Drafting 6th overall, the Cubs selected Albert Almora in the first round. The outfielder was a High School All-American and was named tournament MVP after leading the USA Baseball Under-18 National Team to a gold medal in the Pan American Championships. The Cubs went on to select pitchers with 13 of their next 18 picks, including seven consecutively after the first round. Starting to see a pattern?
After dealing Cashner in January, Theo and Co. went on to acquire Vizcaino, Chapman, Hendricks, Loux, Concepcion, Paniagua and 13 other pitchers with their top 19 draft picks. I'd call that stockpiling pitching. In retrospect, I'd make that Rizzo trade 100 times out of 100. Even if hindsight is 20/20, Theo was the one to pull the trigger before everyone saw Rizzo hit .285 with 15 bombs during the second half of 2012. After repeatedly saying that the Cubs lacked impact talent, the organization's odds just got a whole lot better. If even three or four of those pitchers reach or exceed wildest expectations, the staff will be in great shape.
A few other things happened during the 2012 season that bode well for the future of the Cubs franchise. First, Starlin Castro signed a seven-year, $60MM extension on August 28 that runs through 2019 with a club option for 2020. While some aspects of his game didn't develop as much during the season as some scouts had hoped for, we have to remember that he is still only 22 years old. He's made the All-Star team twice, and has over 500 hits in his very young career. Considering the fact that a 37-year-old defensive liability named Alex Rodriguez will make in 2013 roughly half of what Castro's entire contract extension is worth, I'd say the Cubs brass made another spectacular move.
Beyond Castro's extension, a few Cubs emerged as pieces that could potentially fit into a championship puzzle. Jeff Samardzija and Darwin Barney have been in the organization for some time, but took advantage of their opportunity to start in 2012 and made the most of it. Barney set a new record for consecutive games at second base without an error, and was three outs short of setting a major league record for all defenders. He went from April 17 until September 28 without committing an error, a span of 1154 1/3 innings. After his breakout season, he won a Gold Glove Award. Samardzija converted from a relief to a starting role in 2012, and made the transition seem easy. Over 28 starts, he struck out 180 batters and kept his ERA under 4.00. Both players figure to be part of the picture as the Cubs move into the next chapter.
In other news, the bullpen, bench, and rotation depth might not all be as terrible as they were in 2012. In an under-the-radar move, the Cubs signed Japanese closer Kyuji Fujikawa to a two-year, $9.5MM deal with a vesting option and a club option for 2015. From 2007-2012, Fujikawa struck out 12.4 batters per nine innings, held a 0.855 WHIP and saved 202 games. With Carlos Marmol struggling in recent years and entering the final season of his contract, this signing might signal the end of wild fastballs and wicked sliders in the dirt at Wrigley in the ninth inning. The Cubs also signed Ian Stewart, Nate Schierholtz, Scott Feldman and Scott Baker. On the final day of the meetings, the Cubs selected Hector Rondon from the Cleveland Indians in the Rule 5 Draft. Rondon has been recovering from elbow surgeries but was the Indians' minor league player of the year in 2009 and has reportedly been throwing hard after completing his rehabilitation.
Continuing the theme of exploring foreign markets, 36-year- old right-handed closer Lim Chang-Yong reported that the Cubs signed him to a two-year deal. The Korean had elbow surgery earlier this year and appears to be an investment for 2014, but shows potential, having collected 296 saves over 18 seasons in Korean and Japanese professional baseball. Two other Cuban players to keep an eye on are 22-year-old shortstop Aledmys Diaz and 24-year-old outfielder Dariel Alvarez. The two have reportedly established residence in Mexico and plan to showcase themselves for major league teams later this month. Don't be surprised if the Dodgers make a strong move, but never count out the Cubs.
In early January, the Cubs made a small, yet noteworthy signing. Dontrelle Willis, yes, that Dontrelle Willis, was inked to a minor league deal with an invitation to spring training. His career quickly derailed despite winning the Rookie of the Year in 2003 and making two All-Star appearances in his first three seasons. The Cubs drafted Willis in 2000, before sending him as part of a package to the Marlins for Antonio Alfonseca and Matt Clement. His contract might end up being completely irrelevant, but there's always that outside chance that he could catch lightning in a bottle one more time. There sure are plenty of thunder storms on the north side of Chicago in the summertime.
There are two other moves the Cubs made that make me think we are almost at the point of building more for the now than for the future. Edwin Jackson and Carlos Villanueva were both signed within the last month, and promise to bring some serious talent to the table. Jackson received a signing bonus of $8 million, and will reportedly receive an annual salary of $11 million through 2016. For a guy who is only 29 but has nine years of experience in the bigs, a four-year deal seems reasonable. He was effective in 2012, eating up over 189 innings while striking out 168 and winning 10 games for the Nationals. In theory, his contract will bridge the gap from the Cubs being bottom feeders to competing in the NL Central. At some point, Theo had to abandon the Maholm/Baker/Feldman strategy of one-year trade-bait wonders. Villanueva, another 29-year-old, has built up plenty of experience in both the starting rotation and the bullpen since debuting with Milwaukee in 2006. He struck out 122 in 125 1/3 innings  for the Blue Jays last year, and gives the Cubs depth in the event they trade a pitcher during the season. Even though his deal has not been officially announced by the team, it appears that only formalities hold up the signing.
So where do the Cubs go from here? Clearly, it doesn't look like the pieces are in place to contend immediately. Honestly, it would take the luck of the 2012 A's and O's combined to secure a spot in the postseason. However, the pieces are in place to power the lean, mean, Theo rebuilding machine. Feldman, Baker, David DeJesus, Marmol, Garza, Dioner Novarro and Shawn Camp are all free agents after the season, and could be used in similar trades that we saw this past season. Stewart and Schierholtz will be arbitration eligible, which either makes them a cheap option for the Cubs going forward, or adds value in a potential trade. Soriano has two years left on his deal (yes, two years. I double checked and this is accurate. It feels like he's been in left field at Wrigley for a decade) but is much more of a tradable commodity than he was a year or two ago.
If I was in the Cubs front office – and Theo, I'm available – I'd make a few things a priority. First, I'd get Soriano off the books as soon as possible. Well, he's going to be on the books one way or another, as no team would take on his entire salary (I take that back, maybe the Dodgers are crazy enough). Either way, getting him out of the organization will signal the true beginning of a new era more than anything, in a similar way that getting Zambrano out of the clubhouse helped the team and franchise move forward. Soriano is still a valuable offensive player, as he hit 30 homers and drove in over 100 runs last year, and is better defensively than most people think. He had 12 assists and only had one error in 2012 after committing seven each of the previous two seasons. Even the advanced metrics suggest Soriano is an above average fielder. Teams like the Rays, Astros and Orioles could use additional offense and the occasional help in the outfield. The sticking point might be that he just turned 37. There have to be a lot of questions regarding what is left in his metaphorical tank. I'm getting depressed. Let's move on.
Priority number two for me would be to ensure decent return through a Matt Garza trade. As soon as his value is reestablished coming off of his injury and the pitching trade market develops, Theo has to jump on an opportunity quickly. Garza was discussed as a potential difference-maker as a big trade chip last year before his injury, which took away almost all of his value. If the same thing happens again, the Cubs could lose him without anything to show for it. Considering the haul of prospects the Cubs gave up to get him from the Rays in January of 2011, it would be a step backwards to let him walk via free agency. Depending on how the market develops, the Red Sox, Angels, Royals and Indians could all potentially be a fit for Garza. Of course, a single injury could completely alter a team's plans, as we saw with the Victor Martinez/Prince Fielder developments in Detroit last winter.
The other option, of course, would be to sign him to an extension. This is not out of the question, but negotiations could get tricky as the pitching market develops over the summer. I wouldn't mind having Samardjiza, Jackson, Garza and a fully rehabbed Arodys Vizcaino in the 2015 rotation, with a mystery player frontlining the staff. Whether that's David Price, Tim Lincecum, R.A. Dickey or someone else acquired through free agency or trade, it would be a deep, experienced staff. That being said, I hope that Theo is just as active as he was last year around the deadline and trades Garza. With even more expiring contracts on the roster, there is no reason the Cubs' farm system shouldn't be among the deepest in the game come August. Those assets could easily be flipped over the winter or a few summers down the road for the aforementioned frontline pitcher. Or Giancarlo Stanton. I'm getting ahead of myself.
Looking ahead, the Cubs are in decent position. There is exponentially more payroll flexibility than there was a few years ago, and the farm is deeper than it's been in years. Rizzo and Samardjiza won't hit arbitration or free agency, respectively, until 2016, so ideas of contract extension talks shouldn't be distracting. This year's draft, although it is seemingly lightyears away, will yield at least one high-ceiling prospect for the Cubs, possibly a Ryne Stanek or Sean Manaea (another Ryne S. might be impossible for the Cubs' brass to pass up on). Even without the improvements that will come in the next eight months, this Cubs team is still significantly improved from the one that competed this last September. I'm cautiously optimistic by nature, but I'd venture a prediction of 78 wins for the 2013 squad. Not bad, one year removed from a 101-loss team.
Of course, Theo and his trusty side-kick Jed aren't in it for 2013. Looking towards 2016, the picture is still not clear, but the possibilities are exciting. We know that Rizzo and Castro will be somewhere in the middle of the lineup, and guys like Javier Baez, Jorge Soler, Albert Almora, and Brett Jackson could surround them in some fashion. Darwin Barney could turn into a stalwart at second base, and if his bat develops like his glove did this year, he could stick around for years to come. Like I said before, the rotation could potentially be some combination of Jackson, Garza, Samardzija, Vizcaino, with Travis Wood, Trey McNutt, and Pierce Johnson waiting in the wings.
Possibly the most exciting part of that last paragraph is this: It includes absolutely ZERO free agent signings or trades. Basically, it would be the absolute best case scenario for a franchise like Tampa Bay or Oakland. Fortunately for the Cubs, their pockets are as deep as anyone's in the game. It's difficult to forecast a free agent market years down the road, but the bottom line is this: the Cubs will have money to spend, and the organization will be turning the corner competitively. Signing or trading for one or two impact outfielders, a power bat at second or third base, and a top-of-the-rotation pitcher suddenly makes this team a contender. With the minor league depth that Theo promises to bring, it wouldn't be out of the question to trade for another top pitcher or catcher, either.
Just for fun, let's wrap up with a hypothetical lineup for 2015. During the 2013 season, the Pirates will be looking for veteran pitching help to prevent their 21st consecutive losing campaign, especially if their deal with Francisco Liriano falls through because of his reported arm injury. The Cubs will send Garza and either Baker, Feldman, or DeJesus, plus possibly third base prospect Jeimer Candelario to get 2011 first overall draft pick Gerrit Cole and a low level prospect. Cole profiles as a true number-one starter with incredible velocity on his fastball. After that trade, Theo will make two franchise-altering deals in the offseason.
First, he will send 2012 first round draft pick Albert Almora, along with Arodys Vizcaino and power-hitting first baseman Dan Vogelbach to the Tampa Bay Rays for Cy Young winner David Price. Theo will then sign Price to a 6-year, $125 million extension. The second trade will be even more shocking, as the Cubs will send Jeff Samardjiza (coming off an 18 win season), Darwin Barney (just after winning his second consecutive Gold Glove), the Cubs' 2013 2nd overall draft pick (possibly Stanek or Manaea), Brett Jackson and Barrett Loux to the Miami Marlins for Giancarlo Stanton. Theo will then also extend him for 7 years and $85 million, eliminating his arbitration years.
The last moves will come the following offseason, when Felix Hernandez, Hanley Ramirez and Denard Span will reach free agency. The 31-year-old Ramirez will have by then restored some of the value he lost after very mediocre 2011 and 2012 season, and will earn a 5-year, $75 million deal with a vesting option for the 6th year. Span will also be 31, but will give the Cubs the true center fielder they need, at a reasonable price of 4 years and $44 million. Hernandez, who will be 29 for most of the 2015 season, will have already pitched 10 seasons in the majors by the time he puts on a Cubs uniform. He is a true ace and workhorse that can anchor a rotation by contributing over 220 innings of Cy Young caliber work. He will be expensive, but his 7-year, $200 million contract will be worth it. At this point, the Cubs will have sacrificed much of their young talent, but will have held on to key pieces in Jorge Soler and Javier Baez. After it's all said and done, the lineup will look something like this (players' ages in 2015 in parenthesis):
Batting Order:
CF Span – (31)
2B Castro – (25)
RF Stanton – (25)
1B Rizzo – (25)
3B Ramirez – (31)
LF Soler – (23)
SS Baez – (22)
C Castillo – (28)
Pitching Staff:
1- Hernandez – (29)
2- Price – (29)
3- Jackson – (31)
4- Cole – (24)
5- Feldman/Villanueva/Pierce Johnson – (31/31/24)
The Cole and Stanton trades might be pipe dreams, but if they don't come to fruition, others will happen that will provide the Cubs with even more talented assets. If Samardjiza doesn't get dealt, he will be an affordable option at the back of the rotation. If the Cubs don't get Cole or Stanton, I think the Price deal could actually happen. The Rays will be starved for young, cheap offense and will understand that Price needs to be dealt eventually. They don't have an answer for first base within their organization, and Vogelbach fits the bill perfectly, as he could make the transition to DH if his defense proves to be a liability. Almora could develop into an outfielder that covers just as much ground as Desmond Jennings, and Tampa would love a young arm like Vizcaino to replace the departing Price. Additionally, unless an extension is reached, Hernandez, Ramirez, and Span will all enter free agency, a place where the Cubs shouldn't be counted out of contention until pen meets paper. The Cubs will definitely be making franchise-altering deals in the next 18 months, there's just no way to tell what those moves will be.
If one thing is for sure, Theo and the rest of the front office have done enough in their first 15 months in charge to instill a certain amount of excitement and optimism in me. The moves have been shrewd, calculated, and all according to plan. Yes, it's only a few weeks into 2013, but it's never too early to look to the future. Especially when it seems so bright.
For More Great Chicago Sports Content
Follow us on Twitter at @chicitysports23 for more great content. We appreciate you taking time to read our articles. To interact more with our community and keep up to date on the latest in Chicago sports news, JOIN OUR FREE FACEBOOK GROUP by CLICKING HERE