Tony Campana has quickly made his way into the hearts of Cubs fans with his hard play and hustle. Campana is the small, unappreciated type of player that Cubs fans like in the wake of Ryan Theriot and Augie Ojeda. Theriot and Ojeda were decent enough role players, but Campana has proven that he can become a very versatile player for the Cubs moving forward.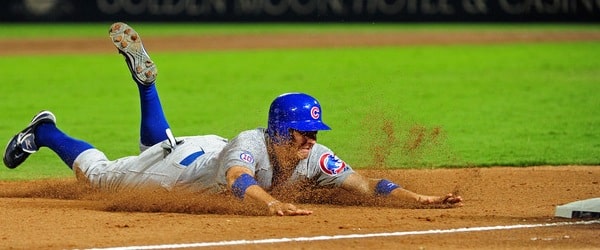 Tony Campana was drafted in the 13th round of the 2008 draft out of the University of Cincinnati (another fine find by Jim Hendry's scouting team), and quietly ascended the Cubs' minor league system. Campana never was considered a 'top prospect,' much due to the fact that he had never hit a home run. Campana was called up May 18th to replace a (still) struggling Tyler Colvin.
Campana has already accumulated 0.9 wins above replacement for the Cubs in a mere 121 at bats. This is clearly a small sample, but if you were to extrapolate his results this season to, say, 600 at bats that a typical leadoff hitter would make, he would provide 4.4 wins above replacement, or about the value of Braves center fielder Michael Bourn or Brett Gardner.
All of Campana's value is relied on his speed. An excellent base-stealer, Campana has seventeen stolen bases on the year, compared to only one caught-stealing (94%). As skillful as Campana is on the base paths, he is also aggressive. He's tried to steal 30% of the chances he gets (meaning he was on first or second with the next base being open). When compared to current stolen base league leader Michael Bourn who runs 22% of the time, Campana is certainly one of the most aggressive base-stealers in the game today.
Cubs manager Mike Quade maximises Campana's strengths as a pinch runner or pinch hitter. When Campana actually bats, he almost always slaps the ball in the ground , hoping to leg out an infield single. Campana is also a very capable bunter, as he is able to leg out drag bunts 31% of the time.
Campana's speed is also useful as a replacement fielder, showing elite range at all three outfield positions (40.6 UZR/100).
While Campana is a player worthy of a roster spot, he doesn't fit the mold as a starting outfielder. Campana is hittng only .268 on the season with a .627 OPS, essentially amounting to a hitter 12% below league average. Also, he is not a high contact hitter, making contact at only a league average rate.
Tony Campana can be a useful player to plug in when an injury strikes, or as a pinch hitter or pinch runner, but not much more. His role as a fourth outfielder should not be understated.
ed; he can provide a much needed spark off the bench in the event of a close game to add a run when the situation arises. At a league minimum salary, Campana will certainly provide more value to the Cubs than his contract calls for, however he may never be a starting outfielder. With top center field prospect Brett Jackson arriving next season, the Cubs can bank on the fact that Campana will be able to give the team a viable replacement when a starter needs rest.
For More Great Chicago Sports Content
Follow us on Twitter at @chicitysports23 for more great content. We appreciate you taking time to read our articles. To interact more with our community and keep up to date on the latest in Chicago sports news, JOIN OUR FREE FACEBOOK GROUP by CLICKING HERE