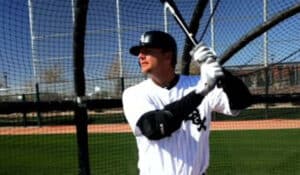 There are two types of baseball fans in this world: those that despise AJ Pierzynski and those that love him. If he is on your team, you love him. If he is not on your team, you hate him. The axiom "don't hate me because I'm beautiful" could be altered and applied to AJ: "don't hate me because I'm an intelligent baseball player"; which is where most of the hatred comes from: AJ typically uses the rules to his advantage; this doesn't sit well with anyone not fans of the White Sox.
Lately through the ranks of Sox fans, a disdain for AJ is also growing; mainly because he struggles throwing out base runners at 2nd. I would not begrudge a Sox fan for having a growing disdain for him; but one needs to be sure to look at all aspects of what a catcher's job is before passing judgment.
If I were to put a job description together for a catcher, they would have, to keep things simple, three major responsibilities:
1) Calling/Controlling the Game
While he will receive help from his manager/coaches, a catcher is responsible for knowing hitters tendencies and calling the shots from behind the plate. He is also responsible for controlling not only the flow of the game but the temperament of the pitcher as well. In essence, the catcher is the leader on the field; the maestro.
2) Defense
The ideal candidate will excel at preventing wild pitches, stopping balls in the dirt, holding runners at first; from the moment the ball leaves the pitcher's hand to the moment the ball arrives in whatever fashion at the catcher is the catcher's responsibility.
3) Throwing Out Base Runners
Often times, base runners will attempt to steal second or third base. The candidate should possess excellent glove-to-hand ball transferring skills and a strong and accurate arm. While the employer realizes this ability may be affected by the pitchers speed at when he throws home, the candidate must be able to make successful throws to second base or third base more often than not.
Without looking at any numbers, AJ passes the sniff-test for two of three of these responsibilities with flying colors.
The third, throwing out base runners; not so much.
Can we prove the sniff-test statistically?
Well, thanks to fellow ChiCitySports writer TheChicagoFan, he found and posted this article from Baseball Prospectus that attempts to place statistical value on calling/controlling the game and defense (it's an interesting article, but if you don't want to read it all, the conclusion is that AJ is the 2nd best catcher at preventing runs with 82. Jose Molina is best with 103. 3rd is Russell Martin with 67).
However, of the 15 "Qualified" (as determined by ESPN) catchers, AJ's CS% ranked 14th at .203. He allowed 94 SBs. Of the 15 "Qualified" catchers, AJ's stolen-bases-allowed ranked 12th at 94.
Pretty abysmal.
Yes, it's true: AJ cannot throw out runners. Of course, the White Sox pitchers aren't the fastest out of the stretch to get the ball to home plate. Nevertheless, AJ has a very difficult time throwing out runners.
AJ passes two out of the three job requirements with flying colors. His tangibles and intangibles are valuable to the team (not to mention he's a career .284 hitter with a Contact Rate of around 92%).
While I will find myself moaning and complaining every time AJ fails to throw out a base runner, I'll take a deep breath and remember all the other stuff he does so well, and I won't be as mad anymore.
That is, until his next failed attempt to throw someone out at 2nd.
For More Great Chicago Sports Content
Follow us on Twitter at @chicitysports23 for more great content. We appreciate you taking time to read our articles. To interact more with our community and keep up to date on the latest in Chicago sports news, JOIN OUR FREE FACEBOOK GROUP by CLICKING HERE