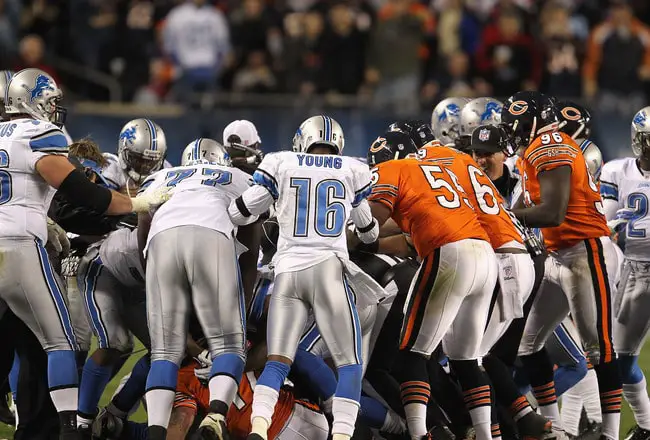 The Bears started off great in this game forcing a fumble during the Lions' first possession. They scored a touchdown from that turnover and then forced another fumble and scored a field goal. Keep in mind that that the Lions came into this game as one of the best teams turnover wise with a +13 turnover ratio. The Bears said when asked about the Lions low amount of turnovers, "We don't just take turnovers when the other team makes them, we force turnovers" When they said this they were stating that they didn't care about the stats and knew that they could force the Lions to turn the ball over, which they did six times in this game.
The Bears used the early lead and never looked back. There were times in the first half when they seemed to get a little shaky, but they never gave up the lead and in the second half they turned the game around with two pick sixes in a row and two other interceptions later in the half.
During one of the interceptions, Matthew Stafford dragged DJ Moore to the ground by his helmet and in response, DJ Moore went after Stafford and started a fight. DJ Moore was kicked out of the game, but Stafford was not. After the game DJ Moore had this to say about the fight, "When you are going after my livelihood, my neck and you trying to hurt me, I just can't let that go."
Devin Hester was great in this game, with two good returns including one 82 yard return for a touchdown. He did leave the game early, but should be back next week. Forte had a good game with 18 attempts for 64 yards and one touchdown.
The running game being present again is a big reason why the Bears are winning games again. In the last four games, which the Bears have won, Forte has 18 carries, 24 carries, 25 carries, and 17 carries. Barber has also been present in these games and helped a lot yesterday during the third and fourth quarter.
The Bears are back to playing Bears football. This game was a perfect example of Bears football. Good defense that causes turnovers, running the ball, and Cutler being a threat. Defense comes first, then running the ball, and having Cutler is good for the passing game which is the third priority. If the Bears keep playing their game, they can keep winning games. The defense has to stay tough, Forte has to continue being fantastic, and Cutler has to keep his good steady pace.
For More Great Chicago Sports Content
Follow us on Twitter at @chicitysports23 for more great content. We appreciate you taking time to read our articles. To interact more with our community and keep up to date on the latest in Chicago sports news, JOIN OUR FREE FACEBOOK GROUP by CLICKING HERE