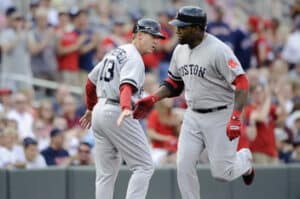 Just when we started to see the life come back to the Chicago White Sox (21-24), they fell 6-2 last night in their final game against the Boston Red Sox (28-19). It wasn't a bad series though—with the White Sox winning the first two games against Boston—it's just that a sweep would have been a solid way to move in to this weekend's games.
Undefeated Boston pitcher Clay Buccholz was doing something right, because White Sox bats didn't look as hot as they did earlier this week. Hector Santiago was pulled in for an unexpected start, as Chris Sale was pulled for mild tendinitis in his shoulder.
The Red Sox set the game momentum to their favor as David Ortiz doubled to left field and brought in two runs in the first inning. He hadn't been hitting to his potential through the series, so it was only a matter of time that he finally got around on the ball. And hey, Big Papi had a career milestone last night: his first career steal.
The White Sox didn't score until the third when Tyler Flowers started the inning off with an infield hit, and later scored a la fielders choice by Alex Rios off of Clay Buccholz.
Santiago held his own for six innings and saved some arms in the bullpen considering his experience.  But the White Sox's bullpen allowed four runs in the final two innings, resulting in a 6-1 score going in to the bottom of the ninth.
But leave it to Paul Konerko to stop fans from running to their cars at the ninth inning with two outs. Paulywood slammed a solo shot homer. The good guys may not have won, but hey, at least the fans got a nice homerun fireworks show out of it.
The White Sox continue on their home turf this Friday, May 24th against the Miami Marlins, and then host the Chicago Cubs for two games starting May 27th—both teams being in a bit of a rough patch. Sticking a "W" on the board is necessary to keep up the cred, especially since they're riding off a series win against the tough Red Sox.
For More Great Chicago Sports Content
Follow us on Twitter at @chicitysports23 for more great content. We appreciate you taking time to read our articles. To interact more with our community and keep up to date on the latest in Chicago sports news, JOIN OUR FREE FACEBOOK GROUP by CLICKING HERE