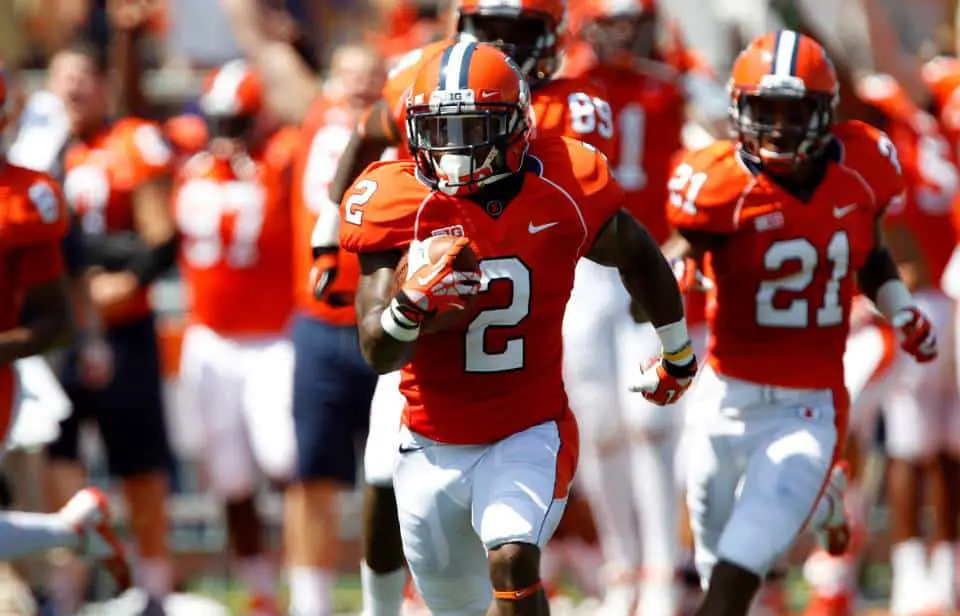 With the 42-34 victory against Southern Illinois, the Fighting Illini are only one win away from matching their win total from 2012. Not impressed?—you shouldn't be. Illinois players and coaches have stressed since the game that a win is a win, no matter how ugly. The Illini have started the season 2-0 only two times in the past eight years—so no win should be taken lightly. Still, Illinois will need to utilize a more intricate attack to take down the Cincinnati Bearcats. And the improvement must start on the defensive end.
In past years the Illini's calling card time and time again has been their defense, but with three defenders last season now in the NFL, Illinois has even less experience than usual on that end. The normally reliable defense had a rough start to 2013 against Southern Illinois—but no one struggled worse than the Illini secondary. Illinois allowed four catches of at least 20 yards, including a 66 yard catch by the Saluki's MyCole Pruitt. Coach Tim Beckman said the defense has to stop letting up the big play.
"Defensively we gave up the long ball too much," Beckman said. "Experience again shows that we're gonna have to improve that each and every week because people are gonna attack you off of the things that you didn't do so well in your first game."
Beckman also pointed out improving pressure on the quarterback as well as patching up coverage as areas of focus. Sophomore cornerback V'Angelo Bentley took back a kick for a 100 yard touchdown against Southern Illinois, but his coach was more concerned with his play at corner.
"V'Angelo—honestly I told him this after he returned that kickoff—he didn't play up to the capabilities he needs to play if he wants to be an All-Big Ten corner and he knows that."
Bentley echoed his coach's statements.
"The receiver [John Lantz], he made a great play for his team, so you can't take anything away from him," Bentley said. "He made a great play and I'll be ready to make that play next time."
Next on the Illini's slate are the Bearcats from the newly formed American Athletic Conference. Cincinnati finished 10-3 (5-2 in the Big East) last season with two of their losses coming against ranked opponents. Cincinnati showed a balanced attack, finishing in the top 35 in the nation in total offense (5,723 yards), rushing (2,619 yards), sacks (31), and interceptions (16). The Bearcats lost their leading rusher George Winn as well as their two leading receivers Travis Kelce and Kenbrell Thompkins to graduation, but their offense is still dangerous—just ask Purdue.
In their home opener, Cincinnati bulldozed the Boilermakers to the tune of a 42-17 victory. The running game of the Bearcats is deadly as they averaged 5.3 yards per carry last season compared to the Illini's 3.4 YPC. The Bearcats ran over Purdue for 221 yards using six different ball carriers and added four touchdowns on the ground.
Fresh off of receiving Big Ten Offensive Player of the Week honors, Illini quarterback Nathan Scheelhaase believes his team will be fine as long as they come prepared.
"We have to know exactly what our game plan is and be able to go out there and be consistent and execute," Scheelhaase said. "I thought Purdue shot themselves in the foot a lot which ended up hurting them and we can't afford do that."
Illinois senior linebacker Jonathan Brown also welcomes the challenge.
"We're in the Big Ten Conference so we're built to stop the run," Brown said. "They like to air it out too, so that's something that we're really gonna have to game plan for this week."
As Brown alluded to, Cincy has a dynamic offense. The Bearcat attack is lead by dual senior quarterbacks Munchie Legaux (what a name) and Brendon Kay, who both got looks last Saturday. Legaux gets most the snaps at quarterback and provides a duel threat attack. Kay spends more time in the pocket and is the superior passer, but the lesser athlete.
The Bearcats take pride in their offense, but don't be mistaken—they can play D. Cincy forced four turnovers against the Boilermakers on two interceptions and two fumbles.
A man who deserves some credit for the Bearcat's recent defensive surge happens to be on the Illini coaching. Illinois defensive coordinator Tim Banks held the same position for the Bearcats from 2010-2012. Under Banks, Cincinnati improved 21 spots from 2010 to 2011 in total defense, ranked No. 2 nationally in sacks in 2011, and forced 33 turnovers in 2011 compared to only 14 in 2010.
Now on the Illini sideline, Banks downplays the significance of facing his former team.
"I don't know how much of an advantage it is to be honest with you," Banks said. "The fact is they play between the lines and the kids get out there and compete against each other. Knowing obviously the quarterback and some of the personnel I can give kids the information but obviously once the game starts you gotta go out and execute."
Banks' defense found itself in a precarious situation last Saturday after Southern Illinois cut it to 42-34 Illinois lead with 4:14 left. The Illini would have to hold the Salukis off one last red zone stand. A 15 yard sideline penalty against the Illini set the Salukis up at the goal line, only feet away from potentially tying up the game. After a seven play, 54 yard drive, the Fighting Illini defense stood their ground and held onto the win.
It might have been a disappointing afternoon overall for the defense, but Brown believes they ended strong.
"I was proud of the way we stood up and handled our business," Brown said. "You can only improve from there. I think that was a testament to what we've done over the summer and it's kind of good that the young guys got some experience like that because there's no telling when that situation might present itself again."
The situation will present itself again on Saturday—only this time the Illini defense must sustain that same intensity for a full 60 minutes.