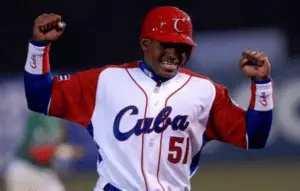 As the White Sox have been trying to fill the centerfield gap since traded fan favorite Aaron Rowand after the World Series campaign of 2005. The newest possibility, Cuban Defector Yoenis Cespedes has become eligible to negotiate with big league teams now that he has established legal residency in the Dominican Republic. The residency was confirmed by Edgar Mercedes during a telephone interview Tuesday with Major League Baseball.
Although he is now a free agent and able to negotiate, MLB said Cespedes cannot finalize a contract until he obtains an unblocking license from the U.S. Treasury Department's Office of Foreign Assets Control because he is a Cuban national who has established residency in another country.
The 26 year old outfielder defected to the Dominican Republic this summer after hitting .333 with 33 homers and 99 RBI for the Cuban national team during the 2010-11 season.
Cespedes said that along with White Sox expressing interest in him so did the Cubs, Marlins, Orioles, Tigers and Indians. According to a tweet by CBS's Danny Knobler "He [Cespedes] has told teams he would prefer not to play in Miami". And the Tiger appear to be out after the signing of Prince Fielder.
A plus in the Sox column would be newly christened right fielder Dayan Viciedo's recruitment of Cespedes, "I have reached out to both of their camps, Soler and Cespedes, and put in a good word and told them how great the organization is and that they would be a good fit if they both came over to join us," Viciedo said through translator Jackson Miranda. Also, the success they have seen with other Cuban defectors such as Alexei Ramirez and Jose Contreras
This winter, Cespedes hit .143 with a home run and 10 strikeouts in 35 at-bats in the Dominican Winter League which some have speculated may has hurt his value.
According to CBS's Danny Knobler, "Several teams that have scouted Cespedes heavily believe that he would be best served by beginning 2012 in the minor leagues" but he also points out that due to his probable high cost, pressure would be heavy to move him to the Majors quickly.
I would be surprised to see the Sox be big players on Cespedes as according to Bruce Levine Cespedes is looking for a long-term deal in the $50 million to $60 million range and they already have 50M through 2015 in Alex Rios and are in the process of rebuild or retooling.
For More Great Chicago Sports Content
Follow us on Twitter at @chicitysports23 for more great content. We appreciate you taking time to read our articles. To interact more with our community and keep up to date on the latest in Chicago sports news, JOIN OUR FREE FACEBOOK GROUP by CLICKING HERE