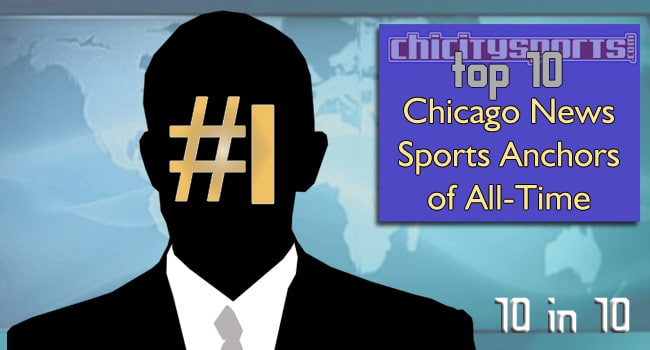 After 10 days of counting down, here is the best Chicago News Sports Anchor of All-Time. Also, continue reading for a recapitulation and many candidates that made our honorable mentions list for various reasons.
[divide style="3″]
#1. Tim Weigel
[divide style="3″]
[divide style="3″]
WBBM CBS Channel 2
WMAQ NBC Channel 5
WLS ABC Channel 7
[divide style="3″]
[divide style="3″]
[clear]
John Timothy Weigel simply went by Tim Weigel, born in Gurnee, and moved to Lake Forest, has set the bar for Chicago sports anchors during his life and even long after his death. His broadcasting career in Chicago sports anchoring began in 1975 when he had the opportunity to move from being a writer to taking the desk. It wasn't long before competing WLS offered him a job as an anchor, where he mainly did sports, but also was a lead anchor of many broadcasts earlier on. In 1995 Tim went over to CBS where he completed his Chicago sports broadcasting career.
Not only were Tim's segments satisfying, he also knew how to fill content throughout slow periods. Weigel's Weiners, was a reoccurring recap of weekly, monthly, and annual bloopers from all around the sports world. Tim was as good as it got, as far as highlighting the events and remains the prototype for a balanced Chicago sports media personality that would both entertain and report.

Tim passed away in 2001 after a fight with brain cancer. His son, Rafer, is also becoming a recognizable name in the same field, along with daughter and fellow Chicago news personality, Jenniffer Weigel.
I had the good fortune to witness most of Tim's life as a sportscaster. I haven't met a person, throughout months of concentrated research for this list, that does not miss seeing him bring in the sports news of the day. Above all of the other impressive sportscasters and personalities we have seen come and go, there is a special group of anchors that left an impression in our hearts and were considered a part of the family.
I'm sorry for not being able to come up with much more than a wikipedia entry's worth of information on Tim. Unfortunately for us, this field in general is not as well documented as it could be for many local anchors and sportscasters. I hope more information is released in the future. The good news is, a decent amount of segments remain floating around the internet. If you happen to come across an old VHS tape with this type of thing recorded, go ahead and capture that stuff, upload it for the world to remember. Take a trip down memory lane and revisit the sports news on random nights. See how much you forgot, and if any of this was before your time, you can still find quite a bit of enjoyment out of Tim's work and the day in sports.
From September 9th, 1985 on WLS-7 10PM news
Way back from Tim's first year .
And of course, you can't have Weigel without Weiner's.
[divide style="3″]
Recap of the 10 in 10 top 10 Chicago News Sports Anchors of All-Time
1. Tim Weigel
2. Bruce Roberts
3. Jim Rose (active)
4. Dan Roan (active)
5. Corey McPherrin
6. Mark Giangreco (active)
7. Bruce Wolf
8. Rich King (active)
9. Mike Adamle (active)
10. Greg Gumbel
A News Sports Anchor is the person you usually see near the end of the news program giving out the sports highlights and scores for the day.  Only Chicago television news programs are considered. The programs can be found on WBBM 2, WMAQ 5, WLS 7, WGN 9(including CLTV), WFLD 32 as the morning, afternoon, daytime, evening, nightly, or various weekend news.
[divide style="3″]
We also came across so many, almost too many, honorable mentions. A lot of sportscasters that were limited as Sports Anchors, but filled in on occasion, while making a bigger name by doing local pre/post games, Sunday recap shows, and other special edition shows. However, that category will be revisited at another time while we stuck to just sportscasters who were a part of Chicago News programs as sports anchors.
Some of the honorable mentions:
Mark Malone was a hard name to keep off the list. If you don't remember him by name, just think of the guy on WBBM that looked like Tom Selleck doing the sports segment. Clean look, quality effort night in and night out. While CBS 2 News ratings were sketchy, Mark wasn't the reason you would turn the dial.
[clear]
Brad Palmer is another tough name to keep off the list. "The Professor" was in a different mold than the rest, and gave some parity to the trusted methods of reading scores with play-by-play highlights. He introduced Chicago's standard for finding lesser stories within a story, and has been a broadcasting icon all around the city ever since. His impact would have easily been ranked higher if it weren't for the fact that he was very limited as a news show, sports anchor. Instead, Brad was the investigative journalist for Chicago sports. Very unique, thus why he deserves such an honorable mention.
Warner Saunders covered the sports exclusively for a while, between being one of Chicago's highest regarded investigative journalist, and then lead anchor on NBC5. He was criticized for repeatedly calling Michael Jordan the greatest of all time(after Mike only played for two seasons). His critics shut up quickly, and realized Warner was not being a biased homer, just a long time fan of basketball and he reported all Chicago sports teams in just as high of a regard. By the same conclusion, Bill Frink was another anchor that covered sports for many years, exclusively at a point. Bill moved onto bigger roles and remains as much a memory to those who had the pleasure to witness him on a nightly basis.
[clear]
Johnny Morris wasn't as much an anchor, as he was the local Bears show guy. Johnny deserves a mention because he had a tremendous amount of sex..erm, success with talking among players and getting honest non-shock media type feedback. Also a favorite, much like Johnny and in a very similar role, Tom Waddle is another mention who did limited anchoring. And similar in roles, but perhaps more time anchoring, Dan Jiggetts, who radiates the exact personality of the prototype we all expect to see reading the highlights.
Dennis Swanson has been forgotten as well as his time in Chicago, but made an impact covering sports. More of a behind the scenes impact, both positive and negative, Swanson invited more change than most viewers wanted to see at the time.  Little did we know, his vision of news and sports anchoring would be more aligned with the current generation.
And let's not forget the sports guys that came and went(as far as the specific subject at hand goes). Tom Shaer (still active behind the scenes) and  Mark Schanowski (now with Comcast Sports Chicago).
[clear]
If we forgot about someone who is worth mentioning, please don't hesitate and leave a comment bellow.
For More Great Chicago Sports Content
Follow us on Twitter at @chicitysports23 for more great content. We appreciate you taking time to read our articles. To interact more with our community and keep up to date on the latest in Chicago sports news, JOIN OUR FREE FACEBOOK GROUP by CLICKING HERE