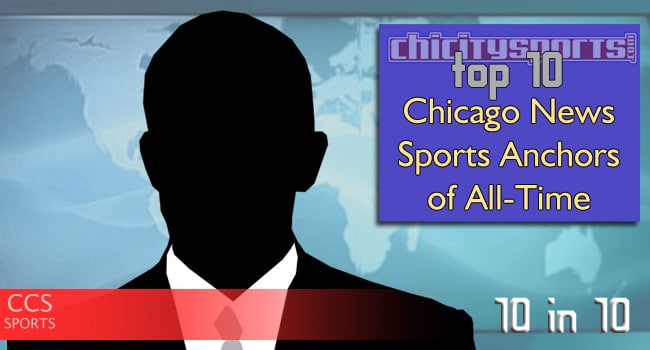 Welcome back to the 10 for 10 where we'll name another Anchor in our top 10 Chicago News Sports Anchors of All-Time.
[divide style="3″]
#4. Dan Roan
[divide style="3″]
[divide style="3″]
[divide style="3″]
[divide style="3″]
[clear]
Sports aren't complicated, so let's just tell it like it is. That's the Dan Roan guide to sportscasting a nutshell. A welcome take on the day's sporting events, after watching complexities unfold in all of the news segments prior to the sports. In addition to WGN news, Dan also covers WGN's pre and post-game broadcasts, along with college Rich King, making up Chicago's most reliable news sports-anchor team over the last 25 years.
Dan joined WGN in 1984, after working for CBS Champaign. Currently, Dan is the second longest tenured News Sports Anchor in Chicago and he has been doing it every day with a big smile.
It was also once said, that Dan Roan challenged Joey Chestnut to a Chicago Style Hot Dog eating contest, and won. Whether or not that's more than a myth, it yet to be known. But Dan was nice enough to play it down, and not ruin Joey's reputation.
[clear]
Covering an Andre Dawson ejection.
Winding down to the final 3. Updated: Click here to see #3
A News Sports Anchor is the person you usually see near the end of the news program giving out the sports highlights and scores for the day. Only Chicago television news programs are considered. The programs can be found on WBBM 2, WMAQ 5, WLS 7, WGN 9(including CLTV), WFLD 32 as the morning, afternoon, daytime, evening, nightly, or various weekend news.
For More Great Chicago Sports Content
Follow us on Twitter at @chicitysports23 for more great content. We appreciate you taking time to read our articles. To interact more with our community and keep up to date on the latest in Chicago sports news, JOIN OUR FREE FACEBOOK GROUP by CLICKING HERE