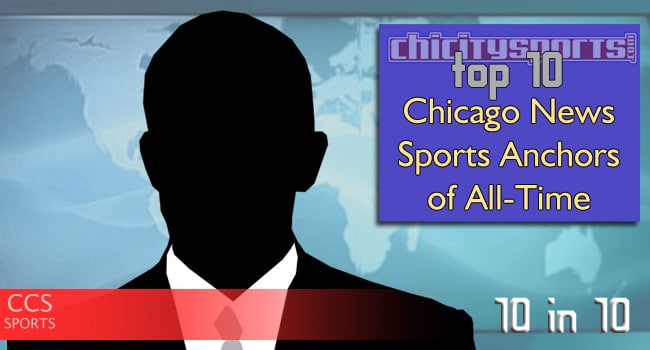 Welcome back to the 10 for 10 where we'll name another Anchor in our top 10 Chicago News Sports Anchors of All-Time.
#8. Rich King
WGN Channel 9
Various sportscasting spots and radio(Including WBBM)
Covering Chicago sports in a career that began in the 60's, Rich King is the pro among pros when it comes to local sportscasting. He started his career behind the scenes at WGN-TV. Not long after, he went over to WBBM where he had his first role as an on-air sportscaster. His favorability on the radio finally landed him back at WGN as an on-screen sportscaster, where he has been ever since.
Born in Chicago, Rich has strong roots and interests with the local occurrences. He provided commentary for White Sox broadcasts during two seasons in the early 80's. Also, Rich became one of the most comfortable and trusted sportcasters for many Bulls players to speak with in the 90s, when then sports world was turned into a 27/7 circus following Michael Jordan in mobs of journalists as far as the eye could see. No gotcha or spin, when Rich went after answers, he is as objective as they come.
Something a bit more personal, Rich shares his relationship with his wife.
And it's not all too real. Rich has his funny moments as well.
http://www.youtube.com/watch?v=ZnLKKVknGME
Come back in a day to see who ranks at #7. Updated: Click here to see #7
A News Sports Anchor is the person you usually see near the end of the news program giving out the sports highlights and scores for the day.  Only Chicago television news programs are considered. The programs can be found on WBBM 2, WMAQ 5, WLS 7, WGN 9(including CLTV), WFLD 32 as the morning, afternoon, daytime, evening, nightly, or various weekend news.
For More Great Chicago Sports Content
Follow us on Twitter at @chicitysports23 for more great content. We appreciate you taking time to read our articles. To interact more with our community and keep up to date on the latest in Chicago sports news, JOIN OUR FREE FACEBOOK GROUP by CLICKING HERE