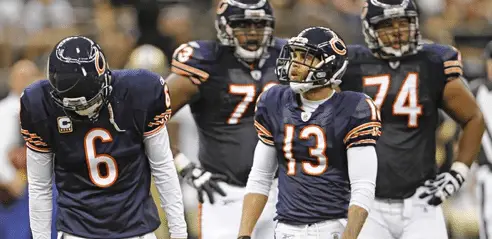 We've all had some time to stew over the 30-13 loss to the Saints on Sunday. After breaking down some film and looking back on some plays, we've compiled 10 key observations from the game. We'll do our best to include some positives, but guys…I can't promise anything.
1.) Offensive Line implodes, gives up 6 sacks
The Bears offensive line collectively peed their pants and gave up 6 sacks on Sunday. Somehow they made a mediocre pass rush by the Saints, without their best pass rusher, look out of this world. Without Gabe Carimi and Lance Louis, this offensive line couldn't block the sun if they were wearing SPF 90. At what point are the Bears going to kick Frank Omiyale in the nards and just insert TE Matt Spaeth? Outside of Carimi, Spaeth may be the only blocker on the Bears who can not only spell the word block, but effectively pull one off.
2.) Gabe Carimi reportedly has dislocated his knee
Reported are coming out that Gabe Carimi reportedly has dislocated his knee. Bears nation collectively let's out a huge "Fuck.". Jerry Angelo set this team up for failure by not adding any veteran offensive linemen outside of Chris Spenser, who showed his lack of worth against the Saints on Sunday. Without Carimi and Lance Louis, this offensive line looks strikingly similar to the line of last season. Possibly worse.
3.) Cutler throws ball 47 times, why is Mike Leach calling the plays? 
Mike Leach, former Texas Tech coach has to be calling our plays, otherwise there is no excuse for 47 pass attempts from Cutler. We were without Earl Bennett and Roy Williams yet, we still attempted to feed the ball to our rag tag bunch of WR's. I am all for getting the ball in Dane Sanzenbacher's hands and as much as I like him, unless we throw it to him all 47 times, I have a serious problem with the amount of pass attempts in this game. We need a more balanced and focused attack. With that said, I move onto my next observation.
4.) Forte proves to be best offensive weapon, Bears don't feed him the ball. 
Matt Forte was the only Bears player who had a good game in my mind on Sunday. Forte had 10 carries for 49 yards, and 10 catches for 117 yards. Forte had 10 total catches, the rest of the Bears WRs/TEs had a total of 9. Welcome to the Twilight Zone. Forte has proven to be our most consistent option on offense yet, when we can't move the ball, we refuse to just feed him the ball until our offense picks it up? The only reason Matt Forte should EVER have 10 carries, is if that's the total # he has at the end of the 1st half. I am sickened that he only received 2 carries during the 2nd half of Sundays' game. I'm talking "Watch Todd Collins throw a football" level of sickened.
5.) Major Wright is Major Wrong. 
I was a huge fan of the Major Wright draft pick but, am starting to deviate from that thought process. Wright has been poor over all in pass coverage and gave up a HUGE 79 yard TD pass to Devery Henderson on Sunday. The Bears pride themselves in not giving up the big play and Wright did everything in his power to have that notion dismissed. If the other team's fastest player lines up in the slot, you must recognize this from the snap of the ball. Henderson split Wright and Conte and pranced into the endzone for an easy TD. Wright had a great pre-season his rookie season and since then has yet to show anything worth keeping him on the roster. Credit goes to Rory Sparrow on our Forum for the Wright/Wrong based headline on #5.
6.) Tim Jennings will lead league in Tackles….shit. 
Tim Jennings was 2nd in the team in total amount of tackles with 7. Lance Briggs compiled 10 tackles on the day, Jennings is gunning for the league crown. Tim Jennings isn't amazing in run support, he gets thrown on and, usually the WR trips while stepping over his limp body, which results in a tackle. Jennings is currently leading the team in tackles with 17. I may actually vomit if I continue.
7.) Kellen Davis will sign Jay Cutler's death certificate by end of season. 
When Jay Cutler was sacked and fumbled the ball, giving the Saints the ball in the red zone, the blame lays 100% with Kellen Davis. Kellen Davis whiffed on a block and allowed the rusher a free shot on a defenseless Jay Cutler. Brees gets the ball in the red zone, then throws a touchdown with ease. This to me is where the game went from "Ok, we have a shot" to "Fuck, when is it over". When a guy displays effort and makes a bad play, you cannot fault them. When Davis came off the line, it was a lackadaisical attempt at blocking and it resulted in our franchise QB getting laid out and turning the ball over. No soup for you Kellen Davis.
8.) Earl Bennett most productive WR, even after leaving game in 1st quarter. 
Outside of Dane Sanzenbacher at least showing he knows the offense, the WR's played a very poor game. Hester and Knox were non-factors, Sam Hurd in his first game made one nice catch and disappeared. Earl Bennett caught a 9 yard pass in the 1st quarter and left the game. Bennett still had one of the most productive days of all of the WR's. The starting RB should never have more catches total than the entire WR corps. Forte had 10 receptions compared to Knox/Hester/Sanzenbacher/Hurd/Clutts who all had 9 combined.
9.) Off-Season Additions Contribute Zilch.
This one is a little cheap considering Roy Williams and Marion Barber didn't play but, our off-season additions were no shows. No stock was put into Amobi Okoye since he's apart of a rotation but, he had 2 tackles and was the most productive "new" Bear from Free Agency. This is more of a shot at Jerry Angelo not signing any significant free agents, than it is a shot at Roy/Barber for not playing. Chris Spenser displayed a strong knack for not doing a damn thing. It saddens me to know how much money we had to play with in Free Agency and we did nothing with it. Seeing Pro-Bowl G Brian Waters from KC sign with New England and play with them hurts. Just knowing we could have had Waters over this inept group of misfits hurts me deep down.
10.) Sanzenbacher is awesome. 
Dane Sanzenbacher played pretty much the entire game and had 3 catches for 33 yards and 1 TD. Seeing SANZENBACHA reel in his first career TD as an undrafted free agent was a pretty good moment. My only gripe involving Dane was that Cutler threw the ball 47 times and Dane only had 3 receptions. Dane had a great opportunity to lead the league in receptions and come up with 47 catches and didn't answer the call. All jokes aside, Dane showed a strong upside with Earl Bennett out of the game. He also took a huge shot (should have been a flag) from Malcolm Jenkins on an errant pass where he was defenseless. He didn't play scared after getting blasted either, he continued to go across the middle. Let's hope to see more of SANZENBACHA in weeks to come. Fan favorite? Fuck yes.
For More Great Chicago Sports Content
Follow us on Twitter at @chicitysports23 for more great content. We appreciate you taking time to read our articles. To interact more with our community and keep up to date on the latest in Chicago sports news, JOIN OUR FREE FACEBOOK GROUP by CLICKING HERE