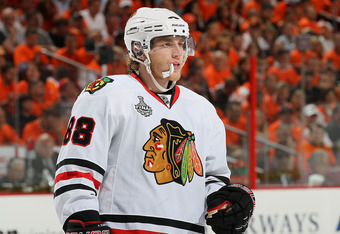 After taking a step back from the 2009-10 season, it can easily be stated that anything other than the tribulations of last season's start would be welcomed.
Entering a year amidst many questioning maturity and lack of point production during his sophomore season, Kane only was in his third season and was facing adversity.
How would he answer?
By showing that the five-year, $31.5 million contract was completely worth every penny.  Throughout the season Kane not only produced a career best point total (88), but set a personal bench mark in goals (30) and assists (58).  Most of all he turned two previous seasons' plus/minus ratios of a combined -7, into a (+16) ratio.
After a season of living up to much expectation and serving as the cover player of NHL 10, Kane has solidified himself amongst the leagues' elite offensive threats.  Most of all, being only 21 years-old means one thing.
A bright future.
| | | | | |
| --- | --- | --- | --- | --- |
| | G | A | Pts | +/- |
| 2009-10 Season Totals | 30 | 58 | 88 | +16 |
| 2010-11 Projection | 35 | 62 | 98 | +19 |
While people may say "duh", who wouldn't say Kane has a bright future?  The point isn't that Kane is not only destined for future success, but doing so in a memorable way.
For many who don't know, when Patrick Kane entered the Blackhawks' organization he became the highest ever draft pick in the history of the franchise.
While a premium comes on expectations when being a number one selection in any draft, the previous Blackhawks' pick at such a high spot that came in with comparable hype was Denis Savard.
In comparison both Savard and Kane established their presence with finesse and quickness.  Both standing a mere 5'10", each posted point totals of 75 and 72 respectively, while Kane managed to take home the Calder Memorial trophy (NHL Rookie of the Year).
The difference you may ask?
Savard, for those who do not know, went on to rattle off seven straight seasons of 90 points or more.  The possibility of Kane stepping up in his fourth season and finally reaching this plateau is in fact a very attainable goal.
Much of the talk still surrounds where the production will come from in the organization to replace those who left during the off-season.
The simple answer could be looking no further than at Kane… and of course his counterpart, center Jonathan Toews.
After a season of 88 points and a Stanley Cup game-winning goal, who could ask for more?  At this point it isn't about asking for more, it is about expecting more.
A team led by many great young stars means expectations will continue to soar.  Having a Stanley Cup in tow has to be a huge burden lifted off many players in the Chicago Blackhawks' locker room.
For Kane, it will become another season in which he will continue to prove skeptics wrong.  It seems as if the very people who said he was too small, the same people who doubted his teammates, and the same ones who were critical of Kane's off-ice issues are the ones who may need to start steering the ship in a new direction or abandon altogether.
Patrick Kane may not be a captain, but that doesn't take away his ability to be a leader.  Naturally, Kane is at this level because of his talent and the mentality of respecting his team.  Yes, the past two months have been bright for Chicago hockey, but they are far from the sunset as long as number 88 graces the United Center ice.