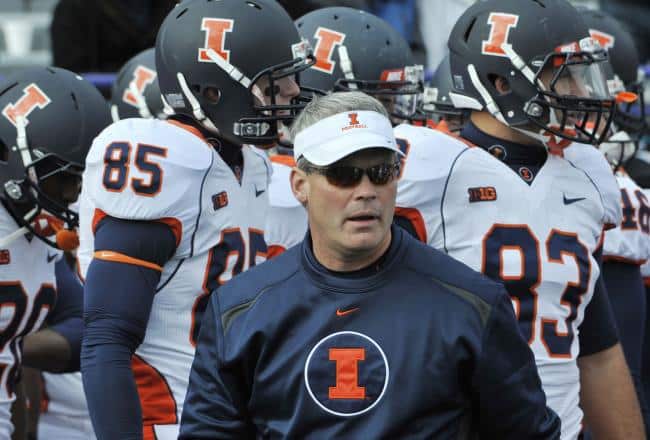 I'm not going to tell you anything you don't already know. Illinois had a bad season. Really bad. Like, 2-10 bad. Worst team in the Big Ten bad. Losing to Indiana at home bad. Multiple sideline interference penalties in one game bad. Head coach caught dipping during a game bad. 9-game losing streak bad. No conference wins bad. Wishing Ron Zook was still our coach bad. You get the idea.
Of the 124 FBS teams, the Illini ranked 110th in passing yards/game, 99th in rushing yards/game, 122nd in points/game, and 95th in points allowed/game. But the stats only tell part of the story. Illinois became the doormat of the Big Ten, the team everyone knew they could beat. And each loss brought an increased awareness that the program was headed in the wrong direction.
Illinois football tends to be an enigmatic, roller-coaster sort of program. After finishing 10-2, winning the Big Ten, and playing LSU in the Sugar Bowl in 2001, the Illini went 13-45 (6-34 in the Big Ten) from 2002-2006. And then in 2007, Illinois went 9-3, finished second in the Big Ten, and found themselves facing USC in the Rose Bowl. And now from 2008-2012, Illinois has gone 24-38 (11-29 in the Big Ten), and have lost 14 straight conference games.
The really scary part is that next year will almost certainly be worse. Cincinnati and Washington highlight a difficult non-conference schedule, and the Illini will have to travel to Nebraska and Penn State. 1-11 and another 0-8 conference record is a very real possibility. That would mean 22 consecutive conference losses from 2011-2013.
Illini Nation will need to count on Tim Beckman to make sure that doesn't happen. After much speculation that Beckman would be fired following such a dismal first season, AD Mike Thomas announced earlier this week on ESPN Radio in Champaign that Beckman's not going anywhere. "I think someone deserves more of an opportunity to put their system in place, their culture in place, their kids in place that fit that system to provide stability for the future."
One of those kids will be four-star dual-threat QB Aaron Bailey. Rivals ranks the 6'2″ 215 pound Bolingbrook standout as the top QB in Illinois and 8th best dual-threat QB in the nation. If Nathan Scheelhaase continues to struggle, Bailey will likely see time under center as a true freshman. Surprisingly, the on-field woes haven't seemed to affect recruiting – Illinois' 2013 class currently sits at 23rd best in the nation and 3rd best in the Big Ten.
It's funny how relative college football can be. Illinois went 7-6 in Ron Zook's final two seasons and won back-to-back bowl games for the first time in school history. But because these teams underperformed with a wealth of NFL talent, Thomas decided it was time for a change. And even though I thought that was the right move (and still do), I can't even describe how far away 7-6 feels right now. A bowl game? Laughable. I know a college football coach can't be properly evaluated after just one season, but it sure seems like Bekcman's in over his head.
"The losing really hurts," Beckman said following Illinois' decisive 50-14 season-ending loss at Northwestern. "You want your kids, just like you want your sons, to experience winning. We didn't experience winning this year, and it was one of the hardest years I've ever endured."
But hey, at least we've got basketball.
For More Great Chicago Sports Content
Follow us on Twitter at @chicitysports23 for more great content. We appreciate you taking time to read our articles. To interact more with our community and keep up to date on the latest in Chicago sports news, JOIN OUR FREE FACEBOOK GROUP by CLICKING HERE