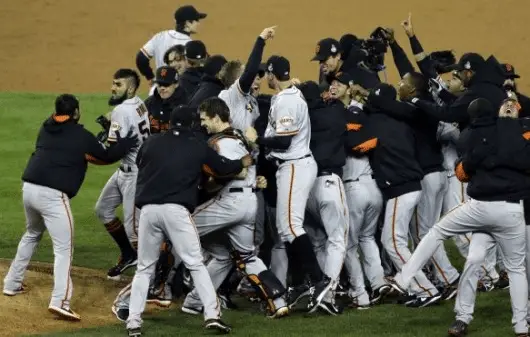 Baseball is back! After a long and frustrating offseason for some, and a prosperous one for others, the 30 teams are ready to take the field yet again to play America's pastime. With the constant changes going on around baseball, here is a full preview of the upcoming season, as well as my predictions.
(Teams listed in order of predicted finish)
NL Central:
1. Cincinnati Reds
Additions: Shin-Soo Choo, Jack Hannahan, Jason Donald, Manny Parra
Outlook: The Reds are expected to come back even stronger this season. They will feature the same starting rotation led by ace Johnny Cueto, and all their starters are phenomenal innings eaters. Mat Latos, Homer Bailey, Bronson Arroyo and Mike Leake round out the most consistent rotation in the majors. It was recently decided that Aroldis Chapman would stay in the bullpen this season, which should allow the Reds to feel comfortable heading into any save situation. Offensively, they are led by former MVP Joey Votto, who struggled with injuries last season, and slugger Jay Bruce, who benefits from the hitter friendly Great American Ballpark. Rather than Drew Stubbs, they have Shin-Soo Choo leading off, who has struggled over the past couple of seasons, but has proven to be a reliable lead-off man for the Indians. Ryan Ludwick and Brandon Phillips are reliable veterans and Todd Frazier put together an outstanding rookie campaign last season. It will be hard to imagine the playoffs this season without the Reds in them.
2. St. Louis Cardinals
Additions: Ty Wigginton, Randy Choate
Outlook: St. Louis had a quiet offseason, but are consistently a playoff team and this season shouldn't be much different. With Chris Carpenter out for the season, newly extended Adam Wainwright heads the pitching staff. The X-Factor of the staff is rookie Shelby Miller, who could become the next pitching phenom in baseball. The Cardinals have always been excellent in developing pitchers and Miller shouldn't break it. Carlos Beltran has drawn some concern, but is widely expected to be an under-the-radar producer, similar to last season. Matt Holliday, Allen Craig and Yadier Molina are not always talked about, but consistently perform extremely well. Their biggest question mark comes in the bullpen, with solid setup man, but unproven closer Mitchell Boggs expected to close out games. Besides him, they don't have anyone else that can be counted on to finish games. Closer Jason Motte is on the DL, and may not come back until May. The Cardinals might cut it close, but they are at least likely to be in the Wild Card play-in game.
3. Milwaukee Brewers
Additions: Yuniesky Betancourt, Kyle Lohse, Mike Gonzalez
Outlook: Nothing the Brewers did in the offseason set them apart from the NL Central frontrunners, despite the late signing of Kyle Lohse. Ryan Braun, who is in danger of being suspended, leads the offense, and he gets help from players including slugging Second Baseman Rickie Weeks, run-producing Third Baseman Aramis Ramirez, and under appreciated Catcher Jonathan Lucroy. The Rotation is led by Yovani Gallardo and Kyle Lohse, but the stars end there. Marco Estrada, Chris Narveson and Mike Fiers are an underwhelming group of back of the rotation starters. The Bullpen is another reason the Brewers aren't a likely playoff team. John Axford can be shaky at times, and his setup men are young, unproven relievers. While they are getting closer, it is hard to see Milwaukee in the playoffs, barring a big trade deadline acquistition.
4. Pittsburgh Pirates
Additions: Jonathan Sanchez, Mark Melancon, Francisco Liriano, Brandon Inge
Outlook: Pirates fans can only hope for a winning season, as a playoff berth is unlikely, even in the weak NL Central. Andrew McCutchen is still their only consistent hitter, with a lot of role players who hit for a low average. I would personally be surprised if A.J. Burnett repeats with another good season, but its possible. However, with the Pirates rotation, there is not a starting pitcher who will scare any teams, like many MLB powerhouses have. With Joel Hanrahan out as closer, Jason Grilli will take over, and he has revitalized his career as a setup-man, but with the exception of the World Baseball Classic, hasn't had much closing experience. The Pirates have too many question marks to compete in their division.
5. Chicago Cubs
Additions: Edwin Jackson, Scott Baker, Scott Feldman, Scott Hairston, Nate Schierholtz, Dioner Navarro, Kyuji Fujikawa, Hector Rondon, Hisanori Takahashi, Carlos Villanueva, Brent Lillibridge
Outlook: The lovable losers are still going to lose this season, but there will definitely be improvement. They again restocked their team, adding a bevy of new players, but no real difference makers. Anthony Rizzo is starting his first full season and along with Starlin Castro, will form one of the better young lineup cores in the majors. With injuries to Matt Garza and Scott Baker, the rotation is a bit depleted, but Edwin Jackson and Jeff Samardzija should keep the team in plenty of games. Shaky closer Carlos Marmol is back after almost being traded, but James Russell, Shawn Camp and Kyuji Fujikawa should provide insurance if he gets into trouble. While some patches have been fixed up, the Cubs aren't a complete enough team yet to compete again.
NL East:
1. Washington Nationals
Additions: Denard Span, Dan Haren, Zach Duke, Rafael Soriano
Outlook: While the Nationals did not make a ton of moves, they filled the holes they needed to in order to have a repeat of last year's performance. Denard Span was acquired from Minnesota and will be their new lead-off hitter. Sluggers such as Jayson Werth, Adam LaRoche and Ryan Zimmerman as well as stud Sophomore Bryce Harper should put fear into opposing pitchers. The Nats feature the deepest 1-5 rotation in the National League. Cy Young candidates Stephen Strasburg and Gio Gonzalez head the rotation, with poised lefty Ross Detwiler serving as the #5 starter. Rafael Soriano will serve as the new closer, and he is proven he is one of the best closers in the league. Although they have a young team, Washington should grab their second consecutive division title.
2. Atlanta Braves
Additions: Justin Upton, B.J. Upton, Gerald Laird, Chris Johnson, Jordan Walden
Outlook: A new look Outfield gives Atlanta a much bigger appeal. The Upton brothers should be headline makers and produce very well on the field. Despite the retirement of captain Chipper Jones, this Braves Offense, who has been consistent for many years, should still produce this season. The Braves also feature a very deep rotation, with star young pitcher Julio Teheran and reliable veteran Paul Maholm bringing up the rear. While their middle relief is shaky, closer Craig Kimbrel is as good as they get, and setup men Eric O'Flaherty and Johnny Venter, along with new acquistion Jordan Walden will consistently produce in the late innings. While maybe not a lock for the playoffs, Atlanta is a very strong team.
3. Philadelphia Phillies
Additions: Michael Young, Ben Revere, Mike Adams, John Lannan, Delmon Young
Outlook: The Phillies made plenty of great acquistions over the offseason that should lead to their improvement. They have the familiar faces on offense who will be accompainied by newcomers Michael Young, Delmon Young and Ben Revere. They have three core great starters in Hamels, Halladay and Cliff Lee and will have Jonathan Papelbon closing games again. Even though I don't think you will see the Phillies in October, they have made definite improvement after a huge letdown last season.
4. New York Mets
Additions: Marlon Byrd, John Buck, Anthony Recker, Collin Cowgill, Shaun Marcum, Brandon Lyon, LaTroy Hawkins
Outlook: I bumped the Mets down a spot after the recent season-ending injury to Johan Santana, which will put another question mark in the rotation until Shaun Marcum is ready to come back. Jon Niese, Matt Harvey and Dillon Gee are a good 1-3, but aren't good enough to get them past the NL East powerhouses. Frank Francisco, who is usually their closer, is also on the DL, which means the inexperienced Bobby Parnell will close games for the time being. The rest of the bullpen is either filled with unproven arms or veterans in the twilight of their careers. Offensively, Daniel Murphy and David Wright, their two best hitters, are questionable to start the season, leaving Ike Davis as the only real threat in the lineup. With injuries depleting them to start the season, the Mets could struggle early, and it could turn out to be too late for them to recover.
5. Miami Marlins
Additions: Casey Kotchman, Adeiny Hechavarria, Chris Valaika, Henderson Alvarez, Kevin Slowey, Jon Rauch, John Maine
Outlook: After getting rid of almost all their pieces either at last season's trade deadline or during the offseason, the Marlins have miniscule expectations this season. Giancarlo Stanton and Logan Morrison are the only sort of threats that the Marlins feature in their lineup. Their staff is also depleted, with Ricky Nolasco heading the rotation and no other support for him. Steve Cishek is a possible bright spot closing, but there is expected to be few of those on the Marlins this year, who could wind up with the #1 overall pick come June 2014.
NL West:
1. Los Angeles Dodgers
Additions: Skip Schumaker, Zack Grienke, Hyunjin Ryu
Outlook: This is my first very controversial pick, but I really like the Dodgers team this season, no matter how much they spent. Once Hanley Ramirez returns, they will have a dynamic offense from top to bottom with Matt Kemp and Adrian Gonzalez the stars. They also feature a deep rotation which includes three former Cy Young Winners. The bullpen may be the biggest question mark, but Brandon League has experience closing and Kenley Jansen and Ronald Belisario are shut down setup men. The Dodgers are a force to be reckoned with and a World Series favorite.
2. San Francisco Giants
Additions: Chad Gaudin
Outlook: I expect the World Series Champs to take a step back this season. Their pitching should be phenomenal again, but I think almost all of their primary hitters will struggle this season, Buster Posey being the lone exception. AT&T Park has never been friendly to hitters, and I expect the star pitchers of rival NL West teams to exploit the holes in their lineup. Despite a weak offense, I think the Giants can still contend for a playoff spot this season.
3. San Diego Padres
Additions: None
Outlook: Another potentially controversial pick of mine, I think the Padres will benefit from the Diamondbacks declining this offseason. After another quiet offseason, the Padres will rely on the same players as last season to help them. With MVP candidate Chase Headley on the DL, heralded rookie Jedd Gyorko will be the starting Third Baseman. Gyorko is a potential 30 Home Run guy. Edinson Volquez, Clayton Richard, and the rest of the pitching staff should benefit from playing in a strong pitchers ballpark, which could give the Padres a few extra wins, although the playoffs aren't in sight.
4. Arizona Diamondbacks
Additions: Martin Prado, Eric Hinske, Eric Chavez, Brandon McCarthy, Heath Bell, Tony Sipp, Matt Reynolds, Cody Ross
Outlook: Ever since winning the division two years ago, the D-Backs have been on a steady decline. They traded away their star Justin Upton this season, but in return got former All Star Martin Prado. Even with Prado, I see holes in the lineup, such as no players that can provide a high average. They have a lot of power hitters, but few that are great at getting on base. I am a fan of their pitching staff though. Ian Kennedy is an ace, and Brandon McCarthy and Trevor Cahill are good alternatives. Where I think the rotation really shines is the back end, which features nasty youngsters Wade Miley and Patrick Corbin. Their acquistion of Heath Bell provides solid insurance to J.J. Putz in the bullpen, so a ninth inning man shouldn't be a huge problem either for Arizona. The Diamondbacks will battle San Diego for third in the division, but I can't see them finishing any better than that.
5. Colorado Rockies
Additions: Reid Brignac, Jon Garland, Chris Volstad
Outlook: The Rockies had an abysmal season last year and its hard to see them doing much better this year. Carlos Gonzalez and Troy Tulowitzki are a great 3-4 punch, but the lineup they feature couldn't get the job done enough last year. Their pitching staff might be the worst in the league. Jhoulys Chacin, their #1 starter, is far from an ace, and all of their pitchers have a tendency of being rocked at Coors Field. Rafael Betancourt is a solid closer, but its hard to see him getting many chances for saves this season. Expect Colorado to once again be in the cellar of the NL West.
AL Central:
1. Detroit Tigers
Additions: Torii Hunter, Brayan Pena, Matt Tuiasosopo
Outlook: The Tigers came just four wins away from the World Series last season, and it would make sense for them to be back there. They got rid of Delmon Young offensively, but improved by adding Torii Hunter to replace him. Also, Victor Martinez, who missed all of last season with injury, will be back. Martinez is a 100 RBI player when healthy. Otherwise, they have the same group as last season, led by Triple Crown winner Miguel Cabrera and slugger Prince Fielder. Their rotation is also the same, and features newly extended Justin Verlander along with Max Scherzer, Doug Fister, Anibal Sanchez and Rick Porcello. The bullpen is in question, with the Tigers lacking a true closer. Joaquin Benoit and Phil Coke should get some looks, but it may be a closer by committee, something that could possibly get in the way of another World Series berth.
2. Cleveland Indians
Additions: Michael Bourn, Nick Swisher, Mark Reynolds, Drew Stubbs, Ryan Raburn, Mike Aviles, Brett Myers, Scott Kazmir, Bryan Shaw, Rich Hill
Outlook: The Indians seriously improved over the offseason, including adding a pair of Outfielders. Their offense also features such bats as Jason Kipnis and Asdrubal Cabrera, one of the better offensive middle infields in the league. Pitching is a bit of an issue, with no proven starters. Justin Masterson isn't a bad option, but isn't good enough to lead the rotation. Ubaldo Jimenez is on a steady decline, and Brett Myers, Zach McAllister and Scott Kazmir aren't reliable starters. However, Chris Perez is a nice closer and Vinnie Pestano and Joe Smith are great setup men. The Indians could be in contention for a few months, but they will have a tough time finding themselves in the playoffs.
3. Chicago White Sox
Additions: Jeff Keppinger, Hector Gimenez, Angel Sanchez, Conor Gillaspie
Outlook: The White Sox will have a tough time keeping up in the AL Central. Their offense is good, but won't be able to match the Tigers offensive star power. With the exception of Paul Konerko, all of their top hitters have had rough seasons, and cannot be counted on to have a great season. In the rotation, Chris Sale is a legitimate ace, but Jake Peavy and Gavin Floyd have been all over the place during the last couple of seasons. A pitcher I do like is their 4 starter, Jose Quintana. Him and Sale are a great duo with bright futures. Addison Reed struggled last steason as the closer, but veteran setup men Matt Thornton and Jesse Crain should be able to provide insurance for him in case he struggles. The White Sox and Indians should battle for second place, but it is also hard to see the White Sox getting ahead of the Tigers.
4. Kansas City Royals
Additions: George Kottaras, Miguel Tejada, Elliot Johnson, James Shields, Wade Davis, Ervin Santana, Juan Gutierrez
Outlook: The Royals made big improvements to their pitching staff this offseason, adding Shields, Santana and Davis, which is 60% of their rotation. However, the Royals don't have the firepower in their rotation to compete. Jeremy Guthrie and Luis Mendoza are the other two starters, and besides Shields, their group shouldn't scare too many hitters. Greg Holland, their closer, could turn into a nice option, and the Royals are going with a young bullpen that will gain valuable experience this season. They have a lot of nice, young hitters, but still not enough to win them a division. Billy Butler and Alex Gordon are the leaders and had good seasons last year, but they will need the help of youngsters Eric Hosmer and Mike Moustakas, who didn't live up to their potential last season, in order to be successful. This is the last year that the Royals will be in the cellar of the AL Central, and could even turn out to be this season's Orioles, but I don't think there is a good chance of it happening.
5. Minnesota Twins
Additions: Vance Worley, Mike Pelfrey, Kevin Correia, Josh Roenicke
Outlook: The Twins are expected to finish at the bottom of the AL Central for the second consecutive year. Aaron Hicks is a nice leadoff piece that they have and is a Rookie of the Year candidate. Joe Mauer, Josh Willingham and Justin Morneau should provide the power, but their presence didn't do much for the team last season. While the offense isn't that bad, their pitching is very weak. Vance Worley is a good 3rd option, but not an ace at this point in his career. The Twins really cleaned up their rotation, also adding Pelfrey and Correia, but they won't have a good enough rotation to compete.
AL East:
1. Tampa Bay Rays
Additions: Yunel Escobar, James Loney, Kelly Johnson, Roberto Hernandez
Outlook: Some teams in their division got stronger, others got weaker, but the Rays were just the Rays. They rarely make impact offseason moves and just rely on developing players, and it has worked in their favor. They come back with a lineup that lacks star power besides Evan Longoria, but will consistently get the job done. 2012 Cy Young winner David Price is their ace, and Jeremy Hellickson and Roberto Hernandez are also pitchers that should prove to be tough to handle. What could be the difference is the back end. Matt Moore and Alex Cobb, two young starters, have bright futures, and could exceed expectations this season. Another area where they will excel is in the bullpen. Francisco Rodney was the best closer in the game last year, and this year should be no different. While they may not be the popular pick, I believe the Rays will win the division.
2. Toronto Blue Jays
Additions: Jose Reyes, Melky Cabrera, Emilio Bonifacio, Maicier Izturis, Mark DeRosa, R.A. Dickey, Josh Johnson, Mark Buehrle
Outlook: The Blue Jays had the most publicized offseason of any team in the Major League, and for good reason. The difference makers they acquired could help them finally reach the playoffs once again. Besides Reyes and Cabrera, Jose Bautista, Edwin Encarnacion and Colby Rasmus are returning sluggers who produce a ton of runs. While their rotation was depleted with injuries last season, they patched that hole, acquiring the likes of Dickey, Johnson and Buehrle to go along with returning starters Brandon Morrow and J.A. Happ. Casey Janssen has quietly become a very good closer, and Sergio Santos returns from injury to set up for him in the 8th inning. The Blue Jays are the most improved team in the league, but it remains to be seen whether that can translate into a playoff berth.
3. Baltimore Orioles
Additions: None
Outlook: The Orioles surprised many last season, and could be primed for another playoff run this season. They bring back the same group as last season, with Nick Markakis and Matt Wieters as standouts on Offense. The rotation is a cause for concern, but they made it work last year. Jason Hammel and Wei-Yin Chen will have to follow up last season with another great year if the Orioles want to hang around in contention.
4. New York Yankees
Additions: Kevin Youkilis, Travis Hafner, Brennan Boesch, Lyle Overbay, Ben Francisco, Vernon Wells, Shawn Kelley
Outlook: It is not often that you predict the Yankees and Red Sox to be at the bottom of the division, but it is looking like that will happen this year. The Yankees will have a depleted team to start the year, with Curtis Granderson, Mark Teixeira, Derek Jeter, Phil Hughes, Alex Rodriguez and Michael Pineda all on the Disabled List. The injuries leave Robinson Cano as the only real threat in the Yankees lineup. What was once the best lineup in baseball has been turned into a mess, thanks to a bevy of Spirng injuries. The staff is not much better. The only sure bets are C.C. Sabathia and Mariano Rivera. Hiroki Kuroda and Andy Pettite, two guys really getting up there in age, are the #2 and #3 starters, and could wear down as the season progresses. The Yankees might surprise some people, but in a bad way. They are far from a sure bet to make the playoffs, and may even be the 2nd best team in New York this season.
5. Boston Red Sox
Additions: Shane Victorino, Mike Napoli, Mike Carp, Ryan Dempster, Joel Hanrahan, Koji Uehara, Stephen Drew,
Outlook: Things are not looking up for this Red Sox team. All the stereotypes of the AL East should be broken this season, and the Red Sox will struggle for the second straight season. However, they will not struggle because of their hitting. The acquistions of Napoli and Victorino will be huge, and they will complement fellow veterans Jacoby Ellsbury and Dustin Pedroia well in the order. Jackie Bradley, who made the team on the heels of a huge Spring Training, is a Rookie of the Year candidate. Where I expect this team to struggle is pitching. Jon Lester has been shaky in his past couple of seasons, and nobody else behind him is a sure fire ace, although they have had good track records. The lack of a shut down starter and an all around weakness in the rotation should do the Red Sox in this season, even though they may finish with a winning record.
AL West:
1. Los Angeles Angels of Anaheim
Additions: Josh Hamilton, Chris Snyder, Joe Blanton, Jason Vargas, Tommy Hanson, Sean Burnett, Ryan Madson
Outlook: The Angels again made the biggest move of the offseason, signing Josh Hamilton a year after signing Albert Pujols. The trio of Pujols, Hamilton and Mike Trout will be difficult for even the best pitchers to contain. Add in players such as Erick Aybar and Mark Trumbo, and this might be the best lineup in the AL. The Angels lost Zack Grienke on the pitching staff, but signed three pitchers to help replace him and the likes of Ervin Santana. Since all there starters have had very good careers, the Angels should be set in the rotation as well. Over the offseason, they added Ryan Madson to a bullpen group that already includes Ernesto Frieri and Sean Burnett. While they could run into trouble with the middle relief, they shouldn't have many problems in the later innings. Even though last year was not kind to the Angels despite their big move, this year will be different, and could result in a long playoff run.
2. Texas Rangers
Additions: Lance Berkman, A.J. Pierzynski, Jeff Baker, Jason Frasor, Derek Lowe, Joakim Soria
Outlook: The Rangers got signficantly weaker in the offseason, losing Josh Hamilton, Mike Napoli and Ryan Dempster, and not gaining anyone of any of their calibers.  They still have solid bats in their lineup such as Ian Kinsler, Elvis Andrus and Adrian Beltre, but it is just not as intimidating as it has been the past couple of seasons. Right now, the Rangers only have four capable starters, with Colby Lewis, Martin Perez and Neftali Feliz all on the disabled list. The four starters(Matt Harrison, Yu Darvish, Derek Holland, Alexi Ogando) could all have big seasons, but will run into the Angels bats more than once, which will cause problems. The Rangers don't have a bad team, but it is in question whether they can compete in the AL West.
3. Oakland Athletics
Additions: Jed Lowrie, John Jaso, Chris Young, Hiroyuki Nakajima
Outlook: After surprising the baseball world last season, the A's have higher expectations than usual. Like the Orioles, they are trotting out a similar team to last season. Their young pitching staff is key. Their group could be the most underrated starting pitching group in the major leagues. Brett Anderson, Jarrod Parker and Tommy Milone are proving themselves one start at a time and made names for themselves during the playoffs last season. Sean Doolittle, Ryan Cook and Grant Balfour is a very strong 7-8-9 punch in the bullpen, that should be able to shut opposing offenses down. The offense still lacks star power, but Josh Reddick and Yoenis Cespedes are expected to carry the load. The A's may find it more difficult to compete this year, but with a little luck, could find themselves in the playoff hunt again.
4. Seattle Mariners
Additions: Kendrys Morales, Michael Morse, Kelly Shoppach, Robert Andino, Jason Bay, Raul Ibanez, Joe Saunders, Kameron Loe
Outlook: After years of incompetent offenses, the Mariners finally made some moves to acquire sluggers Morales and Morse, who will slot in right in the middle of their lineup. Besides them, there aren't too many threats in the order, but Michael Saunders and Kyle Seager seem to have bright futures ahead of them. Felix Hernandez is a top 5 pitcher in the league, but there are no sure bets behind him in the rotation. The same goes for the bullpen, with Tom Wilhelmsen expected to close. He has had a nice career as a setup man, but it is unknown how he will do closing. While the Mariners definitely improved over the offseason, there are still too many question marks on this team.
5. Houston Astros
Additions: Carlos Pena, Rick Ankiel, Chris Carter, Ronny Cedeno, Philip Humber, Erik Bedard, Josh Fields, Jose Veras, Alex White, Brad Peacock
Outlook: Even with their move to the AL West, the Astros are still the worst team in the league. They have no sort of hitting besides Jose Altuve, who's approach to the game isn't enough to carry an offense. Bud Norris and Lucas Harrell are nice pitchers, but are 3 or 4 starters on good teams, not 1 or 2. Jose Veras has had a nice career for himself, but shouldn't even get many chances to close, and has an inexperienced group with him in the bullpen. The Astros should battle the Marlins for the worst record in baseball.
Playoff Predictions
AL Wild Card: Blue Jays over Rangers
NL Wild Card: Giants over Braves
AL Division Series:
Tigers over Blue Jays
Angels over Rays
NL Division Series:
Giants over Reds
Nationals over Dodgers
AL Championship Series
Tigers over Angels
NL Championship Series:
Nationals over Giants
World Series:
Nationals over Tigers
Award Predictions
AL:
MVP: Miguel Cabrera, Tigers
Cy Young: Felix Hernandez, Mariners
ROY: Wil Myers, Rays
NL:
MVP: Jay Bruce, Reds
Cy Young: Gio Gonzalez, Nationals
ROY: Hyunjin Ryu, Dodgers
For More Great Chicago Sports Content
Follow us on Twitter at @chicitysports23 for more great content. We appreciate you taking time to read our articles. To interact more with our community and keep up to date on the latest in Chicago sports news, JOIN OUR FREE FACEBOOK GROUP by CLICKING HERE