With the Hall of Fame game in the books, the 2014 football season is officially underway. Everywhere around the world fans are getting ready for their big day, draft day. Knowing who your 2014 fantasy  football sleepers/busts are will take you along way.
Most fans know who they should approach in the first through sixth rounds of fantasy drafts but what about in the middle of the draft and toward the end of the draft. I'm here to give you some names which you can draft in the mid to late rounds of your 2014 Fantasy Football Draft.
I'm going to start out by giving you a player who I think will have a BUST type of year, even though he will get drafted in the first round. Kansas City Chiefs running back Jamaal Charles, even though I would still draft with my first pick if he was still on the board. Charles has went in the top four picks in nine out of ten mock drafts I've covered so far.
Charles had a career year last season that I don't believe he can copy in 2014. There is some holes on the Chiefs offensive line and not enough weapons in the receiving core. Not always but most of the time when a star player gets paid he doesn't put up as great of numbers the following year.
I could be way off, but I could also be right on. That is part of what makes fantasy football so much fun and that is why we play the game.
Now lets start with the bad news first then move on to the players which could break out for good fantasy seasons in 2014.
2014 Busts
Quarterbacks
Cam Newton, Carolina Panthers: Cam is coming off ankle surgery this off-season and I wonder just how much that will mentally affect his game. He is a quarterback that thrives on getting outside of the pocket to make plays, which includes a lot of running and getting knocked down. If he has any doubt about how his ankle will hold up it will affect his outside the pocket play tremendously. It doesn't help that the Panthers have a huge hole with their offensive line and no experience with their receivers expect for tight end Greg Olsen.
Nick Foles, Philadelphia Eagles: If you had Foles last season you found yourself a needle in a haystack. We shouldn't expect the same results from him this season as last year he threw for 27 touchdowns and only two interceptions in 13 games. Reports out of Eagles camp are that Foles is having a tough start to camp and looks a little shaky. Foles also lost his deep threat option in Deshawn Jackson to the rival Washington Redskins. He still could put up decent numbers this season, just not anything like last year. I say Foles will make a top 15 quarterback this year, but there will be plenty of better options out there to pick from before taking him on draft day.
Running backs
Steven Jackson, Atlanta Falcons: Do you remember a couple of years back, people would start arguing about who was going to get Steven Jackson on their team? Well now everyone is arguing about who doesn't want him on their roster. Jackson is getting old plain and simple, his body is wearing down and last year was proof of it. Everyone thought going to Atlanta would give him a chance to get back to the level he once was at in St. Louis but it never happened. He missed four games last season due to injury and only averaged 3.5 yards per carry in the 12 games he did play in. He was able to get seven touchdowns but only notched one 100 yard game last year. The Falcons also drafted Devonta Freeman who has been impressive early in camp and is looking to eventually take the job away from Jackson. Stay away from Jackson but if you do take a chance on him make sure you snag Freeman as well later in the draft.
Knowshon Moreno, Miami Dolphins: Moreno ran for over 1000 yards and collected 10 touchdowns last season for the Denver Broncos. Now he is in Miami as Denver seemed to shove him out the door to make Montee Ball their true number one back. It is clear that the Dolphins are not the Broncos and don't have close the talent as the Broncos did that could help produce another big year for Moreno. Not only is he on a questionable offense now he is also still recovering from arthroscopic knee surgery. It is unclear if Moreno will even see any playing time in the preseason let alone if he is even ready for the season opener. Lamar Miller would be the smart pickup if you are looking for a running back out of Miami, but not before all other options are gone in the draft.
Wide Receivers
Eric Decker, New York Jets: Decker is moving on from a spot where he had one of the best quarterbacks in the history of the game throwing him the ball, Peyton Manning. Now he enters Jets camp not knowing who will be throwing him the ball ! It could be the teams second year quarterback Geno Smith or Michael Vick who the team traded for this off-season. Not having a solid quarterback will be hard for Decker to build the chemistry needed for a good season. He will be the Jets number one and will draw the best corner backs each team has due to the low-level receivers that are on the team as well. I don't think defenses will be scared of Jeremy Kerley or Stephen Hill. At best this season I see Decker as a WR3!
Reggie Wayne, Indianapolis Colts: For the first time since his rookie year in 2001, Reggie Wayne didn't play in all 16 games. He only competed in seven games last season before tearing his ACL. Even though Wayne is a huge part of the Colts organization, the team seems to be starting to move around him. The Colts brought in Hakeem Nicks this off-season to join T.Y. Hilton and talented tight end Dwayne Allen also returns from injury. Wayne has a lot of miles on his legs now and is no longer the go to receiver in Indy. I would stay away from Wayne in all formats of drafts and take Hilton and Nicks before him.
Tight Ends
Jordan Reed, Washington Redskins: Jordan Reed can become a top five tight end in this league if he can stay healthy. Last season Reed missed seven games with six of them due to concussions. He has had a history of health problems in college as well. There is a chance this kid comes out this season and scores 10 touchdowns but I just don't see it. The redskins added wide receiver Deshawn Jackson this off-season, which leads me to believe that Reed will get over looked a lot. With the talents of Jackson, Pierre Garcon and hopefully a healthy young talented Alfred Morris the redskins won't turn to Reed as much as they should. I still think he will be a top 10 tight end this year but I wouldn't stretch for him in a draft.
Greg Olsen, Carolina Panthers: When defenses look at the Carolina depth chart for offense, they have to pull out Google to figure out who these players are. Greg Olsen is all but the only veteran receiver left on the team even though he is a tight end. Steve Smith left the team for Baltimore and injuries have plagued the rest of the offense. Newton will target Olsen a lot but most likely will draw lots of double coverage this season. Until someone else on the offense can scare defenders enough to pull a defender off Olsen I don't see him having much production this season.
2014 Sleepers
Quarterbacks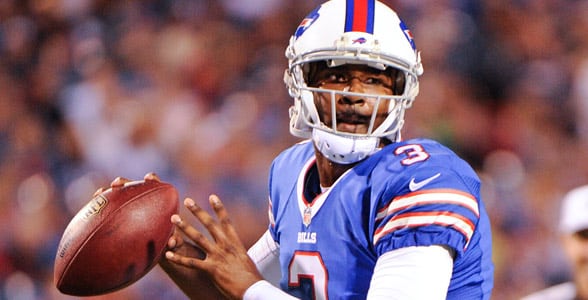 E.J Manuel, Buffalo Bills: Buffalo brought in Mike Williams to join one of the most talked about rookies this season in Sammy Watkins. Manuel will have plenty of targets to throw to this season And after his injury plagued rookie year, he looks a lot stronger and healthier for his second year in the NFL. If C.J. Spiller can become an every week dominant player it will help open things up for Manuel to go down field. He will also have tight end Scott Chandler, who showed he can make a play when need be last year, for him to dump passes off too in emergency situations.
Carson Palmer, Arizona Cardinals: Palmer finally started coming around towards the last half of the season last year as he looked a lot more comfortable in Bruce Arian's offense. As he threw for more than 300 yards in four out of the last eight games, and now he has had the off-season to study Arian's offense even more which will make him even more comfortable. He has a great chance to have a break-out year with all the talent around him. He has a running back in Andre Ellington that is capable of big things and Michael Floyd who himself is capable of a breakout season. Oh yea and if you forgot, that guy named Larry Fitzgerald is there as well.
Running backs
Devonta Freeman, Atlanta Falcons: Freeman is what the Falcons hope can become their back of the future. The talented young back has been very impressive in camp and could overtake Jacquizz Rodgers on the depth chart before the start of the season. Freeman will get limited carries but with the injury prone Steven Jackson ahead of him, he could end up having the job all to himself. If he can get the starting role he will make a good number two or three running back for your fantasy team.
Rashad Jennings, New York Giants: Jennings will be the man in New York. At first we figured he would be sharing the ball with teammate David Wilson but Wilson injured in neck in camp which could be career ending for him. That will put most of the load in the hands of Jennings now. He is no stranger to being a featured back as he replaced Maurice Jones-Drew many times in Jacksonville while MJD had his injury issues. I'm a strong believer that Jennings will make a solid number two running back this year and could be taken in the first 10 rounds of your draft.
Wide Receivers
Sammy Watkins, Buffalo Bills: I am a true believer that this kid can become one of the top wide receivers in the league. I'm not saying that he is Calvin Johnson, but he has true talent. As long as his quarter back E.J. Manuel can stay healthy he should have a very good shot at Rookie of the Year. Not only will he be a deep threat, but also a red-zone threat for his ability to go up and get the ball.
Rueben Randle, New York Giants: Has anyone noticed that Hakeem Nicks has left times square? Rueben Randle has, and he plans on taking full advantage of this opportunity. Randle is a big part of the offense this season for the Giants and could have a breakout year in the new west coast offense. He had 611 yards with six touchdowns last season and now with Nicks gone he has the potential to go over 1,000 yards and 10 touchdowns. I'm really high on this kid and expect to see a huge 2014 campaign.
Tight Ends
Eric Ebron, Detroit Lions: If you watched this kid in college you know he can make spectacular plays. Plus he now has Calvin Johnson to help him learn. And he has a fantasy stud quarter back in Matthew Stafford throwing him the ball. Detroit isn't afraid to throw the ball and they do it a lot. They added Golden Tate over the summer as well. I see Johnson, Tate and Ebron all having big years. Ebron would be a good pick late in the draft if you want to hold off on Jimmy Graham in the first round and load up on running backs and wide receivers.
For More Great Chicago Sports Content
Follow us on Twitter at @chicitysports23 for more great content. We appreciate you taking time to read our articles. To interact more with our community and keep up to date on the latest in Chicago sports news, JOIN OUR FREE FACEBOOK GROUP by CLICKING HERE