There is no simpler way to put it, Jim McMahon is wildly awesome. 
I know what you're thinking, this isn't new information. However it's always good to rekindle the fire. To stroke the consciousness a bit to kick up the dirt.  This man plagues the nightmares of former NFL Commissioner Pete Rozelle, and Patriots QBs Steve Grogan and Tony Eason. Normally you would think it would be the Monsters of the Midway scaring the Patriot QBs after the stomping in the Super Bowl in 1985. However the constant nagging inferiority, in comparison to the Punky QB is what haunts them at night.
Let's take a look at 9 reasons why I think Jim McMahon is awesome.,…
9.) The "Miracle Bowl"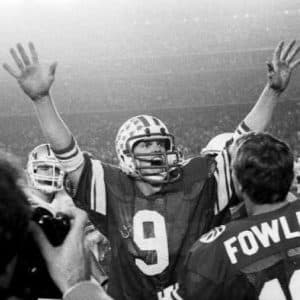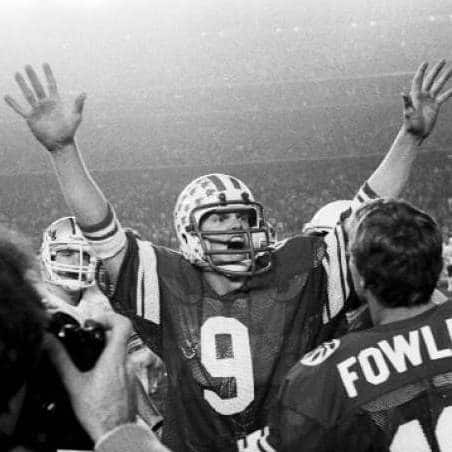 McMahon was awesome before he even took a snap as a Chicago Bear. While attending BYU, McMahon led the Cougars to one of the greatest comebacks in college football history. This game is known as "The Miracle Bowl".
The Cougars were facing a tough SMU Mustang team who had a RB duo of Craig James and Eric Dickerson, two guys you might have heard of. The Cougars were down 45-25 with four minutes left in the game, sensing the BYU crowd losing hope, McMahon screamed that the game wasn't quite over yet. . He led them to three quick touchdowns, one including a hailmary pass to Clay Brown as time ran out on the clock. This really put McMahon on the map. This set the foundation for the legend to come. 
8.) This Guy Likes His Beer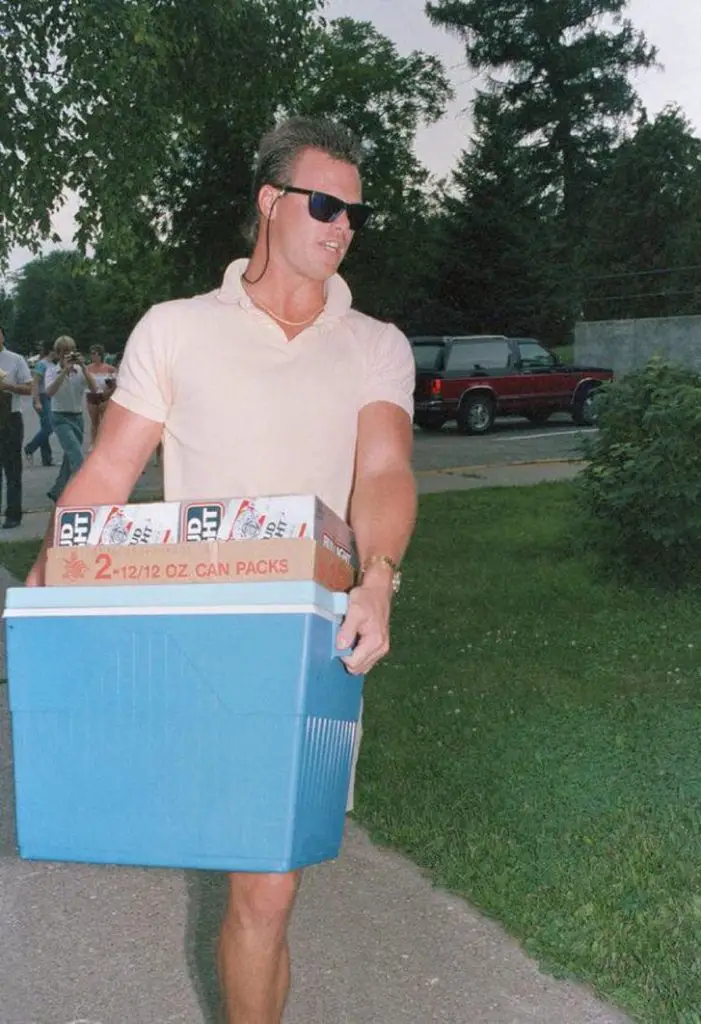 Like any other dude, Jim McMahon has an affinity for drinking beer. After being drafted by the Bears in the 1982 NFL draft. McMahon showed up to the first public Chicago Bears function with a cold beer in his hand. This didn't please new head coach Mike Ditka or team owner George Halas. McMahon has some serious cojones, the type that you aspire to have.
 In 2003, McMahon was pulled over in Florida for drunk driving. That isn't awesome. It's not awesome at all and we don't condone that part. However upon being pulled over, McMahon stepped out of the car and announced to the police…."Im too drunk, ya got me." He found a way to announce his guilt in an awesome way.
7.) He has bigger stones than Stonehenge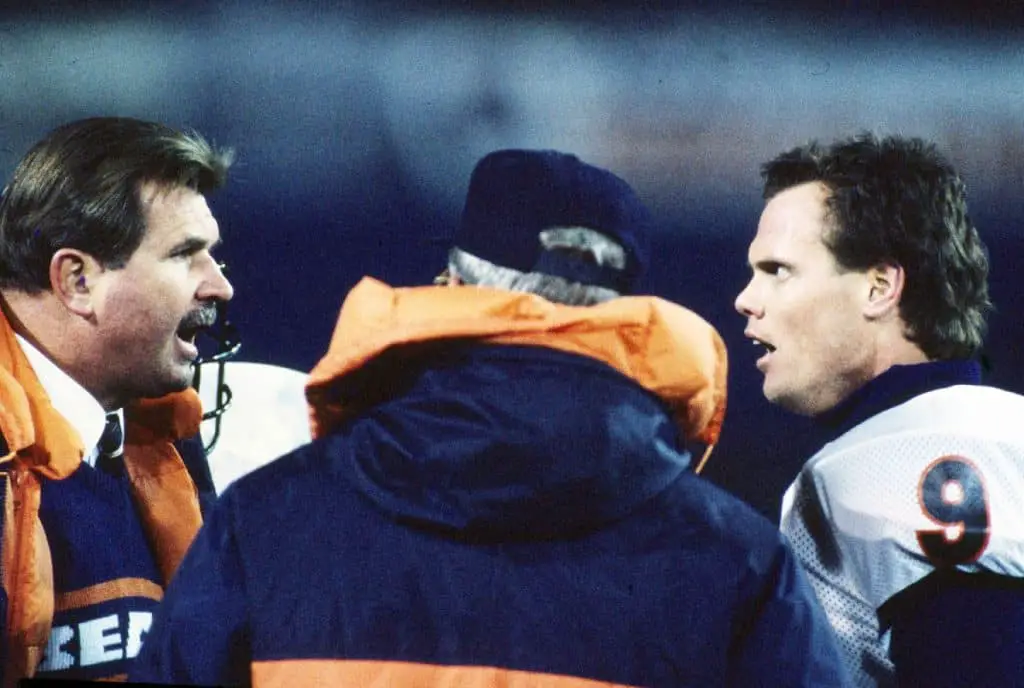 Coach Ditka has a very commanding presence in any room he steps into. When Jim McMahon nonchalantly strolls in, his presence could be described as nearly the opposite. It was apparent there was a rift.  McMahon's antics and attitude didn't sit so well with Da Coach. Anyone willing to step to Coach Ditka, has serious stones in my book. This could be seen from his antics with former commissioner Pete Rozelle as well. Although Pete is way less scary than Coach Ditka. 
One of the most notable problems stemmed from McMahon's tendency to change the plays in the huddle and at the line of scrimmage. This built up tension between them led to a falling out between McMahon and coach Ditka (and team president Michael McCaskey). Ultimately this falling out led to him being traded in 1989 to the San Diego Chargers. Bear fans hated to see McMahon leave but injury problems plagued his playing days in Chicago.
6.) He Can Throw a Football and Pitch a Product
Who doesn't love a quarterback that can promote the hell out of something? The man was made to sling products to consumers. Can you think of any Rick Mirer commercials? I can't.
5.) "The Punky QB"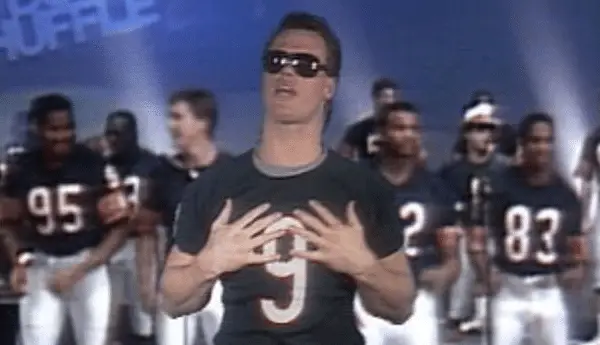 The 1985 Chicago Bears are known for being one of the most dominant teams in NFL history….and for the Super Bowl Shuffle. The Super Bowl Shuffle was a rap record put together featuring the players. As quarterback of the dominant 1985 Bears, Jim McMahon's classic line in the video was ""I'm the punky QB known as McMahon". This earned him the nickname, The Punky QB. A nickname cherished by a large cult following, myself, and well….whoever likes this article.
I'm the punky QB, known as McMahon.
When I hit the turf, I've got no plan.
I just throw my body all over the field.
I can't dance, but I can throw the pill.
I motivate the cats, I like to tease.
I play so cool, I aim to please.
That's why you all got here on the double
To catch me doin' the Super Bowl Shuffle.
4.) The Signature Glasses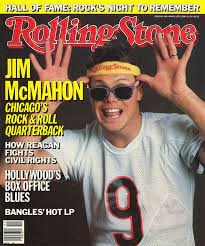 McMahon's signature sunglasses truly make him "The Punky QB". Even though they were worn for medical reasons, they are still badass. When he was 6 years of age, he was attempting to untie a knot in a toy gun holster with a fork, and accidentally severed the retina in his right eye when the fork slipped.
This may have been an indicator as to future problems with injury. His vision was alright from the "fork-retina-slip-incident", however his left eye is extremely sensitive to light. He was one of the first players to wear a visor. Check him out wearing some sunglasses on the cover of Rolling Stone magazine. This guy is awesome.
3.) The Signature Headbands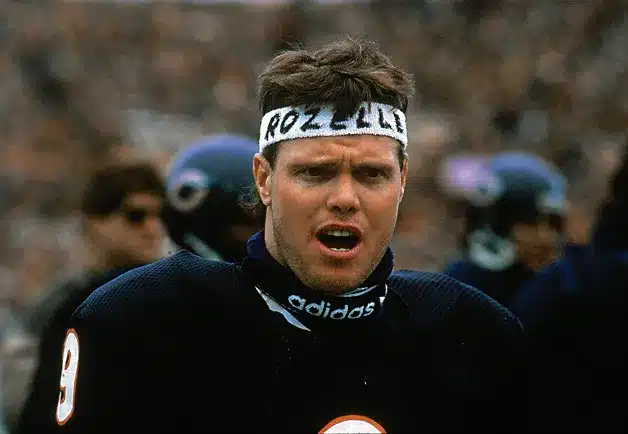 Along with sunglasses, Jim McMahon always had to have a sweet headband. There was never any occasion too formal for the right headband. He often wore a headband while on the sidelines. This even led to him being fined by NFL commissioner Pete Rozelle. The headband in question didn't have a authorized logo on it. The following week McMahon wore a headband that simply stated…"ROZELLE"
2.) As a Member of the Packers, he wore a Bears Jersey to the White House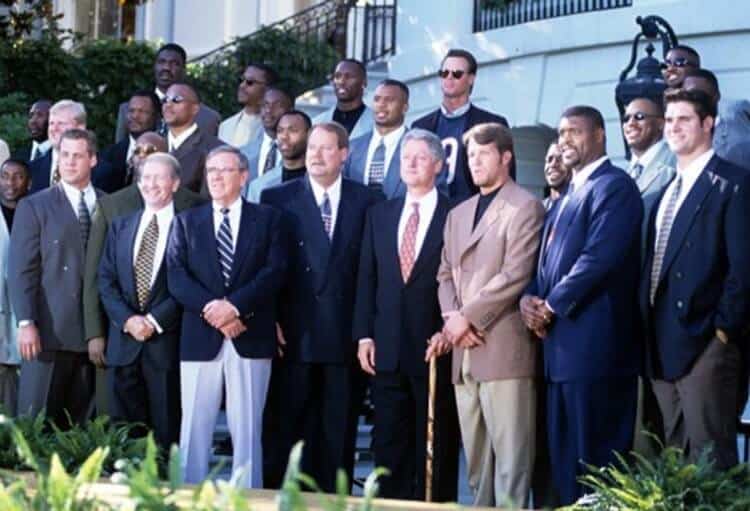 The 1985 Bears never got to visit the White House because 2 days after the Super Bowl, the Challenger blew up. Rumor has it, the trip was just never planned. However it's entirely plausible that it got lost in the shuffle of that tragic events.
Jim would go on to play for the Packers in 1997. As Brett Favre's back-up, the Packers would win the Super Bowl. When they visited the White house with President Clinton, Jim would wear a Bears jersey. His teammates were understanding however as a major rival to the Packers, this is such an awesome act. This is a very Jim McMahon thing to do and I love it.
1.) He won a Super Bowl for Da Bears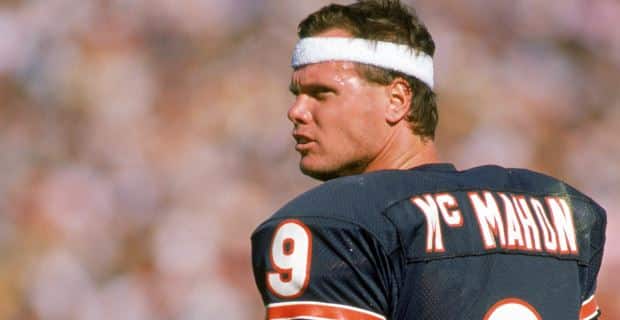 That is enough reason for the #1 spot. He's Jim McMahon and led the Bears to a super bowl victory in 1985. Participated in the Super Bowl Shuffle rap, his antics entertained many, and generally was just awesome. Even though he was in Chicago from 1982-1988, and had some injury problems that prohibited him from reaching his potential….he's the Punky QB.
While Jay Cutler would along and decimate him in all statistical categories, the most important one was left untouched….a super bowl victory.
For More Great Chicago Sports Content
Follow us on Twitter at @chicitysports23 for more great content. We appreciate you taking time to read our articles. To interact more with our community and keep up to date on the latest in Chicago sports news, JOIN OUR FREE FACEBOOK GROUP by CLICKING HERE