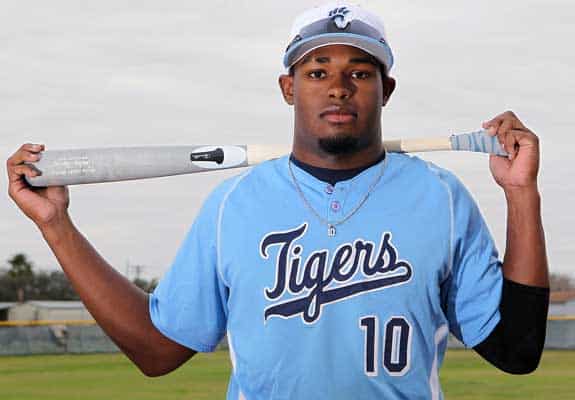 By Sean Bigness
ChiCitySports.com White Sox Writer
Consensus around the league has the White Sox farm system consistently ranking in the bottom three of the league. Despite this reputation of depleting our farm system, drafting badly, and not being patient enough with our prospects, the White Sox have groomed some very decent major league caliber players from their farm system in a relatively short time.
Nate Jones a 2007, 5th Round Pick is contributed magnificently to the major league pen last year. Gordon Beckham and Jordan Danks, who were taken in the 2008 draft are on the major league roster with Beckham being our starting second baseman since 2010, and Jordan Danks just locking down the fourth outfielder job last year.
Then the infusion of arms from the 2010 draft that included Chris Sale and future closer Addison Reed has rounded out key contributors the White Sox have drafted and bred for the Major Leagues.
Going into the 2013 season whitesox.com has ranked slugging outfielder Trayce Thompson, back flipping outfielder Courtney Hawkins, and pitcher Charlie Leesman as the top three prospects in the White Sox organization for the upcoming season. Hopefully in 2013 we will see one of these young men, and they will contribute to the big-league roster just as Gordon Beckham, Chris Sale, and Addison Reed before them.
Trayce Thompson is currently the White Sox number one prospect, and boy does he look the part as he stands at 6'4 inches tall, and weighs 200 pounds. Thompson is projected to have plus power and speed, and should be an exciting player to watch when does make it to the show. Yet, despite his immense promise Thompson needs more seasoning to perfect his game as he is still needs to learn how to work counts into his favor, and be more selective with pitches he chooses to swing at. But once he gets his eye and patience down pat, he should be major league ready and will hopefully be a fixture in the middle of the White Sox lineup for years to come.
Most White Sox fans remember the next guy from the draft day video of him doing a backflip shortly after being drafted by the Pale Hose. Fact is Courtney Hawkins is a flat out athlete. He checks in at 6'3, 210 pounds, and is considered by many to already have a major league ready body. Though Hawkins is considered to have quick hands and raw power, he hasn't been able to fix his hitting mechanics to adjust to pitches other than fastballs. Hawkins needs to work on his moving parts of his swing, and also keep his head on the ball in order to progress to the next level. Hawkins is an average runner and should be able to get the extra base when he is all done developing and into the big-leagues. Overall, Hawkins is raw, but with the right coaching and fundamentals he should be an above-average outfielder with plus power, and a decent defender too.
Charlie Leesman is the third prospect of our top three according to whitesox.com, and he is also currently playing at the highest level out of the three. Pitching in Triple-A Charlotte last year, Leesman compiled a 12-10 win/loss record, 2.47 ERA, and a 1.34 WHIP in twenty-six games started for the Knights. Leesman is a southpaw who throws a fastball that hits around ninety miles per hour on the gun, and also throws a slider and a changeup. Leesman's pitching style can be most compared to that of former White Sox great Mark Buehrle, as he won't over power a hitter but he can get a lot of ground balls, which a good defense would turn those groundballs into outs. His fifty-two walks in 135 innings pitched last year, isn't promising, but Leesman is still on the forty-man roster and has an invite to major league spring training. Don't expect Leesman to be the reincarnation of Buehrle because he lacks the control, but you can expect him to be a potential 5th starter or a long-reliever for the White Sox in the future.
In 2013, don't expect to see any of these names make an impact on the major league roster as there are still kinks that need to be worked out of every one of these guy's games, and there are also current major leaguers blocking their path to a starting spot. With another year of seasoning the White Sox and their fans will be glad to know that these young players will only get better, and will have easier transitions once they taste the bigs.
Thanks for reading another article at chicitysports.com. Please feel free to go discuss this article and other baseball related topics here: https://www.chicitysports.com/forum/forumdisplay.php/79-Chicago-Major-League-Baseball-Forum
For More Great Chicago Sports Content
Follow us on Twitter at @chicitysports23 for more great content. We appreciate you taking time to read our articles. To interact more with our community and keep up to date on the latest in Chicago sports news, JOIN OUR FREE FACEBOOK GROUP by CLICKING HERE