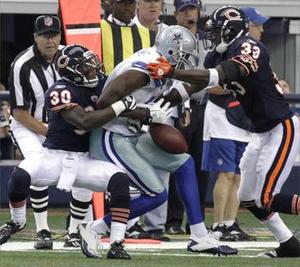 Three weeks are in the books, the Bears sit atop the division at 2-1 (tied with the Vikings, shocker!) and we still have question marks when it comes to the offense.  As a follow up to last week's writeup, Tice called 35 run plays and 33 passing plays, Cutler was sacked 2 times.  However, Cutler did not look sharp, nor did his receivers.  Cutler threw a beautiful pass to Devin Hester in the end zone late in the game that Hester simply missed, he should have had an easy catch, but dropped it.  Honestly, the whole Bears offense looked pretty suspect.  The Bears rushed the ball 35 times for a pedestrian 104 yards.  I believe the debate regarding Forte's value should be shelved, for now, considering how well the Bears rush the ball when he's in the game.  Yes, quite a few of the carries occurred well after the game was in hand, but that's when a team has to dig deep and get those tough yards.  Line up and say "Yes, we're running the ball, and we're gonna run it right down your throat."  Sadly, that did not happen.
The reason I bring up all this is because I honestly have been wavering back and forth on this game.  I see the game going one of two ways, a comfortable win for the Bears, or, unfortunately, a blowout for the Cowboys.  Hopefully, by the time I finish this breakdown, my mind will be made up.
Bears Offense
Honestly, they've looked extremely anemic the past two weeks, averaging a measly 155 yards passing and 105 yards rushing.  Add those two together and you do NOT see an "explosive" offense.  Instead, you see a Kyle Orton circa 2005-led offense.
The offensive line simply HAS to protect better.  Tice has to keep in a TE, or a RB to chip.  This, I swear to God I'm going to copy/paste this into every thing I write until he starts protecting Cutler better.
Jay Cutler needs to start performing like the excellent NFL quarterback he is capable of being.  It can't ALL be on the offensive line.
Matt Forte (as of this writing) says he'll play this week.  Assuming he does, this is great news.  Forte is so hard for opposing defenses to game plan for, he changes the dynamic of the back field.  Michael Bush is an excellent running back, but he's no Matt Forte.
The wide receivers need to reward Jay when he makes good throws to them.  They simply have to catch the ball.  Thus far, they've dropped at least 3 catchable TD passes.  That's unacceptable.
Bears Defense
The Bears defense is playing with heart, speed, desire, and a quickness I haven't seen since 2006.  The additional "toys" Marinelli has to play with on the defensive line have simply excelled.
The Bears D leads the league in sacks, is tied for second in interceptions, and rank 5th in points given up.  On the year, they've only given up 4 TDs.  For an "over the hill" gang, that's pretty amazing.
The front 4 has a fantastic rotation going, moving Peppers around on the D-line, allowing each player to take a break often so they stay fresher during the game.  Since they're keeping pressure on the QB, they can flat out bring it on 3rd down, where they have the lowest conversion rate in the NFL.  Because of this pressure, they also have not given up a single reception over 40 yards.
The LBs are doing quite well in the one area I was concerned with, stopping opposing tight ends from gouging them badly.  Thus far this season the team has only given up 11 receptions to TEs, and most importantly, ZERO touchdowns.  As Urlacher continues to improve each week, we should see the defense tighten down even more on opposing TEs and wide receivers silly enough to go across the middle.
The corner backs have played flat out amazing.  DJ Moore, Peanut Tillman, and Mighty Mouse Tim Jennings have played just about as fine as you can.  This week I believe will be their toughest test yet, as they face off against Bryant and Austin.
The safety combination of Major "Sometimes Minor" Wright and Chris "the Godfather" Conte has been healthy and showcasing their ball hawking skills.  Combine those abilities with a pop when making a tackle, and you have a recipe for a good secondary if they can stay healthy.
Cowboys Offense
Tony Romo is an enigma, apparently.  Frankly, I think he has elite talent, but has somehow not managed to get the label of choker off his back.  Romo isn't a choker, he's one of the clutchest QBs in the league.  He gets better as the game progresses, making him quite dangerous in the 4th quarter.
DeMarco Murray burst on the scene last year with an epic performance against the Rams, when he rushed the ball for 253 yards.  Granted, it was the Rams, but those numbers are indeed impressive.  Murray has a quick first step, good burst, and good (not great) speed.  He's quick through the hole, gets small and can make would-be tacklers miss in open space.  Dangerous player.
The Wide Receivers are potentially the most elite corps in the league.  Dez Bryant has it all, size, speed, runs crisp routes, gets off the line well, while Miles Austin is a fantastic route runner with great hands and an ability to make defenders miss, getting big gains for the Cowboys.  Their biggest problem has always been getting them both on the field at the same time.
The Cowboys offensive line has given up 7 sacks this year, and they've played much better teams thus far.  However, they have had several key injuries along their line, and have swapped out several players, so it will be interesting to see if they're capable of handling the Bears defensive line.
TE Jason Witten has long been a beast for the 'Boys, but there appear to be some chinks in his armor.
Cowboys Defense
The 'Boys 3-4 is very good, but very inconsistent.  DeMarcus Ware and Co get a lot of pressure, they've just struggled in sacking the QB.  DWare has 4 sacks so far, which is impressive, but the rest of the team combined only has 3 on the year.  They're somewhat of an enigma, in that one week they will shut down the run, but not the pass.  They then follow that up the next week by shutting down the pass but give up a TON of yards on the ground.
The defensive line is good at allowing DWare, Spencer, and young phenom Sean Lee to make plays.  They play solid and attack the ball.
The corner backs are young and improving each week.  The latest word on Carr is that he may end up playing some free safety, due to injuries.  The Cowboys would obviously be much better off if he could play his natural CB position.  The Cowboys' corner backs are adept when jamming at the line, run well with receivers, and blow up routes.
The safeties for the Cowboys are banged up.  Sensabaugh may not play due to a calf injury, which would be a positive for the Bears.  In the past, though, the Cowboys have gotten burned by gambling and trying to jump routes so it remains to be seen how they do against the Bears receivers.
Keys to a Bears victory
It is really quite simple: if Forte plays, utilize him on screen passes and running to the right side of the line with Garza pulling in front of him.  Spaeth needs to stay in and block, and Davis/Forte/Bush need to chip before running their routes.  Tice needs to continue to balance the run and pass play calls.
The offensive line has to protect Cutler.  The receivers have to win getting off the line, and they have to hang onto the ball.  Cutler has to make better decisions and not force his throws. Finally, Tice can help Cutler by rolling him away from DeMarcus Ware.
The defense just needs to keep playing like they have been.  If the offense finally gets on track, this will be a tough team to beat.  If the Bears offense can get out to an early lead, the Romo-led Cowboys will make mistakes.  If this is the case, don't expect the game to be close.  I'm hoping that happens.
Final score:  Bears 31, Cowboys 13.
For More Great Chicago Sports Content
Follow us on Twitter at @chicitysports23 for more great content. We appreciate you taking time to read our articles. To interact more with our community and keep up to date on the latest in Chicago sports news, JOIN OUR FREE FACEBOOK GROUP by CLICKING HERE