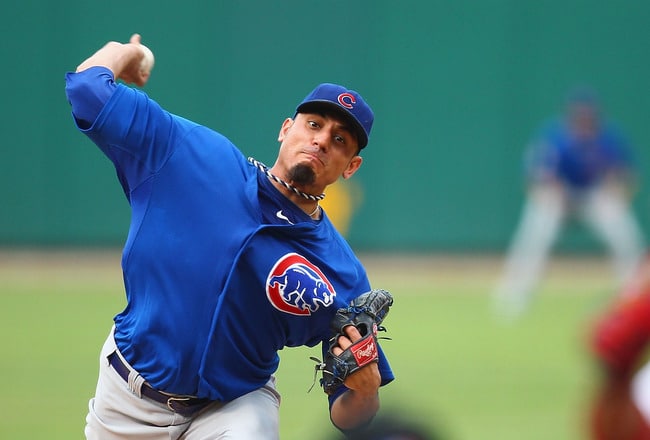 By Jacob Janower 
ChiCitySports.com Cubs Writer
Opening Day is still a few months away, but the Cubs seem to be done making roster moves that involve their starting rotation. They currently have seven pitchers capable of starting, and I examined them, as well as their chances of making the rotation.
                  Scott Baker- Baker was the Cubs first signing of the off season, and he is a low risk, high reward pitcher, the type that Theo Epstein and Jed Hoyer love to gamble on. Baker put together a few nice years in Minnesota, especially in 2008, where he posted a 3.45 ERA in 172.1 innings. Before undergoing Tommy John Surgery in 2011, Baker started 21 games and posted a 3.15 ERA. He has decent stuff, but is not a huge strikeout guy. A change of scenery and league could really help Baker, as the NL is a slightly more pitcher-friendly league.
Chances of Making the Opening Day Rotation: 40%
Scott Feldman- Feldman was Jedstein's second rotation signing of the offseason. He has been an under-the-radar favorite of the duo since they took over, as he was one of the pieces being discussed last offseason when Matt Garza was close to being traded to the Rangers. Feldman signed with the Cubs specifically to start in the rotation, so if he does not make it, it will be interesting to see how he responds. I don't think that Feldman fits because the Cubs just have too much better pitching talent.
Chances of Making the Opening Day Rotation: 20%
                  Matt Garza- Garza is one of the three shoe-ins for the rotation, in my opinion. He has been very good in his first two seasons with the Cubs, and they gave up too much for him to do anything else besides trade him. His ERA has been below 4 in both seasons, and strikes out a lot of hitters to go along with that. Garza has been fighting off the injury bug and is just starting to loosen back up for the season. There is also a chance that he may be dealt in Spring Training, which will the first chance that teams will be able to see him pitch in a live action game since last July.
Chances of Making the Opening Day Rotation: 98%
                  Edwin Jackson- The second shoe-in for the rotation, and the Cubs prized signing of the offseason, Jackson has high expectations. He will likely be around for at least two years of his four year contract, and will also be expected to be a mentor to some of the younger starters. Jackson has long been known to have some of the best stuff in the majors, but has never really been able to put it together. The Cubs are his eighth team of his career, as he has usually been a hot commodity at the trade deadline. He is also an innings eater when healthy, surpassing 200 innings pitched twice in a year and coming within 1/3 of 200 innings in 2011.
Chances of Making the Opening Day Rotation: 99%
                  Jeff Samardzija- Samardzija is that third guarantee in the rotation, barring injury. In Jeff's first year as a starter last year, he exceeded expectations, posting a 3.81 ERA. Six of his last seven starts of the season were quality starts, so he finished strong. Samardzija thrives on the strikeout and also features a nasty splitter. The converted reliever should be a big part of the Cubs 2013 starting rotation.
Chances of Making the Opening Day Rotation: 99%
                  Carlos Villanueva- Carlos is a guy who has been shuffled back and forth between the rotation and the bullpen in the seven years he has been in the major leagues. Last year with Toronto, he started 16 games, but was much better out of the bullpen, and was only starting due to lots of injuries in the Blue Jays rotation. He had a very bad September as his ERA jumped from 3.10 to 4.16, which is where he finished the year at. I don't think Villanueva will make the rotation right off the bat because he did struggle a bit when handling those duties. He is also the most versatile of the seven guys, and he might fit best out of the 'pen.
Chances of Making the Opening Day Rotation: 15%
                  Travis Wood- Wood is one of three rotation candidates who were with the organization before this upcoming season. He didn't get regular experience until June, and from then until the rest of the season, he was serviceable, but did not live up to many fans expectations, since he was the main piece in the Sean Marshall trade. Like Villanueva, Wood is versatile in the fact that he can be sent to the minors for a few starts before starting in the majors, but that may not be something the Cubs want to do.
Chances of Making the Opening Day Rotation: 50%
Unfortunately, I do not decide who makes the Cubs Opening Day rotation, but if I did, it would be:
Matt Garza
Edwin Jackson
Jeff Samardzija
Scott Baker
Travis Wood
For More Great Chicago Sports Content
Follow us on Twitter at @chicitysports23 for more great content. We appreciate you taking time to read our articles. To interact more with our community and keep up to date on the latest in Chicago sports news, JOIN OUR FREE FACEBOOK GROUP by CLICKING HERE