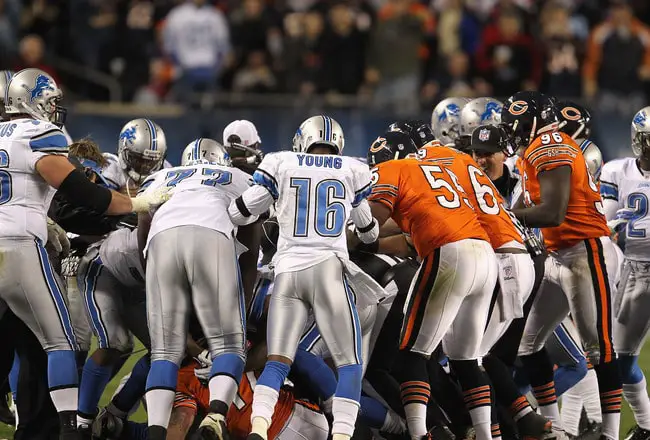 Seeing as I was not on the computer for one second of the absolute thrashing of a ballgame between the Bears and LOLions, and I have very, very strong emotions and opinions from the game, I have decided to comment on quotes I've read from around the web in regards to the game.  Let's get right into it.
Brian Urlacher:  "I don't think we'll lose too many games playing like that on defense. That's as dominant as I've been around. They had yards – whatever — they were late in the game. But we got takeaways when we needed to and scored with them."
My dark-horse for Defensive Player of the Year is spot on here.  The defense was more than dominant; the skill-position players for Detroit were scared.  Fear in their eyes, afraid to get hit.
Chris Conte: "It seemed like [Stafford] was throwing the ball to us a lot more than his guys. Two pick sixes, that's huge. I'm really proud of all the guys that stepped up and played well."
Of course Stafford was throwing the ball to our guys more than his own.  Our defensive backs weren't dropping his passes nearly as often as the Lions WRs were.
D.J. Moore: "When you are going after my livelihood, my neck, and you're trying to hurt me, I just can't let that go."
DJ had this to say when asked about why he retaliated against Stafford.  And you know what, he's exactly right.  And on top of that, it is 100% egregious that he was kicked out of the game.  Matt Stafford started this entire fracas with his piss-terrible play, and then compounded it by trying to rip off Moore's helmet (which is apparently legal now, right Suh?).  I would've been upset if Moore didn't go after him. The penalty was well worth it, even though the fact that the Lions weren't called for anything on that play leaves me a bit bewildered, and I can't wait to talk about the fines when they're handed out in the coming hours.
Matt Stafford:  "He kind of blocked me and I was just trying to get him off me best I knew how. And I guess he didn't like the way I did it. He wanted to ask me about it."
Of course that's the best way you know how.  This is apparently the culture the Lions teach these days. Play dirty, do whatever it takes to win.  What they forgot to teach, however, is that when you lose, be a man about it. I'm not sure that will ever get turned around with the current coaching staff in Detroit, though.  I've heard that Schwartz doesn't even like to shake hands with opposing coaches after a loss.  Asked if he liked the way he did it, Stafford smiled and said, "Yup."…classy.
Brian Billick: "Stafford is wearing gloves…"
For the love of God, quit making excuses. Stafford sucked at a Grossman-like level on Sunday afternoon.  Part of it was his terrible play, part of it was his wide receivers forgetting how to catch and refusing to fight for the ball, and a lot of it was that nasty Bears defense.  The gloves?  Get real.
Dominic Raiola:  "That [expletive] is not going to fly around here. They can say all they want. They can say, 'Look at the scoreboard, blah blah blah.' We're not going to back down from anybody, no matter when it is, where it is, the game is lost on the field. All the extra [expletive], we're not going to put up with."
Dumb center is dumb.  The Bears can say all they want?  Yup, Chicago's the trash talkers.  Look at the scoreboard? Haha, okay. All of the extra stuff you're not going to put up with?  YOUR QUARTERBACK started all that nonsense.  Oh, and gang-tackling Peanut Tillman, nothing is more awesome than eight guys fighting one.  We probably will keep looking at the scoreboard, it was the only part of the Lions game worth looking at. By the way, who the hell is Dominic Raiola?
Jim Schwartz: "Well…the wind…"
Okay, really? First it was the gloves…now it's the wind (which, by the way, the Bears played in the same wind)…stop it. Just stop. You got kicked in the teeth, and you blame the wind?  That's a loser's mentality, someone who does not know how to lose.  And if you're going to continue making excuses for an absolutely horrid all-around effort, your team is going to continue giving you a reason to come up with this garbage.
And another Schwartz gem, when asked if he was going to discipline his players for playing dirty: "Discipline for what? For their guy getting kicked out of the game? Did Matt get penalized? No, Matt did not get penalized."
Seriously? Detroit only had four accepted penalties in the game.  Three of them were 15-yarders.  There's playing hard, and there's playing dirty.  You, Schwartz, are starting to sound like a baby. A wuss.  A disgruntled know-it-all teenager who was just put in place by his daddy.  And ya know what, that might be a fitting analogy.
(This article is written for ChiCitySports.com.  Like the article? Like talking Chicago Sports? Sign up here!)
For More Great Chicago Sports Content
Follow us on Twitter at @chicitysports23 for more great content. We appreciate you taking time to read our articles. To interact more with our community and keep up to date on the latest in Chicago sports news, JOIN OUR FREE FACEBOOK GROUP by CLICKING HERE