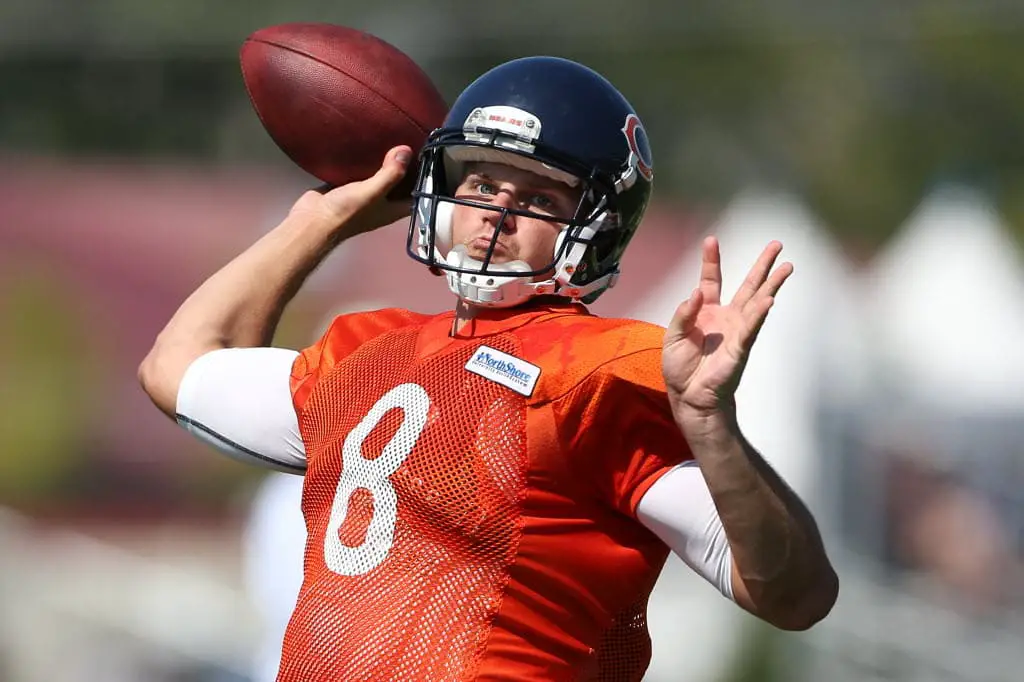 Chicago Bears fans are buzzing with anticipation as Friday night's preseason opener against the Philadelphia Eagles draws near. The fan base is looking forward to seeing how their team has improved, especially on defense, over the last year. Unfortunately, Friday's exhibition opener won't say much because the projected starters won't see much playing time.
Instead, it'll be the reserves that will get their chance to shine under the Solider Field lights. The position that will be under the thinnest of microscopes will be the number two quarterback spot behind Jay Cutler. The departure of Josh McCown -who filled in for an injured Cutler admirably in 2013- has left a very interesting backup situation in 2014.
Veterans Jordan Palmer and Jimmy Clausen should see the most snaps under center come Friday night. Both men possess their own skill sets that make them stand out. They also have question marks over their heads as well. Clausen has adapted quite well to head coach Marc Trestman's offense despite the fact that he's only been on the roster since June.
Palmer joined the Bears last year and is more familiar with the system than Clausen is. At the same time, Palmer has only thrown 15 regular season passes in his career. Many wonder if he can truly step in for Cutler should he get hurt again. As for Clausen, he hasn't started a regular season game since 2010. He's also coming off of shoulder surgery, so there are concerns about his durability.
There's also rookie sixth round draft pick David Fales, but he'll most likely wind up on the practice squad for development. I attended Bears practices recently and these are my observations……. During the Bears practice in Bourbonnais on July 28th, both Palmer and Clausen were overwhelmed against the defensive pass rush more often than not.
During their workout at last weekend's Family Fest, Palmer out performed Clausen. Clausen struggled to complete his passes, while Palmer completed a little more than half of his. Since then, things have reversed. Clausen looks to have more confidence now as he continues to learn the playbook. He's shown a strong arm, accuracy, and seems to be turning the learning curve.
Palmer is still performing well but he's been hesitant to throw the big pass in practice. Instead he's been focusing on short to mid-range passes. With quarterbacks not getting any contact in practice, it can be difficult to grade just how much a quarterback has progressed. That is why these preseason games are important.
With a live pass rush in front of both men, we'll get a better idea of which player deserves to be the guy behind Cutler. As for exactly how much playing time they will see is unknown, but you can bet at least one of them will get a good look in the first half. As much as we want to see the starters take it to the Eagles as payback for last year's Week 16 loss, we won't get that on Friday.
Instead, we'll get a first look on how the rest of the roster may or may not fill out come September. Of course, there's always the slight chance that the Bears could give Kyle Orton another shot. Follow me on Twitter @GabeSalgado82
For More Great Chicago Sports Content
Follow us on Twitter at @chicitysports23 for more great content. We appreciate you taking time to read our articles. To interact more with our community and keep up to date on the latest in Chicago sports news, JOIN OUR FREE FACEBOOK GROUP by CLICKING HERE