In most seasons, a manager that takes a team that disappointed the prior season, was expected to be "rebuilding" during the current season and was only picked to win 65 games would be a shoe-in to win the Manager of the Year award for their league. Robin Ventura fits that description, and when added in the fact that he's a first year manager, it gives him even a stronger resume for the award.
However, 2012 is not most seasons, and despite everything he's done, Robin Ventura figures to be third in line when it comes to American League Manager of the Year.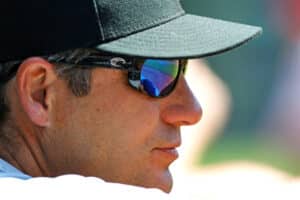 This is because there's some pretty spectacular things going on in Oakland and Baltimore, as neither team was expected to do anything this season. Neither were the White Sox, but the A's and Orioles have been cellar dwellers for quite some time and do not possess the type of resources the White Sox do when it comes to being able to field a competitive team.
What are those resources? Well, for one, the White Sox have a go-getter of a General Manager in Kenny Williams. He's made significant moves all season long to strengthen the Sox, while the GMs in Baltimore and Oakland haven't done near as much for Buck Showalter and Bob Melvin.
Going along with that, the White Sox also have a substantially larger payroll than both of those squads. According to Baseball Prospectus, the Sox have a 2012 payroll of $97,669,500, while Baltimore's is $84, 102, 333 and Oakland's is $52,873,000. In most cases, a higher payroll equals more talent. When you compare the Sox roster to those two, it's easy to see that this certainly is one of those cases.
Nobody in their right mind could have predicted that both Baltimore and Oakland would suddenly have a breakout season. In baseball, there's always one team a year that goes above and beyond outside expectations. The year 2012 has featured not one, but four teams like that: Baltimore, Oakland and the White Sox in the American League and the Pittsburgh Pirates in the National League. The Washington Nationals could also be included in that group, but many expected them to do well this season (although not THIS well).
So, who is going to win the award? With a full month left to play, it's hard to say, but one has to figure that Robin is on the outside looking in based on all of the evidence and the fact that Oakland and Baltimore both currently have better records than the White Sox. For Robin to leapfrog Melvin and Showalter, he certainly has to make the postseason and probably have a better record than both Baltimore and Oakland by at least four or five games. While the White Sox have more talent than those teams, it's a very tall task.
For More Great Chicago Sports Content
Follow us on Twitter at @chicitysports23 for more great content. We appreciate you taking time to read our articles. To interact more with our community and keep up to date on the latest in Chicago sports news, JOIN OUR FREE FACEBOOK GROUP by CLICKING HERE