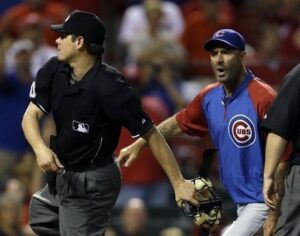 (AP Photo/Jeff Roberson)
After a long rain delay both clubs were looking to send two of their best pitchers to the mound in the forms of Shelby Miller for the Cards, and Travis Wood for the Cubs.
Until the fourth inning both of these pitchers were dealing, but in the fourth Yadier Molina delivered for the Red Birds. After Matt Holliday and Carlos Beltran singled to start the inning , and Allen craig flied out Molina hit a two RBI double into the right center field gap to give the Cards a 2-0 lead.
After the fifth inning Cardinal starter Shelby Miller left the game with an apparent calf injury but that didn't stop the Cardinals pitching staff from dominating Cub hitters. The game would remain 2-0 Red Birds until the bottom of the seventh. The Cards got a questionable run in the seventh on an Anthony Rizzo throwing error. It appeared that Yadier Molina was out as Wellington Castillo's throw and Travis Wood's tag beat Molina to home-plate. Dale Sveum would argue the call and get ejected. With David Freese on third Shane Robinson hot a sac fly to give the Cardinals a 4-0 lead.
Travis Wood should have had a quality start but instead gave up four earned runs. The Cubs got their two runs on a Nate Schierholtz single that drove in Luis Valbuena in the top of the eighth, and a Darwin Barney home run in the top of the ninth. The Cards would add another run in the bottom of the eighth on an Allen Craig sac fly. Final score Cards 5, Cubs 2
Miller picks up the win after going the required five, and Travis wood takes a tough defeat. The Cubs will look to get back to winning baseball as the face another tough Cardinal pitcher in Adam Wainwright(10-3, 2.18 ERA), but the Cubs will send out one their best in Jeff Samardzija (3-7, 3.46 ERA). First pitch is scheduled for 7:15 central time.
For More Great Chicago Sports Content
Follow us on Twitter at @chicitysports23 for more great content. We appreciate you taking time to read our articles. To interact more with our community and keep up to date on the latest in Chicago sports news, JOIN OUR FREE FACEBOOK GROUP by CLICKING HERE