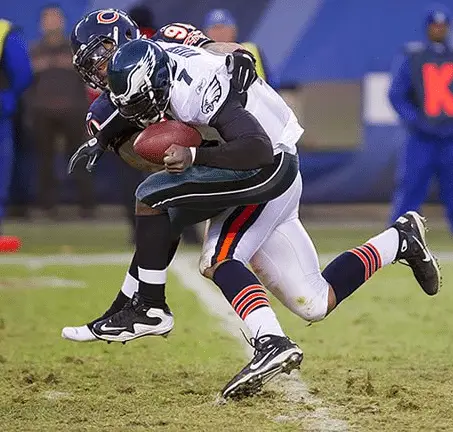 Late in the second half, the Bears defense stood in the shadow of their own goal posts nursing a 13-14 lead.  Their initial success against the Eagles seemed futile as Vick took the snap from center and fired a pass for a go ahead touchdown.
Tommy Harris shot a hand up in the throwing lane and the ball deflected into the waiting hands of Chris Harris who returned Vick's first interception of the season to midfield.  The Bears drove down the field and scored a touchdown taking an eight-point lead into half time.
When the final whistle sounded, the Bears stood victorious with a 26-31 score.  The five point differential does not reveal how dominant the Bears played in all three phases against one of the NFL's best teams.
Michael Vick,  the most elusive quarterback in the league, fell victim to a sack within the first ninety seconds of the game.  The Bears managed to apply pressure without using any exotic blitzes, employing the use of a spy or any other gimmicks.  Occasional stunts combined with disciplined lane contain proved effective and produced four sacks.
Not to be outdone by the dominant defense, the Bears offense proved explosive producing 5 plays over 30 yards.  Cutler went 14/21 and 247 yards along with four touchdowns and no interceptions.  The wide played well making timely catches and breaking tackles deep in the Eagles' secondary.
The most important offensive series came at the beginning of the second half.  The Bears methodically ran a 17 play drive that ate up 10:05.  The drive ended in a field goal after Cutler threw the ball away instead of forcing a dangerous pass.
Does this mean that the Bears have proven themselves as one of the top teams in the NFC?  Perhaps, but the team still struggles at certain times.  During the second quarter the offensive line seemed confused and allowed four sacks.  A number of times the tackles ignored blitzing linebackers and blocked down allowing sprinting defenders into the backfield.
Despite some inconsistencies with the team, these facts remain.  The Bears sit atop the NFC North with an 8-3 record.  They not only defeated a quality opponent, but dominated what many considered the best team in the
NFC.
The schedule ahead holds more challenges for the Bears including the always dangerous Patriots and the soaring Jets.  Next week, the Bears face division rival Detroit.  The Lions hold the worst record in the division but have a tendency to hang around long enough to remain dangerous.  The Bears must not look past this team and secure a win next week as they face the last, and toughest quarter of the season.
-Brian Marchetti
For More Great Chicago Sports Content
Follow us on Twitter at @chicitysports23 for more great content. We appreciate you taking time to read our articles. To interact more with our community and keep up to date on the latest in Chicago sports news, JOIN OUR FREE FACEBOOK GROUP by CLICKING HERE