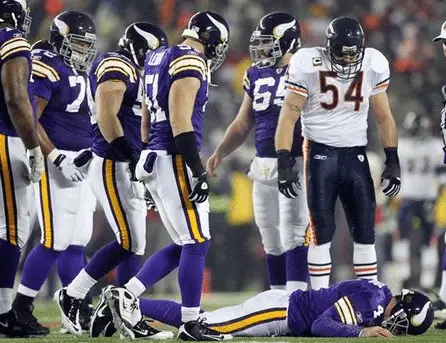 Didn't think you would be reading this at the beginning of the season did you? After many experts and analysts wrote the Bears off, it seems as if they were all wrong. The Bears defeated the Vikings 40-14 to claim the NFC North crowd for the first time since the 2006 Super Bowl season.
It was a night of interesting twists…
Adrian Peterson Ruled Out, white RB starts instead of him.
Brett Favre decides to start, gets head smashed in by Corey Wooton then, lays on ground as if dead.
Devin Hester breaks all-time return TD record with his 14th return TD.
"Good" Jay Cutler showed up outside of 1 interception.
It was very cold.
Bear fans across the world are ecstatic to have the Bears in the playoffs once again. With two games remaining against the Jets and Packers, Chicago currently has the #2 seed behind Atlanta.
Sitting at 10-4 as well, are the Philadelphia Eagles who have their eyes set on the 1st round bye as well that the Bears currently hold. The Bears hold the tie-breaker over Philadelphia who will play Minnesota and Dallas to end their season. We'll see how this thing shakes out.
For More Great Chicago Sports Content
Follow us on Twitter at @chicitysports23 for more great content. We appreciate you taking time to read our articles. To interact more with our community and keep up to date on the latest in Chicago sports news, JOIN OUR FREE FACEBOOK GROUP by CLICKING HERE