Leading up to the start of the 2012 NFL season, we here at CCS will be giving you a full Chicago Bears preview. Starting with quarterbacks, we will provide a position preview for the whole team.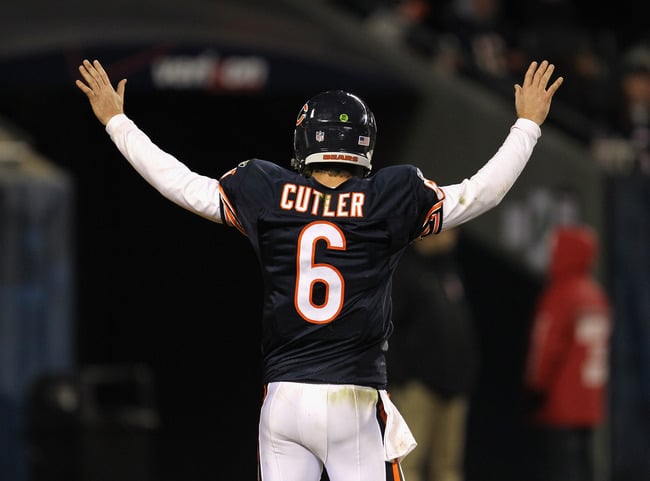 The Bears struggled towards the end of last season. Much of those struggles could lead back to the quarterback position.
With the loss of Jay Cutler after the win against San Diego, the poor play of Caleb Hanie and the in-ineffectiveness down the stretch, the Bears finished the season with a 1-5 record in their final 6 games. After Cutler broke his thumb, the season went downhill.
This season the expectations are high. The Bears return their starting gunslinger Jay Cutler and are primed to make a Super Bowl run.
Last season Cutler seemed to find his rhythm with his receivers, giving Bears fans some hope.  Cutler finished with 2,319 yards, 13 touchdowns, 7 interceptions and a 58.0 completion percentage. He was on track to having his best season as a Chicago Bear.
In the off-season the Bears went out and grabbed Cutler some weapons. They traded for former teammate of Cutler, Brandon Marshall, and drafted Alshon Jeffery out of South Carolina.
Cutler and Marshall already have chemistry together and hope to continue it here in Chicago. The addition of Jeremy Bates who coached both Cutler and Marshall in Denver just adds to that chemistry.
Marshall and Jeffery gives Cutler two big physical receivers to go up and grab the ball. This red zone offense should be a fun one to watch.
As Cutler brings his game into the 2012 season, the Bears added something that they struggled with in the 2011 season: a backup quarterback.
Last season when Caleb Hanie took over, the Bears struggled. They had a favorable schedule down the stretch, but Hanie was everything but a good quarterback. Josh McCown took over for the final two weeks and was a little better then Hanie, but it wasn't good enough.
During the off-season the Bears addressed this issue. They went out and signed former Redskin and Raider, Jason Campbell.
Campbell provides the Bears with depth at the quarterback position in case Cutler happens to go down.
While Campbell is no threat to steal Cutlers job, he still is good enough to win the Bears some games if needed. Joining Campbell on the depth chart are quarterbacks Josh McCown and Matt Blanchard.
McCown agreed to come back to Chicago during the off-season and will likely beat out Wisconsin-Whitewater quarterback Matt Blanchard for the teams number three quarterback.
As Campbell and McCown provide the depth the Bears need, Cutler will provide the excitement.
There's a buzz at Bears training camp that I've never felt about this team before and it all starts with the quarterback position.
I fully feel like this is going to be a big year for the gunslinger Cutler, who is considered to have one of the better arms in the NFL.
We've seen Cutler have down years before, especially his first year here in Chicago. With some tough defenses on tap this season, Culter now has his chance to prove the nay-sayers wrong.
With so many weapons added to his arsenal, expect Cutler to have a good year. If the chemistry is there with the receiving core, it could be a Pr0-Bowl year for the Seventh year quarterback out of Vanderbilt.
Grades
Starter: B+
Cutler got hurt last season and the Bears sip sank. This season he's back to try and prove his doubters wrong again. Arguably the most criticized player in the NFL, 2012 could be a big year for the gunslinger.
Backup: C
Campbell was brought in to win games if Cutler goes down. Last season we saw what happened when you lose your star quarterback, and it wasn't good.
Third String: C-
McCown is a serviceable quarterback, and that's all the Bears need from him. He wont see game action unless it's a complete blowout, or the team loses both Cuter and Campbell. No offense, Josh but I'd rather not see you play this season.
Overall: B-
If Cutler can stay healthy, the Bears have a good chance at contending this season. He goes down and it's all on Campbell, which I feel is better then our situation last season.