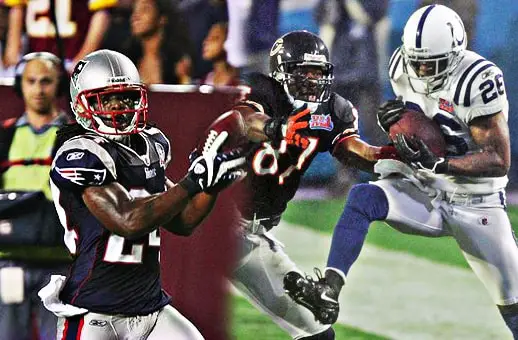 In surprising news, the Chicago Bears agreed to terms with Cornerbacks Kelvin Hayden and Jonathan Wilhite. This was a move that many fans were calling for which gives the Bears much needed depth at the Cornerback position. This will come in handy when the Bears face the Green Bay spread. We will have ample cornerbacks to help defend that defensive look.
This is a move that could display the Bears don't want to use any draft picks on a defensive back in the draft. General manager Phil Emery is cornering the free agent market on cornerbacks by signing two solid corners in one day.
Here are a couple bullet points on both players…
Kelvin Hayden may look familiar. He intercepted Rex Grossman in the 2006 super bowl. A huge play in Chicago Bears history, should be interesting to have him on our side now.
Jonathan Wilhite, a fourth-round pick by the Patriots out of Auburn in 2008, has 15 career starts with the Patriots and Broncos. He has 121 tackles and four interceptions.
Both players signed for 1 year deals. Hayden has signed for the league minimum.
Hayden came into the league in 2005, has 322 total tackles, 4 FF, 2 FR, 11 INT, 3 return TDs.
Both of these signings are 100% depth signings. Do not expect either of these guys to start.
For More Great Chicago Sports Content
Follow us on Twitter at @chicitysports23 for more great content. We appreciate you taking time to read our articles. To interact more with our community and keep up to date on the latest in Chicago sports news, JOIN OUR FREE FACEBOOK GROUP by CLICKING HERE