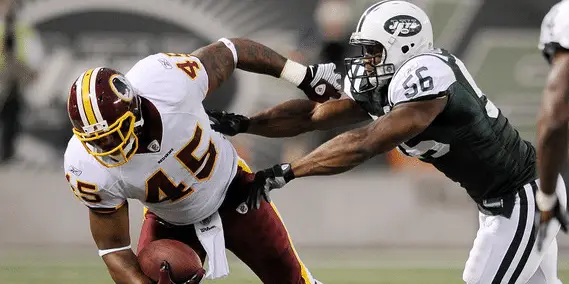 Brad Biggs of the Chicago Tribune has reported that the Bears have signed DE Vernon Gholston from the Jets.
Gholston was the 6th overall pick in the 2008 draft out of Ohio State. Gholston played mostly OLB in the Jets' scheme. He never recorded a sack in the 3 seasons with the Jets and was deemed a bust. Gholston only started 5 games in his time in New York.
Expect Rod Marinelli to work with him and get every ounce of potential out of him. The Bears already have Julius Peppers and Israel Idonije so Gholston will be a rotational pass rusher.
Many Bear fans are quick to point out that Gholston was a bust and we shouldn't waste our time. Here are a couple counterpoints provided by ZAN on our forums.
1. Gholston was one HELL of a DE at OSU. They ran a 4-3 system.

2. The Jets drafted him to play 3-4 OLB, which includes playing COVERAGE. Not his forte.

3. When he showed incapable of playing coverage, they moved him to 3-4 DE, which is the equivalent of a glorified fat-guy magnet (AKA, swallowing double teams).

4. The Bears run a system similar to what Gholston ran in college. He will feel more at home here.

5. Gholston might be, aside from Patrick Willis, the epitome of a physical specimen…if there is one in the NFL. He has the size/speed combination of a Peppers.

6. We have Peppers to coach him up.

This is an excellent signing, and I really REALLY think this kid's career will become rejuvenated with him rushing the passer every down.
Details on the agreement haven't been released yet but we will update the article when that becomes known.
Via Brad Biggs's Twitter, Lovie Smith commented on Gholston claiming "There is a reason why Gholston was drafted as high as he was."