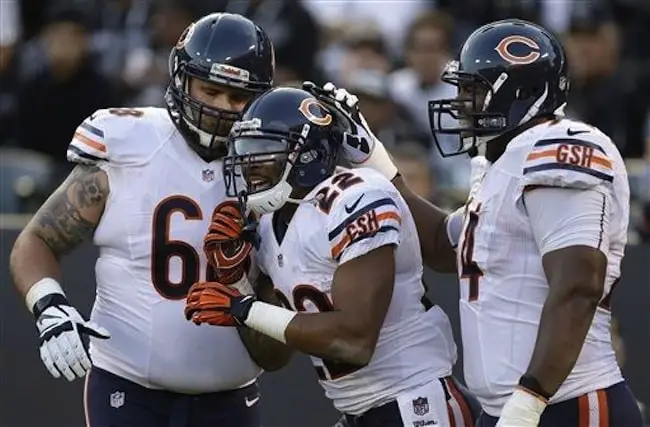 Although the Raiders made a game of what appeared to be a potential blowout early on, the Bears were still able to take away their second preseason win along with plenty of positives.
We can begin with the man in the driver's seat. Jay Cutler proved the critics wrong Friday night when he spread the ball around. While Brandon Marshall has been the sole beneficiary in weeks past, he was unable to connect with his quarterback all night, dropping several passes. Instead it was Alshon Jeffery who tallied the most receiving yards,  77 on 7 receptions. It was his 22-yard catch that pushed Chicago into Oakland territory on the first scoring drive of the night.
New free-agent signee Martellus Bennett took it from there, completing his first catch on the season to set up Robbie Gould in field goal range to put the Bears on the board. Forte made successful runs on that drive, but was only heating up.
After cornerback Tim Jennings intercepted a pass from quarterback Matt Flynn, Forte took a short pass from Cutler and ran it 32 yards to put the Bears up 10-0.
Meanwhile, Lance Briggs picked up where Brian Urlacher left off, leading the Chicago defense. His play recognition set his unit up to leave Oakland helpless on offense. In their second drive of the game, Peanut Tillman would sack Flynn for a loss which preceded a missed field goal from the Raiders.
Back on offense, Forte continued his long runs and handed the duty off to Michael Bush who rushed in for the touchdown. The Bears would take a 17-0 lead after Gould's extra point.
Following Oakland's empty drive, Cutler made several plays showing how comfortable he was moving in and out of the pocket. He completed 12 of 21 for 142 yards, earning 1 touchdown and without allowing an interception.
The drive ended with Bush's second touchdown of the night. Gould and Sebastian Janikowski of Oakland would both add on 3 for their teams on the final drives before the half, leaving 27-3 Chicago.
Following the break, Oakland would take advantage of the Bears' second team defense. It began with Terrelle Pryor scrambling 25 yards for a touchdown, a 30-yard field goal by Janikowski and ended when, after a Josh McCown interception, Pryor hit Nick Kasa for a 19-yard touchdown reception.
The Bears would gain back momentum when cornerback C.J. Wilson picked off quarterback Matthew McGloin early in the 4th. Michael Ford continued the rushing success when he ran 44 yards over 4 plays to put Chicago up 34-20.
A late touchdown pass from McGloin to Jamize Olawale was the last effort from Oakland as Chicago held on for a 34-26 victory.
Before the end of the game Tillman told Chicago Bears Network, "I don't think we're as good as we can be yet."
While the veteran is anxious to see the team's full potential, Forte echoed his sentiment saying, "If we keep taking strides forward, we'll do very well this year."
Though far from perfect, the ebb and flow of the team Friday night had everyone looking forward to the start of the season two weeks from now. The final preseason match-up will take place Thursday, August 29th at 7:00pm against the Cleveland Browns back at Soldier Field.
For More Great Chicago Sports Content
Follow us on Twitter at @chicitysports23 for more great content. We appreciate you taking time to read our articles. To interact more with our community and keep up to date on the latest in Chicago sports news, JOIN OUR FREE FACEBOOK GROUP by CLICKING HERE