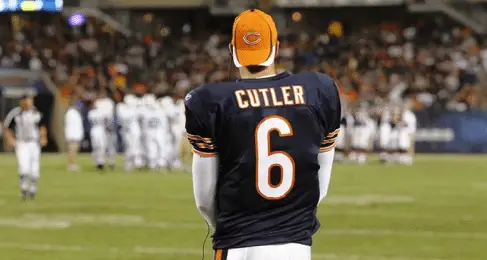 The Bears won their first pre-season game last night against the Buffalo Bills with a score of 10-3. Cutler, Forte, and the other big names didn't see much action at all coming out of the game after 1 series. Hopefully next week we'll see Cutler and Co. play more then 1 series. In an interesting move, the Bears decided to play the first unit offensive line longer then usual.
Not everybody wants to watch the 2nd and 3rd team guys trying to make the team. Luckily, we do. We'll provide you with all the insight you need to talk about the game as if you watched it to friends, to exude your profound Bears knowledge.
Here are some observations and notes we jotted down.
Jay Cutler completed 1 pass on 1 attempt for 0 yards after playing 1 series. Not much to comment on outside of an impressive 10 yard run. Caleb Hanie came in for Cutler rather quickly. Hopefully Jay will get more playing time next week vs NYG.
Marion Barber with 45 yards on 7 carries was easily the most impressive Bear tonight. Barber looked great especially when he bounced to the outside, ran over a CB, and picked up 5 more yards. Every carry Barber receives, is one step closer to the Bears letting Chester Taylor go.
Undrafted free agent Kris Adams was the most impressive undrafted free agent. Adams hauled in a great 31 yard catch by from Nathan Enderle. He was the leading wide receiver for the game with 3 catches for 58 yards.
Undrafted free agent Dane Sanzenbacher was targeted deep on a post corner, beat the cornerback and was held. He drew a pass interference call on the play. Had he not been held, Sanzenbacher possibly could have scored a touchdown.
Amobi Okoye seems to have found a home in Chicago. Okoye had 2 sacks and just looks like a physical beast out there. Commentators couldn't stop talking about how "big" his arms were. Him and Israel Idonije haven't confirmed, but rumor has it, they intend to have a duel of who has better looking biceps.
Special teams looked mighty impressive. Knox had a 70 yard kick return and Earl Bennett had a 33 yard punt return. Many fans think of Hester were fielding either of those, both would have been touchdowns.
Gould barely missed a 56 yard field right before halftime. It was slightly to the right but had enough distance to make it easily.
Offensive Line gave up 9 sacks on the day. A couple could be credited to great coverage, a couple could be credited to bad blocking. G Lance Louis was really struggling and looked to be the most vulnerable part of the offensive line. Despite giving up 9 sacks, overall the Bears run blocking was very impressive. There were distinct holes opening up with down field blocking. Barber and Bell took all the credit but, run blocking was on point. When RB Harvey Unga came into the game, Bears instituted "power run game" and Unga blasted his way to 27 yards on 9 carries.
Major Wright had 5 tackles, including a couple solos. If he can stay healthy, he'll be a big help in run support. Fundamentally he may be one of the top tacklers on the team.
Special teamer Sam Hurd forced a fumble on a kickoff that the Bears recovered. Penalty on the play prohibited Bears from capitalizing on the great strip.
Bears defensive line looked solid. Rotation of the DL is going to be very nasty when the regular season starts.
Zack Bowman, Corey Wooten, Marcus Harrison were injured during the game. None look to be too serious of injuries.
Mike Holmes had the lone turnover on the Bears defense with an interception.
Craig Steltz still looks like Clay Mathews in middle school.