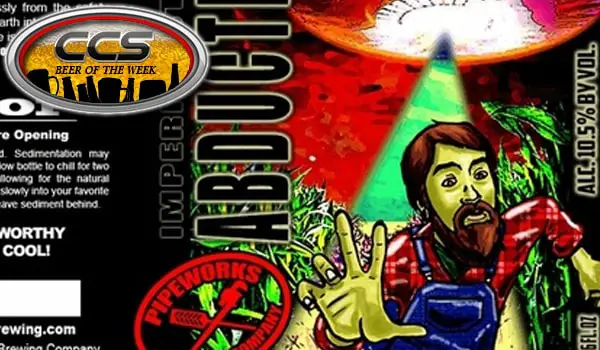 We skipped last week. I'm sure you were busy with your own pile of beer, or were passed out on the couch mid-game (I know I was).
This week's BOTW: Pipeworks Abduction
Bringing back the Beer of the Week after a holiday needs to be momentous. It needs to be something important. Something huge. Something strong enough to make you reconsider our decision to drink a 22oz bottle.
The Abduction from Pipeworks is that beer. This sucker pours like you just drained it from your car's oil pan. It's thick and black with a big tan head. It smells like grandma's old molasses cookies tossed in a bag of lawn trimmings and then doused in Bourbon. The smell is almost overwhelming. Lots of thick, sweet malts, floral hops, and a blast of alcohol to remind you that sipping is better than chugging. Abduction is thick and heavy, full of chocolate and burnt coffee notes with plenty of booze to warm you up on a chilly night. The bitter, hoppy finish reminds you that you're actually drinking a beer. This one's worth every drop.
Enjoy your weekend!
For More Great Chicago Sports Content
Follow us on Twitter at @chicitysports23 for more great content. We appreciate you taking time to read our articles. To interact more with our community and keep up to date on the latest in Chicago sports news, JOIN OUR FREE FACEBOOK GROUP by CLICKING HERE