A guide how to bet the game of golf and some of the best value out there.
The 2022 Tour Championship is over and while I was excited to watch Scotty Scheffler and Rory McIlroy battle Sunday afternoon, it is somewhat of a bittersweet moment. It is so for a number of reasons, the biggest being it represents the official end of the 2022 PGA season. It is also disappointing that arguably the game's most recent rising star—Will Zalatoris—will not be playing.
While I am a long-time golf fan and enjoy watching the action every week—not only in the majors—there is another element that I will miss. This year I discovered the joys of betting on golf. While I always enjoy picking winners in college and pro football: Survivor pools, fantasy, squares, ranked winners and most of all betting against the line— back in the day, I had a guy. I felt somewhat villainous calling on Sundays with my special code to get the weekly lines. Loved Mondays when I was either playing with house money or looking to get square when Monday Night Football was still an event.
Why Betting on Golf is Better
But as pleasurable as that was, I am finding betting on golf even more enjoyable. First of all, the odds are better. Yes, with usually more than 100 starters each week, the odds are appropriate, but it is cool to have a strong hunch and be able to make better than 10 to 1, even on a heavy favorite. And with no $50 minimum—like with a standard book—you are able to spread your bets around. You can get 25-1 or better on strong contenders. Early on I bet Scotty Scheffler to win the Masters following his victory in the WGC-Dell Technologies Match Play and got 18-1. That was a nice pay day.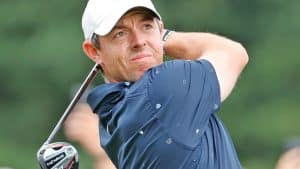 And the various betting apps allow you to make some interesting wagers. You can parlay a group of favorites with a few newcomers you expect to make a run to all finish in the top 10, or even top 20 or 30. The odds you can get are compelling.
And with golf, there are always those guys that make a good showing but fail to win. You aren't surprised when they jump out to the lead, but don't expect them to win. Well, these apps allow you to bet live and take significant profits when that no-name kid you are following with long odds takes the lead on Saturday.
You can also get great odds betting on the one-day or two-day leader. To be clear, I am not a big money bettor, but have made several hundred percent taking profits after bailing out of a long shot after they outperformed during the first three days. Some betting apps allow you to take partial profits so a promising player who you played at 30-1 may be paying out 500% or more entering the final round. You can cash in some or all of that and be playing with house money.
McIlroy Scheffler Dual Not the End
While the Tour Championship is the official end of the season, there will be additional opportunities, including the President's Cup Match Play event. Those are interesting bets as well.
So, while many of you are ramping up for the start of college and professional football and looking forward to making a few bets, take a look at some of the remaining golf plays. If you follow golf at all, you will be able to find some interesting bets.
For More Great Chicago Sports Content
Follow us on Twitter at @chicitysports23 for more great content. We appreciate you taking time to read our articles. To interact more with our community and keep up to date on the latest in Chicago sports news, JOIN OUR FREE FACEBOOK GROUP by CLICKING HERE