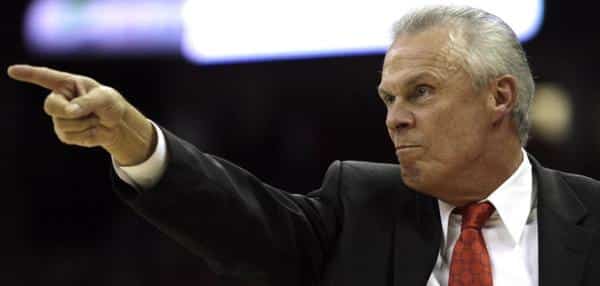 *This is part four of a six part series previewing each Big Ten team.
Part one, Monday: Nebraska, Penn State
Part two, Tuesday: Northwestern, Purdue
Part three, Wednesday: Iowa, Illinois
Part four, Thursday: Minnesota, Wisconsin
Part five, Friday: Michigan State, Michigan
Part six, Saturday: Ohio State, Indiana
6. Minnesota
It might be a surprise for some to see Minnesota projected to finish in the top half of the Big Ten after finishing 23-15 overall and 6-12 in the Big Ten last season. Prior to the rough patches, the Golden Gophers entered Big Ten play last season with a 12-1 record and looked promising. Minnesota's star forward Trevor Mbakwe went down with a torn ACL in their loss to Dayton early in the season putting a question mark on the team heading into Big Ten play. Minnesota struggled with injuries from top to bottom, forcing coach Tubby Smith to put out a different lineup almost every night. The Golden Gophers lost their first four Big Ten games and at one point lost six straight.
How does all of that add up to a top 25 team? With the improved play of young guard Andre Hollins and forward Rodney Williams, Minnesota won four straight NIT tournament games, eventually losing in the finals to Stanford. Williams averaged 19.2 points and 5.6 rebounds in the NIT tournament.
Minnesota will benefit from having a full season of an Mbakwe-Williams front court. Williams has always been known for his freak athleticism and highlight reel dunks, but late in the season proved he could help in other aspects of the game as well.
"When you put the tag or label "great" on someone, it's tough but Rodney has the capability," Smith said. "I think he has turned the corner, he did everything for us last year, rebounding, blocked shots, steals, he was an all purpose player. When we switched him to the power forward spot after Trevor went down and we were trying a lot of different combinations, that's when he stepped up and became more comfortable playing that role for us."
After a season bombarded with injuries and inconsistency, Coach Smith is pleased to see Trevor Mbawke return for a sixth year of eligibility. While recovering from his ACL injury this summer, Mbawke got in trouble with the law for violating a restraining order, and also being charged with a DUI arrest in July. Mbawke is now fully recovered from his injury and has avoided jail time and suspension.
In his only full season for the Golden Gophers in 2010-2011, Mbakwe averaged a double-double with 13.9 ppg and 10.5 rpg. When healthy and out of trouble, Mbakwe is one of the most dominant big men in the Big Ten. Smith is happy to see his senior back in the fold.
"I think with stability in his life and now that he's over recovering from his knee surgery, there are a lot of things that he had to deal with last year, and I think he has that under control, both mental and physically," Smith said. "I think he's in the right place. He's a guy that will bring a real inside presence. Last year we struggled rebounding the ball and Trevor is one of the best rebounders I've ever seen, the best I've ever coached so we expect him to step in and contribute."
The starting backcourt for the Golden Gophers will be sophomore Andre Hollins and junior Austin Hollins, with senior Julian Welch providing a lift off the bench. The backcourt will be a pivotal area for Minnesota, as they will need some perimeter play to compliment their elite inside threat.
Andre Hollins impressed in his freshman season, averaging 8.7 ppg while shooting 37.9% from long range. He'll need to limit his turnovers (2.1 per game) and learn how to facilitate the offense as he matures.
At 6'4," Austin Hollins is three inches taller than Andre Hollins and is the third tallest player (to Mbakwe and Williams) in many lineups that Coach Smith throws out. Austin Hollins also provides a threat from the perimeter (37% from three last season) and doubled his point per game to 9.2 last season.
Alongside Hollins at times will be Welch, who led the Golden Gophers in assists per game (2.9) last season and was lights out for three's, hitting 1.3 a game at a 43.8% clip. With a strong frontcourt, Smith will have the flexibility to run three guard sets to add an extra scoring punch and some speed in transition.
It was a thoroughly disappointing 2011-2012 season for the Golden Gophers. By returning almost all of their major contributors and through the continued development of their young players, Minnesota is prepared to make a statement in the Big Ten. If the team carries their hot streak over into this season, a run to the Sweet 16 isn't improbable.
5. Wisconsin
In his 11th season as head coach, Bo Ryan led the Wisconsin Badgers to yet another Sweet Sixteen.  Making the NCAA tournament has almost become a formality for the Badgers, as they've made 14 consecutive NCAA tournament appearances. Wisconsin finished last season with a 26-10 overall record and finished fourth in the Big Ten with a 12-6 conference record. The team will return four starters this season, but their lone loss is a big one.
Wisconsin's Second Team All-American and all-time leader in games played point guard Jordan Taylor is a key departure. The team was preparing to move on and had confidence that senior Josh Gasser would step up and fill the void at the point guard slot. After tearing his ACL in the pre-season, Gasser has been ruled out for the season and will join the team as an assistant coach. The likely replacement for Taylor and now Gasser at point guard will be a combination of sophomore Traveon Jackson and junior Ben Brust.
Brust will make up for some of the perimeter threat lost from Taylor and Gasser as he hit 58 three pointers shooting 38.9% from deep. He had 26 assists to 26 turnovers last season, which is an area of concern for the Badgers.
Jackson only played in 17 games last season, averaging 5.4 minutes per game. He wasn't a highly touted recruit, even as the son of former Ohio State and NBA standout Jim Jackson. Jackson has a scoring mentality and was primarily a shooting guard in high school. Wisconsin will have to take the wait and see approach to see if a slide over to point guard will elevate his game.
There is much uncertainty surrounding the Badgers with the point guard position up in the air. Wisconsin is accustomed to being ranked in the pre-season top 10, but the Badgers will start the season ranked 23rd in the nation. Ryan is fine with assuming the role of an underdog this season.
"The fact that four of our brethren are ahead of us, that's okay and there's a lot of play between now and the end of December, early January," Ryan said. "There are reasons why certain teams weren't in certain positions and I understand with our team, with the point guard position being new, maybe inexperienced to some extent, I can understand that and the teams know we're going to play most of them twice. Great for the RPI, the league, you can beat up on each other but you can still, with certain statistics look pretty good with the RPI and other things. So I think our players welcome it."
Wisconsin will return two of their top three scorers from last season in seniors Ryan Evans and Jared Berggren.
Guard-Forward Evans was the most improved player on the roster, improving his scoring (2.8 to 11.0 ppg), rebounding (2.3 to 6.8 rpg), and field goal percentage (31.1% to 44%). His improved play on both ends was crucial to Wisconsin's success last season. Evans will have to continue to up his game with two of his backcourt mates now history. Evans remains positive amidst the team's point guard flux.
"I think we definitely lost a great floor general last year in Jordan Taylor," Evans said. "But then again, with the departure of one great there's the emergence of a lot of others, so I think the ball will be a popping a little bit more this year. I think collectively players are gonna feel as though they're more involved."
Senior big man Jared Berggren will be the primary inside scorer for the Badgers. At 6'10," Berggren tends to float to the perimeter, as he cashed in 45 threes shooting 37% last season. He also improved his scoring (2.4 to 10.5 ppg) drastically. He'll need to do more work on the boards and add a post-up game to compete against the deep crop of Big Ten big men.
The Badgers will get a huge addition in the front court in 17th ranked prospect Sam Dekker. The Wisconsin native will make an immediate impact for the Badgers. He will add a superior offensive threat to a team that is in desperate need of one.
"He loves the game, plays hard, smart, physically talented, needs to get stronger," Ryan said. "There's pluses and minuses with every player that comes in, but he's learning quick. He's gonna be a good player."
With an early slate of games against 10th ranked Florida and 16th ranked Creighton, Dekker will be tested early in the season.
Wisconsin suffers tough losses at their point guard spot and will need to run a balanced offense without a real go-to guy. They will strive with their senior leadership and influx of young talent. The Badgers defense will be elite once again, but their offense is a work in progress to say the least. Despite the #23 ranking, Ryan has some work ahead of him to turn this star-less team into a Big Ten contender.
For More Great Chicago Sports Content
Follow us on Twitter at @chicitysports23 for more great content. We appreciate you taking time to read our articles. To interact more with our community and keep up to date on the latest in Chicago sports news, JOIN OUR FREE FACEBOOK GROUP by CLICKING HERE