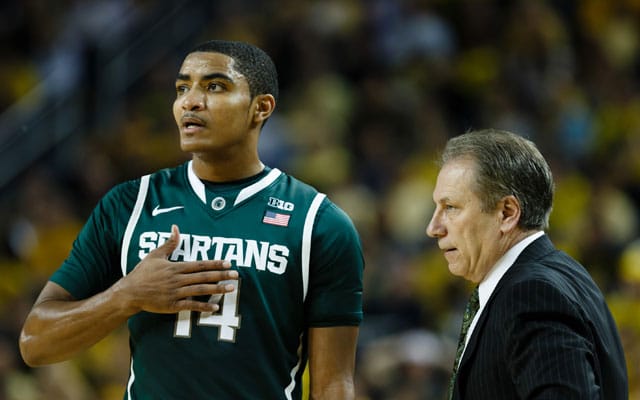 1. Michigan State
"It's an honor, but at the end of the day it's not gonna be given to you. You wanna be recognized as the Big Ten player of the year at the end of the season not before you even play a game. Nothing's gonna be given to me so I gotta go out there and play just like everybody else."– Shooting guard Gary Harris on receiving Preseason Big Ten Player of the Year honors
So wait a second, Gary Harris is projected as the best player in the Big Ten when Michigan State already returns three upperclassman starters? I think it's safe to say the Spartans deserve their No. 2 USA today ranking and their spot as the No. 1 team in the Big Ten.
In his freshman year, Harris was banged up all season, but averaged 12.9 points, 1.3 steals, and 1.9 three's per game shooting 41% from deep. Coach Tom Izzo called him one of the best guards he's ever coached, pointing out his rare ability to both hit threes and defend.
Harris will start alongside seniors point guard Keith Appling and power forward Adrien Payne, as well as junior small forward Branden Dawson. With Izzo, we know the team will defend. With Harris, the team will score too.
2. Michigan
"I've been watching a lot of clips on Kevin Durant lately. Having to be aggressive and him knocking down shots and getting to the rim, that's something I've been focusing on."- Sophomore small forward Glenn Robinson III
I know, I know, GRIII is no Kevin Durant, nor is he a clone of papa Glenn Robinson, but he's got the right idea. Robinson actually had a twitter exchange with Durant after attending his skills camp. Modeling his skills around the NBA superstar is a smart strategy.
Robinson lead the Big Ten in field goal percentage during conference play at close to 60% and he showed glimpses of his top ten NBA draft potential. With leading scorers Trey Burke and Tim Hardaway Jr. in the NBA, Robinson, along with NCAA tournament breakout star center Mitch McGary will have to carry the scoring load. Robinson showed his ability to get to the basket and score efficiently, but if he can conjure some inner KD and up his scoring, the Wolverines may end up back in the title game.
3. Ohio State
"Well, somebody asked me the other day, they said, 'What do you think this year?' And I said, 'Honestly, being in the league nine years, I don't think it's going to be any different than it has been in the past, just in terms of the grind." – Coach Thad Matta
With Deshaun Thomas leaving for the NBA draft, Ohio State will be forced to replace his near 20 points per game production. It's safe to say this might be more of a grind than usual for the Buckeyes.
Point guard Aaron Craft will continue to lead the team on the defensive end and facilitate the offense, but the Buckeyes will need junior forward LaQuinton Ross to replicate his stellar NCAA tournament performance. It will be an uphill battle for the Buckeyes but they're still ranked No. 10 in the preseason poll—go figure.
4. Wisconsin
"If it's not the youngest team we've ever had since I've been there, it's close. We're trying to get old in a hurry. We will play a lot of teams that are used to winning, teams that are used to being on the left-hand side when the score comes out."- Coach Bo Ryan
Old Bo will have to work with a young roster in his 13th season as Badgers coach. His projected starting lineup has two underclassmen, freshman power forward Nigel Hayes and sophomore small forward Sam Dekker.
To the untrained eye it appears Dekker had a decent freshman season, but advanced stats nerds drooled over his performance. Dekker was tenth in the Big Ten with a 22.8 player efficiency rating and was also eighth with .211 win shares per 40 minutes.
Wisconsin lost bigs Jared Berggren, Mike Bruesewitz and Ryan Evans, but insert junior Josh Gasser into their back court after he sat out last season with a torn ACL. After averaging a career high 11.1 points, 5.1 rebounds, and 2.3 assists per game, senior point guard Ben Brust will lead this young Badgers team into the elite of the Big Ten once again.
5. Indiana
"He's got a special work ethic and he's got a special humility. And sometimes the word "sponge" can be used and it's really just a lot of hyperbole, when it comes to somebody that really wants to learn the game and get better. Not for him. He's high level in wanting to get better."- Coach Tom Crean
The Hoosiers might've lost the most in the off-season of any team in the Big Ten with Cody Zeller and Victor Oladipo leaving for the draft, along with Christian Watford and Jordy Hulls combining for over 1000 points that vanished.
Sophomore point guard Yogi Ferrell and senior small forward Will Shehey are the key returners, but No. 13 power forward Noah Vonleh is the essential piece in the Hoosier attack.
Vonleh is a long, athletic power forward with the ability to handle the ball and create his own shot. The Hoosiers will need offense next season and Vonleh could be the answer.
6. Iowa
"I've not had a team in my entire career that is this deep. I think we have to make sure that we're able to rotate personnel in a way that maximizes our effectiveness."- Coach Fran McCaffery
Guess how many wins Iowa had last season. Guess again. Iowa had 25 wins, their most since 2005-2006, only the second time they've reached that total in the last 26 years. The Hawkeyes had a 9-9 Big Ten record and reached the finals of the NIT before losing to Baylor.
Iowa returns nearly every significant player from last year's team, including All-Big Ten senior guard Roy Devyn Marble, who averaged 15-3-4 last year. The Hawkeyes once again enter the season as a rather unknown, but this time people will take notice.
7. Illinois
"I always give Malcom [Hill] advice. He's the youngest, he just turned 18 like two days ago, so he don't know what's going on so you just gotta help him out. Just gotta tell him, let things go, stuff like that. You can't hold onto stuff and everything's gonna be fine, just have a positive mindset."- Point guard Tracy Abrams
This quote might not create much of an impact to some, but Abrams is one quiet dude and he seriously seems excited about being a leader. With Brandon Paul and D.J. Richardson graduating and with the Illini welcoming nine newcomers, leadership and a positive mindset will be essential.
Abrams and small forward Joseph Bertrand are two typically quiet guys that will need to be vocal to freshmen additions shooting guard Malcom Hill, shooting guard Kendrick Nunn, power forward Austin Colbert, point guard Jaylon Tate and center Maverick Morgan.
Rice transfer Rayvonte Rice will finally get to play after sitting out due to transfer rules last season, and he adds much needed explosion, energy and muscle to the Illini depth. It could be a rebuild or it could be another NCAA tournament for Illinois this year, regardless, the development of the freshmen will be essential.
8. Purdue
"A lot of time what happens in our business, when you deal with young people, you get a lot of lip service. They learn to say the right things. Will they do the right things?"- Coach Matt Painter
Coach Painter is referring to sophomore center A.J. Hammons, who will be suspended for the first three games of the season for violating team rules.
It's pretty simple, the Boilermakers will go as far as the young—and immature Hammons will take them. Hammons was 8th with a 23.1 PER and second with two blocks per game in the Big Ten in just 23.1 minutes per game. The seven footer is still prone to some "lip service," but his talent is undeniable.
The Boilermakers start only one upperclassman in senior guard Terone Johnson, so maturity will play a major factor in the team's success this season.
9. Penn State
"Obviously it's exciting to have that dynamic duo to put a Penn State jersey on this year. I think D.J. learned so much about the point guard position in general. And now you have two guys that can make plays for teammates."- Coach Patrick Chambers
Penn State finished dead last in the Big Ten with a 2-16 conference record and a 10-21 record overall, but all is not lost. Penn State return Preseason Big Ten First teamer point guard Tim Frazier, who played four games last season before rupturing his Achilles, ending his season. Frazier averaged 18.8 points, 6.2 assists and 4.7 rebounds per game in his last full season.
Frazier will join junior D.J. Newbill in the back court, who averaged 16.3 points 5.0 rebounds and 4.0 assists per game in place of Frazier last season. Frazier and Newbill will make up one of the best backcourts in the Big Ten but will need to concede some shots in order to mesh. If Frazier and Newbill can sustain their production alongside each other—watch out.
10. Northwestern
"We're not blessed with a lot of depth. We only have ten scholarship guys currently healthy and ready to play. But all of them can contribute and help. And we're going to need everybody as we head into obviously a tough schedule of games this year."- Coach Chris Collins
Former Duke Assistant coach Collins with quite the understatement there. Collins has his hands full in his first year as coach of the Wildcats, with only two proven players on the roster.
Senior guard Drew Crawford will be back after sitting out most of last season with a shoulder injury, but he'll have to carry nearly all of the scoring duties. Crawford averaged 16.1 points and 1.8 three's per game at 41.2% in his last full season, but his efficiency might plummet if there's no help around him.
Junior point guard Dave Sobolewski will help with his stellar 4.0 assists to 1.9 turnovers, but he won't help much with Crawford's scoring load.
It might be awhile before Northwestern makes the big dance, but at least they should have a keeper in Collins.
11. Minnesota
"We don't really want to slow up, run a lot of sets. That would not be ideal for us. Like to create a lot of turnovers. That's something that's really important, create a lot of possessions is important, trying to get a lot of steals."- Coach Richard Pitino
No, Rick Pitino didn't leave the National Champion Louisville Cardinals to coach the Golden Gophers—his son did.
In his first season as head coach of Florida International last season, Pitino improved the team's record from 8-21 to 18-14. The Golden Panthers were eighth in the nation averaging 9.34 steals per game, just six spots below his dad's squad.
Unfortunately, the Golden Gophers lost big man Trevor Mbakwe and the athletic Rodney Williams, with guards Andre and Austin Hollins (unrelated) as the only key returners. It will be a long debut season for Pitino, but if Richard follows in his father's footsteps, the Golden Gophers might have a bright future.
12. Nebraska
"I see we're picked 12th out of 12th again. And it's not just by you guys. I see it's by everybody. Like anybody, you take that to heart a little bit. I remember I was looking at all the things, and I wanted to feel better. And I came home to talk to my wife and she says, 'Why aren't you out recruiting?"- Coach Tim Miles
Give the man credit, coach Miles continues to respond to scrutiny with his own brand of comedy. And guess what, Nebraska finished tenth in the Big Ten last season, so technically he proved everyone wrong. This year he won't.
The lone bright spot for the Cornhuskers is sophomore Shavon Shields, who averaged 8.6 points and 5.1 rebounds in only 28.7 rebounds per game last season. Nebraska will also rely on the play of senior guard Ray Gallegos, but 12.5 points per game shooting 36.1% won't exactly get the job done.
The Cornhusker basketball program will continue to suffer after moving to the Big Ten primarily as a football move. At least Miles will have some great punchlines in defeat.
For More Great Chicago Sports Content
Follow us on Twitter at @chicitysports23 for more great content. We appreciate you taking time to read our articles. To interact more with our community and keep up to date on the latest in Chicago sports news, JOIN OUR FREE FACEBOOK GROUP by CLICKING HERE