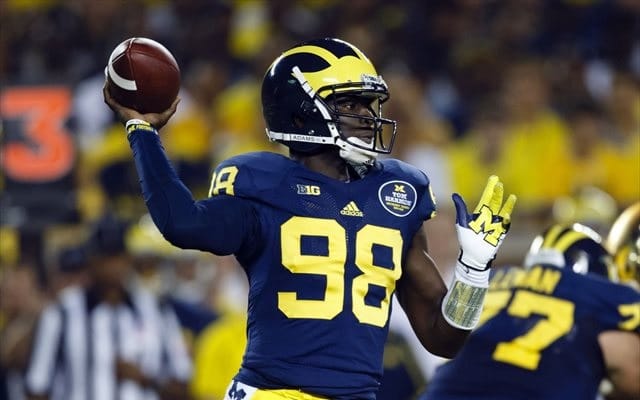 All 12 Big Ten teams were in action during week two of what looks to be another exciting college football season. While most didn't face stiff competition, 11 of the 12 teams came out victorious and nine of the 12 teams are undefeated. Here is a look at how each team fared on Saturday:
Michigan State (2-0) 21 South Florida (0-2)6
Facing a Bulls team that was coming off an embarrassing 53-21 loss to FCS team McNeese State, Michigan State made the most of the match-up on one side of the ball. The top defense in the Big Ten forced two turnovers and scored two defensive touchdowns for the second straight game. Defensive end Shilique Calhoun, who scored two touchdowns this week, has three total touchdowns on the season, more than the entire Spartans offense. The Spartans QB problems continued, with Andrew Maxwell, Connor Cook and Tyler O'Connor going a combined 12/24 for just 94 yards. The running game, on the other hand, had a very nice game, with Nick Hill, Jeremy Langford and Riley Bullough combining for 137 yards. Langford scored the Spartans lone offensive touchdown. The Spartans have an easy game next week, but then face Notre Dame before starting Big Ten play, so they will need to figure out their offensive problems fast.
Next Week: 1:00 vs. Youngstown St.
Penn State (2-0) 45 Eastern Michigan (1-1) 7
The Nittany Lions won their second straight game after defeating Syracuse last week. EMU struck first with a fumble recovery for a touchdown by Hunter Matt, but Penn State responded by scoring 45 unanswered points. Running backs Zack Zwinak and Bill Belton each scored two touchdowns on the ground while Akeel Lynch had one rushing touchdown. Lynch also led the team in carries (13) and was tied with Belton in rushing yards (108). Freshman Christian Hackenberg threw for 311 yards and connected with star receiver Allen Robinson for a 45 yard score in the fourth quarter. Penn State played a great game on both sides of the ball and they could be a dark horse in the Big Ten this season.
Next Week: 5:00 vs. Central Florida
#21 Wisconsin (2-0) 48 Tennessee Tech (1-1) 0
The biggest blowout of the day in the Big Ten came from the Badgers at Camp Randall Stadium. Wisconsin, who scored two touchdowns in three different quarters, had no problem taking care of the FCS Golden Eagles. Quarterback Joel Stave was 24/29 and threw for three touchdowns. Running back Melvin Gordon rushed for 140 yards and scored one touchdown while James White and Corey Clement also had over 100 yards on the ground. Clement had two scores while White had one. Clement was also responsible for the biggest play of the day, a 75 yard run that made it 48-0. The Badgers held the opposing quarterback Darian Stone to just 69 yards passing and held the Golden Eagles to only 44 yards on the ground. First year head coach Gary Anderson said "We're challenged to get better and I believe we have for the most part. That's always a good sign," on the Badgers spectacular performance.
Next Week: 9:30 @ Arizona St.
Illinois (2-0) 45 Cincinnati (1-1) 17
The most surprising result of the day came from Champaign, where the Illini pounded Cincinnati by four touchdowns. This was surprising mostly because Cincinnati had beat up on fellow Big Ten team Purdue 45-7 last week. There had also been questions surrounding Illinois' defense, who let up 34 points to Southern Illinois last week. Illinois has now scored 40+ points in each of their first two games and have won their first two games for just the third time in the last nine seasons. Nathan Scheelhaase threw for four touchdowns and 312 yards. Josh Ferguson, Evan Wilson, Steve Hull and Martize Barr were all recipients of a Scheelhaase TD pass. The questionable U of I defense was stingy in the victory and was helped by an interception from Taylor Barton. After the game, Scheelhaase had great things to say about the Fighting Illini offense. "It's fun to see our team compete out there. I like the product we put out there, the way we played and the intensity we came out to the field with."
Next Week: 5:00 vs. #20 Washington
Iowa (1-1) 28 Missouri State (0-2) 14
Another Big Ten-FCS battle took place in Iowa City, where the Hawkeyes defeated the Bears by just two touchdowns. Quarterback Jake Rudock and running back Mark Weisman each had two touchdown runs. Weisman was a work horse, carrying the ball 30 times for 180 yards. Despite the slim margin of victory, the Hawkeyes lead wasn't in much jeopardy until late in the fourth quarter, when Missouri State cut it to a one touchdown game before a Rudock run extended the lead. Much like the Spartans, Iowa will need to step it up if they want to challenge the Big Ten powerhouses.
Next Week: 5:00 @ Iowa St.
Purdue (1-1) 20 Indiana State (0-2) 14
The Boilermakers are making their case to be the worst team in the Big Ten after a close game against the lowly FCS Sycamores. Purdue quarterback Rob Henry threw for 150 yards against a suspect defense. He was outplayed by Indiana State QB Mike Perish, who threw for 256 and two touchdowns. The only Boilermakers offensive touchdown came on a 16 yard run from freshman wide receiver B.J. Knauf. Ricardo Allen's interception with 19 seconds left secured the win for Purdue.
Next Week: 7:00 vs. #14 Notre Dame
#3 Ohio State (2-0) 42 San Diego State (0-2) 7
The top ranked team in the Big Ten showed their dominance once again, beating up on the lowly San Diego State. Braxton Miller started the game, but sprained his left knee early in the first. Kenny Guiton was brought in to play quarterback and he made many forget about Miller. Guiton threw for 152 yards and two touchdowns and ran for 83 yards and a touchdown. "He played a full game today, you saw it," said Ohio State coach Urban Meyer on Guiton. Philly Brown was the recipient of both of Guiton's touchdown passes. The Buckeyes had four rushing touchdowns by four different players.
Next Week: 6:00 @ California
#19 Northwestern (1-1) 48 Syracuse (0-2) 27
Facing a Big Ten team for the second straight game, Syracuse once again struggled. Northwestern's offense, who has scored 92 points this season, struck very early into the game, scoring a touchdown less than one minute into the game. The game was never close, with NU's QB combination of Kain Colter and Trevor Siemian combining to go 30/37 for 375 yards and four touchdowns. Siemian threw for 3 TD's while Colter threw and ran for one. Treyvon Green, Christian Jones, Tony Jones and Dan Vitale each had one touchdown catch. Northwestern's defense picked off Syracuse QB Drew Allen four times. The longest return came from safety Ibraheim Campbell. If Northwestern's offense keeps on rolling, they could pose a threat to powerhouses Ohio State and Michigan.
Next Week: 8:00 vs. Western Michigan
Navy (1-0) 41 Indiana (1-1) 35
The only Big Ten team to lose on Saturday were the Indiana Hoosiers, whose defense just couldn't hold the option offense of the Midshipmen. Keenan Reynolds ran for three touchdowns for Navy while carrying the ball 32 times. Indiana quarterback Nate Sudfeld had a great game, throwing for 363 yards and four touchdowns. Ted Bolser caught two of the touchdowns from Sudfeld. Ultimately, it was the defense who decided the game and Indiana's couldn't hold up. The Hoosiers, who have had a notoriously bad defense for years, will need to find a solution and fast.
Next Week: 11:00 vs. Bowling Green
#22 Nebraska (2-0) 56 Southern Miss (0-2) 13
The most points from any Big Ten team came from Nebraska, who put up 56 and walloped the Golden Eagles by 43. Taylor Martinez didn't throw for a ton of yards (170), but got the job done, throwing for three touchdowns. Running back Ameer Abdullah collected 114 yards on 17 carries. Nebraska had four interceptions on defense, including two by Ciante Evans. Evans and Stanley Jean-Baptiste each had a pick six. This could be called a "relaxation game" for Nebraska, but they still proved that they can put up points with the best of them.
Next Week: 11:00 vs. #18 UCLA
#17 Michigan (2-0) 41 #14 Notre Dame (1-1) 30
A record crowd at the Big House left pleased with the result. College Gameday chose this heralded rivalry to be their focus on Saturday and this game did not disappoint. "There's certain games that you get very excited about," Michigan head coach Brady Hoke said. Michigan's win was their fourth straight at home against the Irish. They were led by quarterback Devin Gardner, who was wearing #98 to honor Wolverines legend Tom Harmon, starred in this one, passing for 294 yards and had five total touchdowns including four through the air. Wide receiver Jeremy Gallon had 184 receiving yards and three touchdowns. Notre Dame's drive late in the game was thwarted after Blake Countess picked up his second interception of the night. Despite some questionable calls and suspect decision making from Gardner, the Wolverines made a huge statement with this win.
Next Week: 11:00 vs. Akron
Minnesota (2-0) 44 New Mexico State (0-2) 21

Although they have faced two below average FBS teams, the Golden Gophers have made a statement offensively thus far. Their run heavy offense saw touchdowns from Rodrick Williams Jr., Philip Nelson and David Cobb. Nelson, who is also the quarterback, struggled, completing only eight passes for 127 yards. Special teams and defense also assisted the Gophers, who scored on a 50 yard fumble return from Aaron Hill and a 65 yard punt return from junior Marcus Jones. The "other Aggies" never really posed a threat to Minnesota, allowing them to run the ball all over them.
Next Week: 11:00 vs. Western Illinois
Offensive Player of the Week: Devin Gardner-QB-Michigan 21/33, 294 yards, 4 TD, 13 carries 82 yards 1 TD.
Defensive Player of the Week: Ciante Evans-CB-Nebraska 2 INT, 27 return yards, 1 TD
Big Ten Player of the Year Watch:
1. Devin Gardner
2. Taylor Martinez
3. Braxton Miller
4. Joel Stave
5. Christian Hackenberg