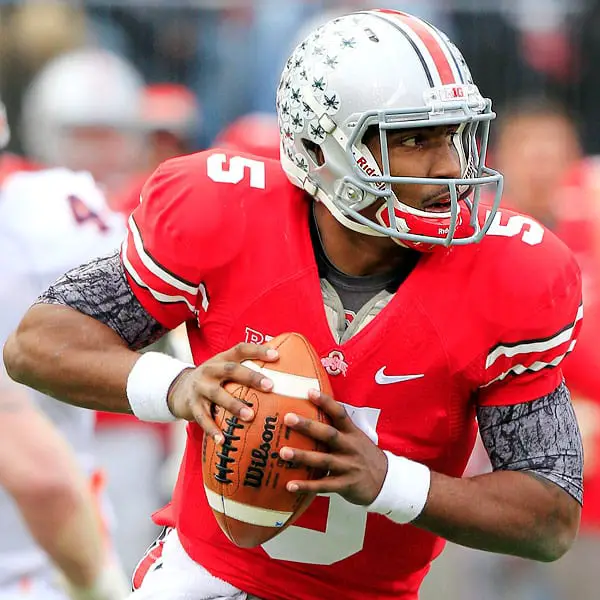 The first week of college football brought upsets outside of the Big Ten and teams inside one of the top conferences in the FBS had to fight hard to avoid upsets. Here is how each of the 12 teams inside of the conference fared.
Thursday:
Indiana 73 Indiana St. 35
It appears that this is the same Hoosiers team we have seen for quite a while. A high scoring team that struggles defensively. Luckily, IU faced an FCS team that they had no problem scoring against. The QB combo of Nate Sudfield and Tre Roberson threw for six touchdowns, including two to junior Shane Wynn as well as two to senior tight end Ted Bolser. Running back Tevin Coleman scored two touchdowns on the ground and ran for 169 yards. The Hoosiers defense surrendered 35 points to an FCS offense and will need to improve in order to stop some of the Big 10's top offenses. Indiana head coach Kevin Wilson commented on the team's struggles saying "There's a lot of positives, but there's a boatload of negatives."
Next Game: Sept. 7 vs. Navy
Minnesota 51 UNLV 23
The Golden Gophers, another team looking to turn around their Big 10 fortunes, destroyed Mountain West conference member UNLV by four touchdowns. Quarterback Philip Nelson put up three total touchdowns, two on the ground, but most of Minnesota's success came defensively and on special teams. They scored two special teams touchdowns, one on a kickoff return by Marcus Jones and the other on a blocked field goal return by Martez Shabazz. Junior Briean Boddy-Calhoun had an 89 yard "pick six" that added to Minnesota's lead. The Gophers gave the Runnin' Rebels quarterback Nate Sherry fits all night long. The defense was a positive for Minnesota, who appear to be a bit more ready for conference play than Indiana.
Next Game: Sept. 7 vs. New Mexico St.
Friday:
Michigan State 26 Western Michigan 13
The quarterback play plagued the Spartans all night. Starter Andrew Maxwell and sophomore Connor Cook couldn't find a groove passing the ball, making it very hard for the Spartans to move the ball and putting extra pressure on running backs Jeremy Langford and Riley Bullough. Maxwell could only throw short passes, completing 11 for just 74 yards and Cook was just 6/16 but ran for 35 yards. Langford scored the Spartans lone offensive touchdown. The top defense in the big ten shined, even if it was only against Western Michigan. The team had three interceptions, returning one for a touchdown and also had a fumble recovery for a touchdown courtesy of Shilique Calhoun. There is no question MSU has the defense to compete, but there is a question mark with the offense. Freshman Damion Terry could get some looks at quarterback next week.
Next Game: Sept. 7 vs. South Florida
Saturday:
(2) Ohio State 40 Buffalo 20
The heavily favored Buckeyes got off to a hot start, jumping out to a 23-0 lead after the first quarter, but were outscored in the last three quarters. Heisman candidate Braxton Miller threw for two touchdowns and 178 yards. Jordan Hall rushed for 159 yards and scored a pair of touchdowns. The Buckeyes suffered a big loss on defense as star linebacker Ryan Shazier was carted off the field. Cornerback Bradley Roby was injured and missed the entirety of the game. Ohio State was also playing without senior running back Carlos Hyde, who was suspended after facing assault charges during the offseason. The Buckeyes should be able to rebound nicely, but will need some more work if they want to put up their second consecutive undefeated season.
Next Game: Sept 7 vs. San Diego St.
(23) Wisconsin 45 Massachusetts 0
One of the bigger beatings laid down by a Big Ten team came from the Badgers, who wiped out the Minutemen of Massachusetts. Joel Stave threw for two touchdowns despite completing only nine passes. However, Wisconsin really shined running the ball, scoring four difference touchdowns by four different players on the ground. Stave, Melvin Gordon, James White and Corey Clement had the four touchdowns, with White's being a 51 yard run and Gordon's going for 70 yards. Jared Abbrederis had two catches, both for touchdowns and both for over 50 yards. The Badgers have had a lock down defense for some time, and while they didn't face an offensive powerhouse in Massachusetts, they still showed their firepower.
Next Game: Sept. 7 vs. Tennessee Tech
Illinois 42 Southern Illinois 34
The Fighting Illini football program continued its recent struggles, barely avoiding an upset against FCS Southern Illinois. The high scoring game featured two passing touchdowns from fifth year senior Nathan Scheelhaase. The QB connected with recievers Jon Davis and Josh Ferguson. V'Angelo Bentley had a 100 yard kick return for the Illini after Thomas Kinney's first field goal of the day. Illinois was up 25-7 at halftime, but was outscored 27-17 during the second half. Scheelhaase said ""Honestly, I think we'll all put it behind us and start preparing for Cincinnati," after they barely escaped the upset.
Next Game: Sept. 7 vs. Cincinnati
Cincinnati 42 Purdue 7
The worst loss suffered by a Big Ten team came when the Boilermakers fell to Cincinnati by five touchdowns. Purdue quarterback Rob Henry completed about half of his passes and threw two interceptions. The most yards anyone had on the ground for Purdue was 21 by running back Dalyn Dawkins. Nothing was really happening for them on either side of the ball. The offensive and defensive struggles against a good but not great Cincinnati team could be a big problem going forward for Purdue.
(17) Michigan 59 Central Michigan 9
The biggest win from any Big Ten team came from the Wolverines, who started Devin Gardner at quarterback. Michigan had to adjust to playing without Denard Robinson, who had been great the past couple of years no matter where he played. Gardner quickly put himself into the Heisman picture with a fantastic performance. He ran for 52 yards and two touchdowns and threw for 162 yards and a touchdown. He put his stamp all over this game. Running back Fitz Touissant also scored two touchdowns. Michigan's starting safety Thomas Gordon was suspended for the game for a violation of team rules but according to head coach Brady Hoke "He'll be out on the field next Saturday night."
Next Game: Sept. 7 vs. Notre Dame
Penn State 23 Syracuse 17
One of the closer games featured four total field goals. The Nittany Lions freshman QB Christian Hackenberg tore up the opposing defense, throwing for two touchdowns and 278 yards. Allen Robinson and Geno Lewis had a touchdown catch apiece. Penn State led 6-3 at halftime, but opened up a 23-10 lead late in the fourth quarter before a touchdown by the Orange cut the lead to six. Penn State is expected to be a middle of the pack team this season and they showed nothing extraordinary to make me sway from that thought.
Next Game: Sept. 7 vs. Eastern Michigan
Northern Illinois 30 Iowa 27
The second defeat of a Big Ten team came in one of the more  exciting games of the day that was capped off by a last second 36 yard field goal by NIU kicker Matthew Sims. Iowa fell victim to a dark horse Heisman candidate in Jordan Lynch. The Huskies QB collected 331 total yards and three touchdowns, all of the passing variety. Hawkeyes quarterback Jake Rudock threw for 256 yards, but tossed two interceptions. Running back Mark Weisman ran for 100 yards on the ground and junior Damon Bullock added 76 yards. Iowa is not a favorite in the Big Ten, but a loss in non-conference play always hurts, even against an underrated NIU team.
Next Game: Sept. 7 vs. Missouri St.
(18) Nebraska 37 Wyoming 34
The heavily favored Cornhuskers barely avoided an upset against FBS bottom feeder Wyoming. Taylor Martinez threw only five incompletions and threw for three touchdowns, including two to Quincy Enunwa. Nebraska dominated on the ground, with four rushers picking up at 75 yards and two, Imani Cross and Ameer Abdullah, picking up at least 100 yards. While the offense was a bright spot, if  Nebraska wants to make their second consecutive Big Ten title game, their defense will need to pick it up. There is not much of an excuse to allow 34 points to a team of Wyoming's caliber and the opponents will only get tougher from here on out. Nebraska head coach Bo Pelini had a more positive outlook, saying "I was expecting a lot cleaner performance, but by no means am I panicking."
Next Game Sept. 7 vs. Southern Miss
(22) Northwestern 44 California 30
Lots of positives and negatives came from this game from NU's defense. Cal kept it close until late in the game, responding to the Wildcats points with points of their own. Linebacker Collin Ellis was the difference, returning not one, but two interceptions for touchdowns. However, NU's defense allowed a Cal team that finished 3-9 last season to stay in it. The Golden Bears had two recievers have over 10 receptions and 145 yards, showing that there are obvious holes in the Wildcats secondary. The offense was a much better sign. Both quarterback Kain Colter and running back Venric Mark, two key pieces to this offense, battled injuries, with Colter not returning to the game. Backup Trevor Siemian, one of the top passers in the Big Ten, filled in nicely, throwing for 276 yards. Backup running back Treyvon Green rushed for 129 yards and two touchdowns. The Wildcats will need to rebound from the near scare on the road, as they face four ranked teams this season.
Next Game: Sept. 7 vs. Syracuse
Offensive Player of the Week: Taylor Martinez-QB-Nebraska 17-22 155 yards, 3 TD, 1 INT, 16 carries, 80 yards.
Defensive Player of the Week: Collin Ellis-LB-Northwestern 2 INT, 96 yards, 2 TD
For More Great Chicago Sports Content
Follow us on Twitter at @chicitysports23 for more great content. We appreciate you taking time to read our articles. To interact more with our community and keep up to date on the latest in Chicago sports news, JOIN OUR FREE FACEBOOK GROUP by CLICKING HERE