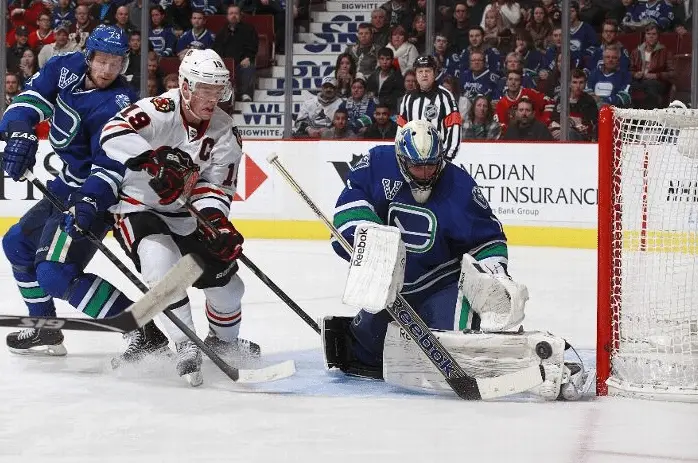 The Blackhawks pick up another point, but fall to Vancouver by a final score of 2-1 in a shootout.
The Canucks broke out the scoring when Duncan Keith lost his stick leaving Alex Edler open on the play who blasted home a shot to give Vancouver 1-0 lead late in the first period.
There were several power play opportunities in the first period for both teams, but neither were able to cash in.
After a quiet and scoreless second period, the Blackhawks finally got on the scoreboard when Patrick Kane found the back of the net midway through the third period scoring his third goal of the season.
The Canucks were awarded a 5-on-3 power play towards the later stages of regulation when Marcus Kruger and Michael Frolik committed two penalties, but the Blackhawks penalty kill denied both opportunities led by Marian Hossa.
Chicago outshot Vancouver 4-0 in overtime, but failed to record one on the lone power play they obtained in the final minute and a half.
Canucks forward Jordan Schroeder clinched the game-winner in the fourth round of the shootout to give his team a 2-1 win.
Kane now has 3 goals and 8 assists on the season and has registered at least a point in seven of the first eight games.
Crawford picked up right where he left off stopping 21 of 22 (.955 save %) shots on the night.
Power Play: 0-for-5
Penalty Kill: 4-for-4
Injury update: Dave Bolland exited the game early in the third period with what appeared to be a non-contact leg injury, but has officially been listed as a "lower-body injury." Coach Joel  Quenneville says he will be evaluated tomorrow.
WHAT'S NEXT?
The Blackhawks will swing over to Calgary in the third of their six game road trip tomorrow night; puck drop at 9:00pm CT!
(For more Blackhawks coverage, please visit http://www.hawkeyonthefly.com/)