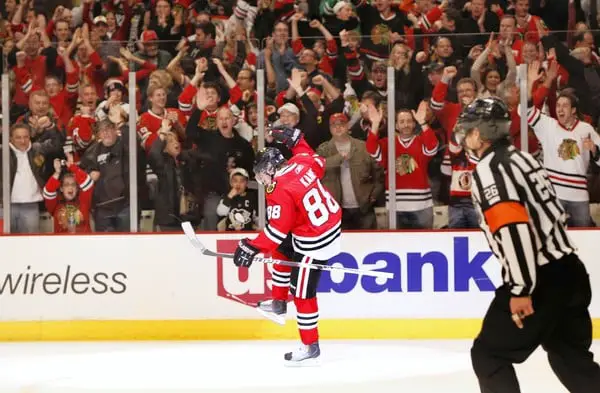 Yes, the Patrick Kane at center "experiment" is over…for now.
Kane will return to his natural position, right wing, tomorrow night against the New York Islanders reuniting on the top line with Jonathan Toews and Viktor Stalberg.
He has been centering the second line with Marian Hossa for the first couple months of the season, but now that role has been taken by Marcus Kruger.
Kane started off the season strong at the face-off circle, but his numbers at the dot haven't been that impressive as of late. He has a winning percentage of 45.4% this season in 25 games played.
Here's what Patrick Kane had to say about the move from center back to right wing:
"It was probably just to change it up a little bit. I think center worked for a little bit. It's one of those things where it's still an option. It's probably an option down the road too. Sometimes you just have to keep things exciting and switch it up. I'm back at the right wing. I'm familiar with the position. I'll try to get back used to it a little bit, but it shouldn't take long."
"I think once I start playing and once I get a few shifts under my belt, I'll realize what I used to do on the ice at the position and what I used to be good at and set up plays and different things like that. I've been playing it since I was 15 years old, so that's seven to eight years under my belt. You develop a game over there, so I'm excited to be back."
With Patrick Kane getting bumped up to the 1st line with Jonathan Toews and Viktor Stalberg, 21-year old center Marcus Kruger has been promoted to the 2nd line playing alongside Patrick Sharp and Marian Hossa. Kruger is, as Coach Q would say, "trending in the right way" and this is a huge opportunity for the young forward to prove he could eventually be a top 6 forward on this team in the future, or even this year. It's a tough challenge, but having Sharp and Hossa next to you will probably take away some of the pressure. The kid deserves a chance, let's see what he can do.
Dave Bolland will be paired up with Bryan Bickell and Michael Frolik to round up the 3rd line. This line has been underperforming, but it has the potential to be an extremely effective combination. If they can take it and run, it will be tough for any team to breathe in this lineup.
For More Great Chicago Sports Content
Follow us on Twitter at @chicitysports23 for more great content. We appreciate you taking time to read our articles. To interact more with our community and keep up to date on the latest in Chicago sports news, JOIN OUR FREE FACEBOOK GROUP by CLICKING HERE