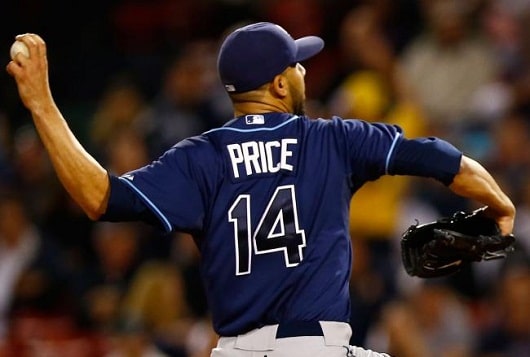 Last Thursday, I wrote about the moves the Cubs have made over the last 12 months and took a look at some moves going forward with their rebuilding process. I really went to an extreme, formulating a deal for Giancarlo Stanton (which was, in retrospect, a complete joke) and envisioning a free agency signing of Hanley Ramirez. One of the more believable potential trades I mentioned was for Tampa Bay's reigning Cy Young winner, David Price.
The Cubs lack a true ace in their rotation, and Price is among the very best pitchers in the game. Given that he is 27 years old and club-controlled through 2015, he is also one of the more valuable assets. Unfortunately for Tampa Bay, he will also soon be too expensive to hold on to for the long term.
He just set the record for a pitcher in his second year of arbitration eligibility, agreeing to a 1-year, $10.1125 million dollar deal. In years three and four, he will definitely exceed the amount the Rays are willing to commit to a single player in their organization. Last year, the entire payroll sat around $63 million. Giving a single player anywhere north of $15 million, or almost 25% of the payroll, annually, would be financially irresponsible and potentially crippling for years down the road. It's not that they theoretically wouldn't want to keep him on board; it's that they simply can't afford to take on the risk of an expensive, multi-year contract. See Crawford, Carl.
With limited options, a trade seems like the only reasonable route the Rays can take. Because the deal would be incredibly impactful for both organizations with so much talent changing hands, it's best to search for a precedent on which to base a possible Price trade. Three trades come to mind at which we can take a look: Pedro Martinez in 1997, Matt Garza in 2011, and James Shields in 2012.
A trade for Pedro may not seem relevant over 15 years later, but at the time, like Price, he was the reigning Cy Young winner. He was also close in age (26) and was under club control for one more season. He started his career in the bullpen due to questions about his durability. At one time as a professional, he weighed only 135 pounds. His 1997 season appeared to be no fluke, but questions lingered. This was definitely a high-risk, high-reward situation for both parties. The Red Sox pulled the trigger, however, and sent Carl Pavano and Tony Armas to Montreal. Baseball America ranked Pavano as the 9th best prospect in the game entering 1998, and while Armas was not as highly touted at the time, his high ceiling was recognized and he earned a top 30 ranking entering the 2000 season. It isn't a perfect comparison, but there are significant parallels to a possible Price deal.
27-year-old Matt Garza left Tampa Bay for the Cubs in January of 2011 with three years of club control remaining. While two low-level prospects came to Chicago with him, the return to Tampa was significant. Infielder Hak-Ju Lee and pitcher Chris Archer, the 99th and 27th ranked prospects entering 2011, respectively, were joined by light-hitting, major league ready outfielder Sam Fuld, minor-leaguer Robinson Chirinos, and a promising young outfielder Brandon Guyer, who was just coming off a Double-A campaign in which he hit .344 with 13 home runs. While Price is definitely considered a more talented pitcher than Garza was at the time of his trade, he does have one less year of control. He does have one more Cy Young Award, however.
The final trade I'll use as a point of comparison occurred only last month, when James Shields was sent to Kansas City along with Wade Davis for what was widely considered within the baseball world as a king's ransom. Wil Myers, Mike Montgomery, Jake Odorizzi and Patrick Leonard went to Tampa Bay. Myers, a consensus top-five prospect, is either the best or second-best hitting prospect in the game, depending on who you ask, behind St. Louis' Oscar Taveras. Montgomery has been on scouts' radar for a while, but has yet to live up to the sky-high expectations set before him. He will most likely end up around the 50th best prospect entering this season. Odorizzi actually spent time in the big leagues last year, and shows promise as a middle-of-the-rotation guy. Leonard is a third base prospect taken in the fifth round of the 2011 draft.
Where this trade becomes tricky is in Davis' contract. Shields' is easy enough with two years worth of club options remaining at a reasonable price. Davis, however, is signed through 2014, and has team options from 2015-2017. If the options are declined, he will be arbitration eligible in 2015. He was a very highly touted prospect a half-decade ago, but has yet to live up to the hype. He has excelled in limited action in the bullpen, but would be a fairly expensive middle-relief option. If you see him as a guy who has yet to reach his full potential who can provide solid innings out of either the rotation or the bullpen, then he is a very valuable trade chip. If you see him as a failed prospect headed for long-relief duty, then it seems like Kansas City overpaid for James Shields. In order for this deal to be comparable, Tampa Bay would have to send a piece along the lines of Jeff Niemann with Price in a trade.
So what does this all mean? Price would arguably be the most valuable of all the aforementioned trade pieces, with the possible exception of Pedro. Any team would have to pony up at least one top prospect, a middle-tier prospect or two, and possibly an average major-league-ready bench player or fringe-starter just starting his career. There are only a handful of teams with the potential need for pitching and the pieces to pull off a trade like this.
The Cubs and Rangers are most likely, and the Braves and Cardinals shouldn't be counted out either. Teams like Seattle, San Diego, Boston and Baltimore have the assets, but don't fully make sense on paper. If the Cardinals lose Adam Wainwright to free agency and Chris Carpenter struggles again in 2013, they could make a move. Seattle doesn't have an overwhelming need for pitching; it actually has a significant need for a bat. San Diego has one of the deepest organizations in the game, but is too early on in its rebuilding process to sacrifice so much young talent. Boston and Baltimore are in the same division with Tampa, which makes it much less likely that the Rays would allow one of those trades to occur.
The Rangers are not afraid to spend money, and have recently lost C.J. Wilson to free agency and lost the bidding war for Zack Greinke. The core of their rotation is solid and signed for four to five more years, but they will also be facing a lineup that features Mike Trout, Albert Pujols, and Josh Hamilton nearly 20 times every year for the foreseeable future and could use a force like Price. Texas prospect Jurickson Profar is arguably the best prospect in the game, and young infielder Elvis Andrus still has some inexpensive years on him. Other prospects Mike Olt, Martin Perez, Leonys Martin and Joey Gallo all have significantly high enough ceilings to convince Tampa to give up their Cy Young winner for a package.
So what do the Cubs have to do to pull of this deal? Unfortunately, they have to sit and hope that a few of their prospects develop enough over the next six to eight months to entice Tampa. In my article last week, I mentioned that a package of Albert Almora, Arodys Vizcaino and Dan Vogelbach might push the Rays over the edge. This still might be true, but only if a few things happen. Almora is young and unpolished, but showed enough for the Cubs to take him with the 6th overall pick last year. Vizcaino is coming back from Tommy John surgery last spring, but was regarded as a top-forty, or even top-fifteen prospect entering last season, depending on who you ask. He could spend significant time in Chicago this year and reestablish his value.
Vogelbach might be the linchpin in the whole scenario. A second-round pick in the 2011 draft, the first baseman hit 17 home runs in 283 plate appearances as a 19-year-old in Rookie and Low-A ball in 2012. The Rays have a desperate need for a long-term answer at first base, and have no obvious solution in their system. If they believe Vogelbach is the answer, he could play a big role in a deal. For the Cubs, it would work out perfectly, as Anthony Rizzo is set to control first base at Wrigley Field for (hopefully) most of the next decade.
Of course, the Cubs have other options in a deal. Jorge Soler, who is signed to a potentially way-under-market deal through 2020, could fit in the Rays plans for their outfield. Javier Baez might be the Cubs' best prospect, but he needs to show promising development in 2013 in order to remain on the fast track to the big leagues. Brett Jackson has done very little to live up to expectations, but could bounce back in 2013 and create more interest from other organizations.
Other, more unlikely options are deals in which either Darwin Barney or Alfonso Soriano are involved. The Rays love solid defenders, which Gold Glove winner Barney absolutely is. He is also under club control through 2016. Soriano would provide legitimate power to a questionable DH spot, provided that the Cubs eat the vast majority of his contract. Ultimately, it might be more reasonable to expect a deal along the lines of Price for Baez, Vizcaino, Vogelbach and a low level pitcher.
Who knows, everything could change in 2013. We saw former Cy Young winner Tim Lincecum struggle mightily in 2012, maybe Price will fall apart too. Prospects seemingly make tremendous leaps and bust just as often. With so many question marks, we will just have to see how it all plays out. If there is mutual interest, the Cubs have the pieces to make it work. I just hope Theo can pull the trigger.
For More Great Chicago Sports Content
Follow us on Twitter at @chicitysports23 for more great content. We appreciate you taking time to read our articles. To interact more with our community and keep up to date on the latest in Chicago sports news, JOIN OUR FREE FACEBOOK GROUP by CLICKING HERE