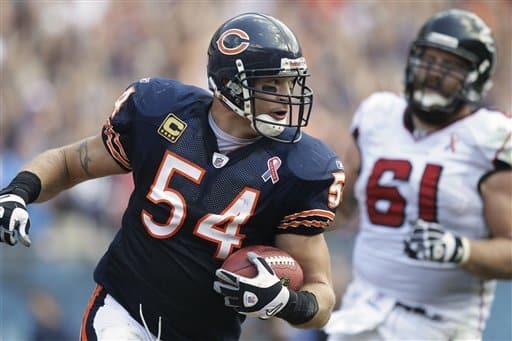 Brian Urlacher has been named the NFC Defensive player of the week for his effort against the Atlanta Falcons. Urlacher had a very impressive season opener compiling 10 tackles, 1 fumble recovery touchdown, and a very impressive diving interception. All week prior to the game the media and analysts picked the Falcons to pick apart the Bears defense. Their predictions feel very short.
The Bears defense led by Brian Urlacher was the only team in the NFL to not give up an offensive touchdown. The lone touchdown scored by the Falcons came on a tipped interception at the line by Jay Cutler.
This news comes on the day the team announced Brian Urlacher would be taking a leave for personal matters involving his mother. The team is respecting Urlacher's privacy by not disclosing the information. Many people think Urlacher will play on Sunday but, it's going to be a very emotional game vs the New Orleans Saints for Urlacher should he decide to play.
Do you think Brian Urlacher will play on Sunday? Let us know in the comments.