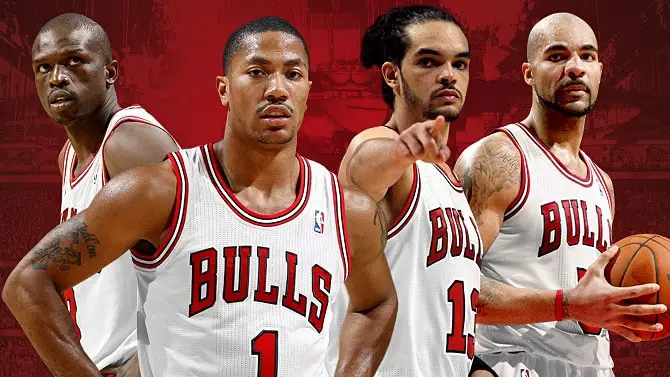 "When I came in it surprised me, guys in shape, knocking down shots. There are guys working out even after practice. It's a totally different team than last year where you have guys that are really preparing themselves for a big year."
Those were the words of our MVP after a recent practice as the Bulls prepare themselves for this season. This most likely is the biggest preseason in Bulls history. So many questions are looking to be answered. By October 29th, we may not have a clear-cut answer as to how good this team is going to be. But, this is a championship caliber team that knows that this is it. This is their last chance to crown this city as having the NBA's best team again. The fact that they are preparing themselves differently this season, than they have any season in recent memory, speaks volumes as to where their confidence level is.
After watching their first couple of preseason games you can tell this team is different. They have a certain presence about themselves. A swag if you will. This team came into these preseason games with a look in their eyes like, this is war. They will do whatever it takes to hold up that trophy Chicago fans so badly want back in their city. Derrick Rose in one of his infamous #TheReturn videos said he would "die on the court, like die" and it seems the whole team has taken that same mentality.
As a Bulls fan I couldn't be happier with this mindset. They need this toughness, this "swag", and mentality. They need to know that they are legit contenders. This is what we have all been waiting for, a magical season that not only includes the return of DRose but also, the return of the Larry O'Brien trophy.
Follow me on Twitter: @BullsZoneJason
For More Great Chicago Sports Content
Follow us on Twitter at @chicitysports23 for more great content. We appreciate you taking time to read our articles. To interact more with our community and keep up to date on the latest in Chicago sports news, JOIN OUR FREE FACEBOOK GROUP by CLICKING HERE