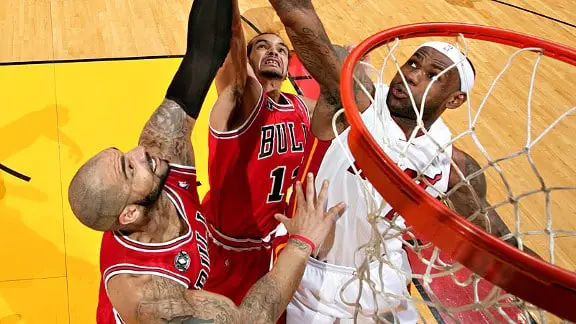 Bulls may still be down half their starting lineup, but they're not out. At least they don't think so, and they proved it Monday stunning the Heat 93-86. Just shortly after AmericanAirlines Arena held an MVP ceremony honoring LeBron James, his playing was put into question and so was the play of the remaining "Big Three".
Dwyane Wade, Chris Bosh and James combined for just 12 points in the first half. It was especially apparent during the first 12 minutes when the Bulls were able to take a commanding lead. Miami was able to take plenty of uncontested shots but kept coming up empty. They were held to just 15 points in the first quarter while the Bulls were able to put up 23.
Miami would stake a comeback, however, with the help of Chicago's weakness of the night. What began to appear in the first quarter as a sprinkle of turnovers on the Bulls end, only turned into an even bigger smattering of bad passes, miscues and offensive fouls. By the end of the game 16 turnovers were tallied, most of those took place in the first half. Chicago cracked the window open for the Heat to come blowing in.
Miami, who started 5 for 22 from the field, began to settle into their usual rhythm stringing together a couple 7-0 runs throughout the second quarter. Although they were able to tie it up at 37, it was their lowest point total at the half this year.
One notable play in the first half involved Nate Robinson and James. After Joakim Noah rejected Mario Chalmers' shot, Robinson hit the hardwood while wrestling James for possession. He exited the first half a bit early, needing ten stitches to close his upper lip laceration.
As the third opened, Robinson returned ready and immediately hit from downtown to get the Bulls started. James would answer for 3 and so would begin the back and forth battle. No team led by more than several as each side went on to experience streaky shooting.
After Wade's out-of-bounds save failed to find a teammate, it left the Heat defenseless. Noah took it coast-to-coast past James and scored to make it 47-46. That would spark Chicago's confidence and sway momentum as Miami's defense got shaky.
Still, the Heat's weapons were at full force. Midway through the third Wade followed up his dunk with a layup to keep the home crowd in it. Bosh followed, adding one from beyond the arc. They finished ahead of the Bulls 62-58 going into the fourth.
That lead wouldn't stand as the Bulls never gave in. Halfway through fourth Marco Belinelli, Jimmy Butler, Noah, and Robinson each made shots to rally and tie it up at 76. Butler's efforts didn't just stop at lighting up the scoreboard. He gave quite the defensive effort when guarding the MVP for most of the night. And although James made the majority of his contested shots, Butler showed no fear in attempting to take the MVP down. Post-game, he told Comcast SportsNet, "We're always going to be the underdogs and we take pride in that."
He and Taj Gibson continued to aid the Bulls on offense as it got down to the wire. In usual Nate Robinson fashion he began to hit shot after shot, until they were able to pull away to a 93-86 game one victory.
Robinson led Chicago with 27 points and 9 assists. Butler stepped up with 21 points and 14 rebounds while Noah contributed 12 points and 11 boards. James ended with 24 points, Wade had 14 and Bosh with 8.
Luol Deng and Kirk Hinrich were still out due to illness and injury, respectively. They are both day-to-day and have the possibility of returning this round. That being said, the Bulls have shown they know how to step up when their teammates are out.
"I like the mental toughness of our team," said Bulls Coach Tom Thibodeau in his post game press conference. "We have to play a lot better…we have to get ready for game 2."
Here's to hoping they will, Wednesday night at 6pm CST.