The Bulls will start their five game road-trip against Blake Griffin and the L.A. Clippers. Both teams have already met this season once, a bitter Bulls loss with the score ending at 100-99 and Derrick Rose missing a free-throw in the last second.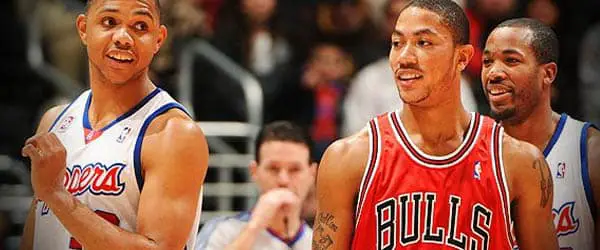 The Bulls are now riding on five game winning-streak and will try to avenge their early season debacle against L.A. this Wednesday.
While the game will be won by whoever controls the paint, one thing that will definitely have an impact on the game is that Eric Gordon is out with a sprained-wrist for at least three-to-four weeks, which means he won't suit up against Chicago. Gordon was all over the court the last time they played and it was a mismatch for the Clippers.
Randy Foye will take Gordon's place in the line-up and he's a decent player, but whoever is defending him will have an easier task.
The one player that everyone keeping an eye on is Blake Griffin. When this two teams played in the United Center, Griffin was in total control when he was being covered by Taj Gibson and Carlos Boozer, but found some trouble when facing Kurt Thomas. Considering that Thomas will probably start this game, Griffin might be contained. I wouldn't be to hopeful though, this is a guy who has a team's season-worth of highlight-reels by himself.
Derrick Rose should have no problem scoring through the pick-and-roll, and we could probably see him getting 30 points, that's certainly a good thing for the Bulls. Other role-players as Carlos Boozer, Kyle Korver and Luol Deng will help too.
The key to this game is to try and get some quick points in the beginning of the game, stick Kurt Thomas to Griffin and try to get a comfortable lead.
With Rose and Co. playing great lately, Thomas defending Griffin and Eric Gordon out; the Bulls should have no problem defeating the Clippers 102-90.
This game will be broadcast on CSN-Chicago, NBA TV & ESPN 1000 at 9:30 pm.
ARTICLE BY: PEDRO GONZALEZ.
Pedro is a new writer for ChiCitySports.Com, expect more in the coming future from Pedro.
For More Great Chicago Sports Content
Follow us on Twitter at @chicitysports23 for more great content. We appreciate you taking time to read our articles. To interact more with our community and keep up to date on the latest in Chicago sports news, JOIN OUR FREE FACEBOOK GROUP by CLICKING HERE