The Bears need help in several different areas in this year's draft and it's important that they take advantage of the draft this year.  They cannot afford to fail with their first round pick as they have in the past (although perhaps the jury is still out on Chris Williams) because being that there may not be free agency, this may be the only way that the Bears and other NFL teams improve for the 2011 season.
Chicago may have several options available when they make their pick in the first round but the most important thing for them to remember is to choose the best option and the one that will work for them almost immediately.  They can't afford to draft someone that they have to wait around for especially if it's an offensive lineman.
The Bears have had their problems with first round picks and it's not just been limited to the Jerry Angelo era of drafting.  Guys like David Terrell, Curtis Enis and Cade McNown are some of the more "infamous" first round draft picks that the Bears have had that just didn't work out.  Williams may end up falling into that category and has already had an inauspicious start thanks to a back injury and is now being mentioned as a guard instead of a starting offensive tackle.
So can the Bears find someone with that pick in the first round that can step in and start right away and make an impact on the team?  Of course they can but they have to draft right and make sure that this player is injury free and ready to play in the NFL.
Depending on whom you listen to or read there is no clear cut consensus out there as to which player the Bears will draft at 29.  There are some that feel that they will go for an offensive lineman (Wisconsin's Gabe Carimi, Villanova's Ben Ijalana and Baylor's Danny Watkins to name a few) or will they go for a defensive lineman (with Illinois' Corey Liuget, Temple's Muhammad Wilkerson and North Carolina's Marvin Austin reportedly giving the Bears some interest)?
It's going to be a tough decision.
Chicago needs help on the offensive line much worse than they need anything else and can find that help in the first round and get a guy that's not only healthy but ready to start right away then this is the way that they need to go.  There should be some talent available at the end of first round that would allow them to improve their offensive line.  Guys like Mississippi State's Derek Sherrod, Villanova's Ijalana and perhaps even Wisconsin's Carimi could be there so taking one of those guys could help them out a lot.
The defensive tackle is a position of need but the big question is could they add someone in the next few rounds (second or third) to cover this need instead of going for someone in the first round.  It would be advisable that the Bears go for help on the offensive line first then tackle their needs at the defensive tackle position.
Anyone that is taken in the first round is expected to become an instant impact player (unless it's a quarterback in most cases) so the Bears need to find that guy that's going to be able to step in and start.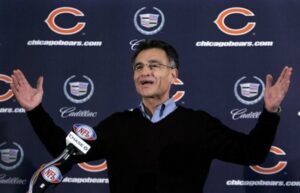 So they can find someone in the first round at number 29 to come in and start for them but it's going to come down to just how well the management staff does their homework on the player that they are going to draft.  They can't take a guy that comes pre-injured and they can't take a guy with deep character concerns.
They have to get it right or else they could pay for their mistakes for a long time to come.